Hauling a Motorcycle with the Heavy Haulers Team
At Heavy Haulers, we do our best to provide the simplest, most cost-effective, comprehensive motorcycle shipping solution to getting your bike to its next destination. If you're moving home and looking to transport a motorcycle collection to a new garage, attending a cross-country motorcycle event, or want a safe transportation method that will collect your newly purchased motorcycle from an auction site and deliver it to your doorstep, we've got a motorcycle transport service that will support you.
Motorcycle shipping transport service options are almost endless. We'll tailor your motorcycle transport request to include everything you need, from providing an expedited, load tracked service, to door-to-door motorcycle shipping with loading and offloading assistance included. We don't just offer standardized motorcycle hauling services. We're a motorcycle shipping company that is always happy to provide a customizable service. Many of our haulers are avid motorcyclists that you can trust to treat your bike with respect – we'll put you in touch with someone that knows exactly how to handle your prized possessions safely. Let's get started! (800) 908-6206
Contact Our Expert Shipping Specialist's
(800) 908-6206
Fully-Protected Motorcycle Transport Services
We've specialized in motorcycle shipping and heavy equipment haulage for over a decade. In that time, we've built a trusted network of haulers, a sophisticated fleet of transport vehicles, and a competent logistics team that can coordinate motorcycle shipments of every size. Our motorcycle hauling service is designed to protect your motorcycle from damage during transport. We're capable of handling vehicles without the need to crate or palletize shipments, using specially designed strapping systems to secure your motorcycle. All of our haulers are fully insured, licensed, and bonded for motorcycle shipping.
Motorcycles are not just a way to cruise from A to B. You might have a dirt bike for trail riding on weekends, a touring motorcycle for long-distance adventures, or a motocross bike for taking part in competitions nationwide. Whatever type of motorcycle you've got, the Heavy Haulers motorcycle transport team is here for you. We've transported many major manufacturers, including Harley Davidson, Honda, Kawasaki, and Suzuki.
Common Types of Motorcycles:
• Adventuring Touring Bikes
• Dual Sports Bikes
• Choppers
• Cruisers
• Power Cruisers
• Dirt Bikes

• Enduro Bikes
• Motocross Bikes
• Buell motorcycles
• Harley-Davidson motorcycles
• Husqvarna dirt bikes
• Honda Motocross
How to Ship a Motorcycle
With the vast transportation fleet of Heavy Haulers at your fingertips, you can choose between open and enclosed carriers. If you tell us where it's coming from, and where it's going to, we'll coordinate the route, schedule, and load and offload as part of our door-to-door motorcycle transportation service, so you can save time and money traveling to a central transport hub. We can haul a motorcycle nationwide, and even coordinate overseas travel, packing your motorcycle in a suitably protected crate. Our friendly staff is here to answer any queries on how to prepare your motorcycle for its motorcycle shipping journey. Contact us now to find out more! (800) 908-6206
Common Trailer Types Available from Heavy Haulers
Heavy Haulers specializes in hauling heavy loads such as construction equipment, oil field rigging and Super Loads. We are wideload experts! We offer an extensive range of trailer choices, including:
Max Weight: 48,000 lbs. | Max Length 53 ft. | Max Width 8.5 ft. | Max Height 11 ft.




Max Weight: 45,000 lbs. | Max Length 29 ft. | Max Width 8.5 ft. | Max Height 11.5 ft.
Max Weight: 150,000+ lbs. | Main Deck Length 29 ft. | Well Width 8.5 ft. | Legal Height Limit 11.6 ft.




Max Weight: 48,000 lbs. | Max Length 53 ft. | Max Width 8.5 ft. | Max Height 8.5 ft.
HEAVYHAULERS.COM
START YOUR SHIPMENT TODAY!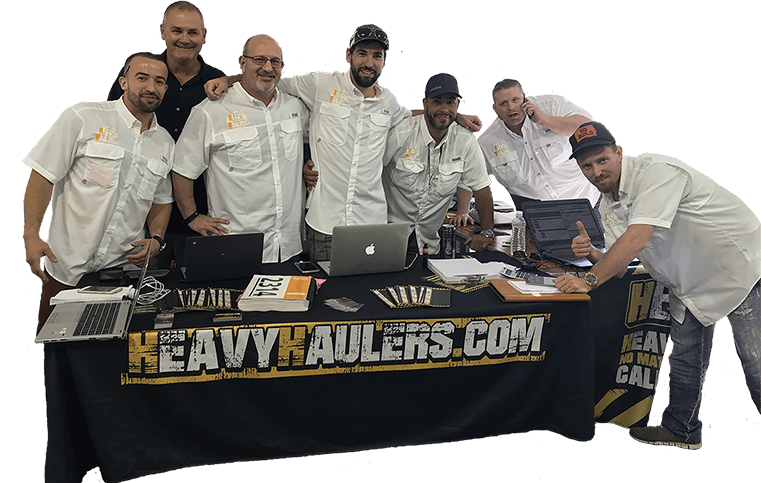 We Are Ready To Help You Haul Your Equipment!
See what you need?
Call us for a FREE Shipping Estimate at (800) 908-6206