Heavy Haulers Equipment Shipping Services For Phoenix, AZ
Heavy Haulers specializes in transporting oversized and SuperLoad vehicles across the United States, Mexico and Canada. We travel the roads of Phoenix, Arizona and the area on a daily basis, including Tucson and Scottsdale. Our drivers are expert planners, well-versed in the logistics of intrastate travel.
Ask Heavy Haulers to transport your machinery between Phoenix, AZ and any state in the nation, Canada and Mexico. Contact Heavy Haulers for FREE transport estimates at (800) 908-6206.
Our Recent Phoenix, Arizona Shipments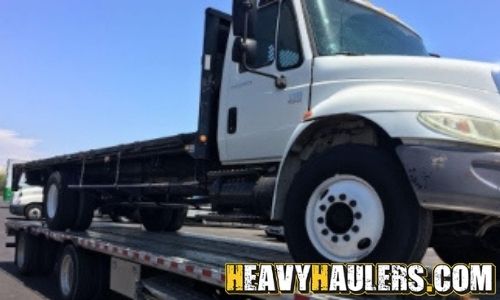 Shipping a Flatbed Truck from Phoenix, AZ to Medina, OH
Shipping From: Phoenix, AZ

Transporting To: Medina, OH

Specs: Flatbed Truck; 27L x 8W x 9H; 15000 lbs

Transport Specialist: Brian G.
(754) 203-9267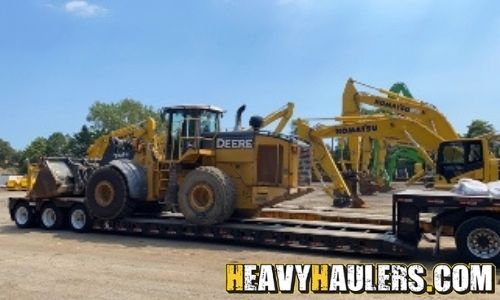 Hauling a John Deere 744k Wheel Loader to Phoenix
Shipping From: Holbrook, NY

Transporting To: Phoenix, AZ

Specs: John Deere 744k wheel loader; 32L x 10.7W x 11.6H; 55000lbs

Transport Specialist: Brian G.
(754) 203-9267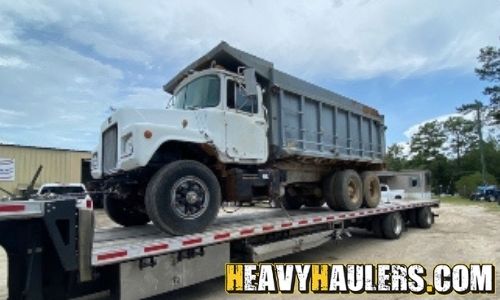 Transporting a Tandem Dump Truck to Phoenix, AZ
Shipping From: Milan, GA

Transporting To: Phoenix, AZ

Specs: 1985 Tandem Dump R MODEL; 25L x 8W x 10H; 24,000lbs

Transport Specialist: Daniel J.
(754) 704-9202
The Legalities of Hauling through Arizona
The deserts surrounding Phoenix can be eerily beautiful for travelers, but it also requires a lot of pre-planning for those towing equipment across the region. Our licensed, bonded drivers know the intricacies of Arizona route-planning and regularly travel I-10, I-17 and SR-51. Since we handle all the paperwork and obtain the proper permits to transport your equipment, you can focus your energy on keeping your business moving forward.
Heavy Equipment Towing Specifications through Phoenix
Ports: In-land Port of Tucson

Airports: Phoenix Sky Harbor Intl Airport, Deer Valley Airport, Goodyear Airport

Trailer length limit: Anything longer than 65' requires permit




SUPERLOAD DESIGNATION BEGINS WITH THE FOLLOWING DIMENSIONS

Weight: Over 250,000 lb gross

Width: 14'

Height: 16'

Length: 120' and requires Class C permit

Transport Restrictions: Night-time travel is restricted for vehicles designated as superload or heavy haul; some exceptions exist. Weekend travel most likely allowed, but sometimes permit does not allow it. Superloads require two pilot cars, one in front and one behind on two lane roads. One pilot car required for oversized travel on interstates.

Common Trailer Types: Flatbed Trailers, Drive Away, Step Deck

Common Transport Equipment: Crawler Loaders, Backhoes, Compactors
Heavy Haulers Can Ship your Oversized Manufacturing Equipment
Heavy Haulers is certified, accredited and insured to provide oversized transport throughout the United States, Canada and Mexico. We are insured with both contingency and carrier insurance to provide you the peace of mind you need. Give us a call at 1-(800) 908-6206 and request a consultation or a free shipping quote, or find out more about our services.
Looking For Transport
With a Specific Trailer?

Max Weight: 150,000+ lbs. | Main Deck Length 29 ft.
| Well Width 8.5 ft. | Legal Height Limit 11.6 ft.

Max Weight: 48,000 lbs. | Max Length 53 ft.
| Max Width 8.5 ft. | Max Height 8.5 ft.
Max Weight: 48,000 lbs. Max Length 53 ft. |
Max Width 8.5 ft. | Max Height 11 ft.
Max Weight: 45,000 lbs. | Max Length 29 ft.
| Max Width 8.5 ft. | Max Height 11.5 ft.
When Shipping Equipment in Phoenix, AZ with Heavy Haulers;
When you choose Heavy Haulers, you're opting for quality. Plenty of fly-by-night operations want your transportation business. We are professional transporters who are in this for the long run. Our nationwide construction-equipment hauling company is:
● Experienced - More than 10 years transporting cargo in the U.S.;

● Double Insured - Carrier and Contingency, Just In Case;

● Professional - Fully Licensed, Bonded and Accredited;

● Efficient - We accept nearly all forms of payment, including cash.
Experience Shipping Heavy Equipment to / from Phoenix, AZ
Heavy Haulers specializes in hauling heavy loads such as construction equipment, oil field rigging and Super Loads. We are wideload experts! Heavy Haulers specializes in the heavy stuff! However - we can accommodate all types of equipment no matter the weight. Below you'll find some common pieces of equipment we've transported for the past 10+ years!
Common Equipment Heavy Haulers Transports
Trust Heavy Haulers to transport any brand of equipment you own. Most of our drivers are experienced heavy-machinery operators who can safely maneuver your loads aboard our trailers. Some of the brands we have shipped include: