Superior Steel Drum Container Transport
No matter which size of steel drum container you'd like us to ship, we make sure it meets all guidelines. As a professional steel drum shipping transport provider, we make sure that your steel drum shipment meets all ICAO, IMO, and IATA guidelines. We'll handle the permits associated with the haulage of steel drums, customs paperwork, escorts, and any additional shipping requirements. Our steel drum haulers are dedicated to delivering superior customer service as part of the steel drum shipping process, and you can contact us to discuss your steel drum haulage requirements day or night.
We make sure that we stick to the provided schedule when shipping a steel drum for you. Our fleet of specialized trucks serve every major U.S. city, remote location, and can even navigate the Mexican and Canadian border successfully to ensure your steel drum gets to its end destination at short notice if required. We can arrange for steel drum shipping service alerts to be sent directly to your email and will keep you in the loop as often as you like. Call now for a free transport estimate! (800) 908-6206
Contact Our Expert Shipping Specialist's
(800) 908-6206
Shipping Steel Drum Containers New & Used
Whether you're shipping domestically or internationally, you'll need a reputable steel drum shipping company to handle your shipments. Whether we're transporting a new, empty drum, or used, full steel drum, we'll ensure your container is treated with the care and respect it requires. We understand the importance of securely loading steel drums to prevent damage in transit.
The container of choice for many liquids and granulated products, steel drums are widely used in the shipping industry due to their affordability and flexibility in usage. Open head drums have a cover that can be removed entirely, and secured by a lever lock or bolt. Tight head drums have non-removable covers that have bung openings at the top. We're a steel drum transport company that only assigns professional, qualified steel drum haulers to our steel drum shipping transport requests, no matter what type of drum we're hauling.
Common Types of Steel Drum We Transport
• 55 Gallon
• Carbon Steel
• Standard Steel

• Stainless Steel
• Open Head
• Tight Head
How to Ship a Steel Drum
In most cases, steel drum shipping encompasses the transport of several units at a time. Steel drums should be placed on a pallet for shipping. Drums should not overhang, and specialized spill control pallets can add an extra layer of protection if you need to ship a steel drum that contains hazardous materials. Steel drum transport needs to meet several transport regulations, all of which the experts at Heavy Haulers steel drum shipping company are familiar with. We'll handle all of the associated paperwork for your shipment, as well as loading, transporting, and offloading your drums as part of our comprehensive steel drum transport service packages. Contact us to get professional advice on how to prepare for shipment and obtain a quote for our services.
Common Trailer Types Available from Heavy Haulers
Heavy Haulers specializes in hauling heavy loads such as construction equipment, oil field rigging and Super Loads. We are wideload experts! We offer an extensive range of trailer choices, including:
Max Weight: 48,000 lbs. | Max Length 53 ft. | Max Width 8.5 ft. | Max Height 11 ft.




Max Weight: 45,000 lbs. | Max Length 29 ft. | Max Width 8.5 ft. | Max Height 11.5 ft.
Max Weight: 150,000+ lbs. | Main Deck Length 29 ft. | Well Width 8.5 ft. | Legal Height Limit 11.6 ft.




Max Weight: 48,000 lbs. | Max Length 53 ft. | Max Width 8.5 ft. | Max Height 8.5 ft.
HEAVYHAULERS.COM
START YOUR SHIPMENT TODAY!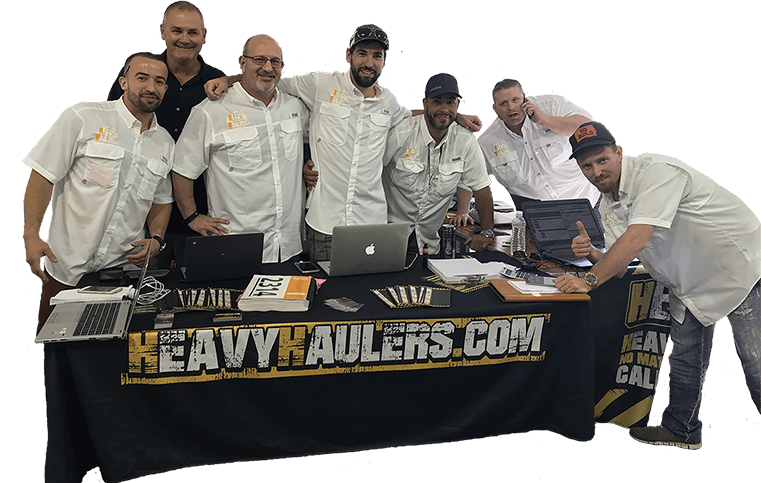 We Are Ready To Help You Haul Your Equipment!
See what you need?
Call us for a FREE Shipping Estimate at (800) 908-6206