Quality Steel Mill Ladle Shipping with Heavy Haulers
Ladles play an essential role in steel foundries. While some small-scale operations utilize small, hand-held ladles, large plants use huge vessels that can weigh up to 300 tons. Moving such a super load requires you to hire professional shippers. For more than ten years, Heavy Haulers has offered excellent freight and shipping services involving oversized and overweight cargo. We provide superior, consumer-centric steel-mill ladle transport services with high regard for safety and security.
At Heavy Haulers, it is our implicit obligation to come up with innovative shipping services. Through state-of-the-art research tools, we test new logistics systems that can disrupt the industry positively. We get you involved in the planning process so you can explain to us any unique needs you have. We are flexible and can quickly make changes to your package to include pilot cars and police escorts for seamless cargo transition from as it moves cross-country. Let's get started! (800) 908-6206
Contact Our Expert Shipping Specialist's
(800) 908-6206
Nationwide and International Steel-Mill Ladle Hauling
Heavy Haulers is one of the stand-alone heavy-cargo shipping companies in the US with the license to transport a steel mill ladle throughout the country. We have facilitated that by establishing well-equipped HH branches in more than 50 states. Each location has skilled and experienced logistics and transportation personnel who collaborate to make the shipping a success. They know the transportation restriction in each state and can coordinate cross-country haulage, whether it is a 500-mile haul or a 2,000-mile journey.
In metal fabrications, a mill ladle is a vessel used to carry, transport, and pour molten steel. Large foundries use big scoops that weigh hundreds of pounds. Heavy Haulers relishes transporting a steel mill ladle, and we have the right trailers for that. Our representative will find a suitable means of moving the cargo to ensure it makes it to the delivery destination safely.
Common Types of Steel Mill Ladles Heavy Haulers Ship
How to Transport a Steel Mill Ladle with Heavy Haulers
Heavy Haulers follows strict operation protocols when preparing any freight for transportation. We will offer loading services, using cranes onto a step-deck trailer. We can also ship multiple ladles if you wish. Our leverage and cargo-positioning specialists can creatively secure the loads on the towing trailer. Afterward, we designate one of our experienced drivers to make sure the cargo is hauled and delivered on schedule. If you require steel ladle transportation services, count on us to offer unparalleled services. Make a call to us through (800) 908-6202, and we will set you up for satisfactory freight-moving solutions.
Common Trailer Types Available from Heavy Haulers
Heavy Haulers specializes in hauling heavy loads such as construction equipment, oil field rigging and Super Loads. We are wideload experts! We offer an extensive range of trailer choices, including:
Max Weight: 48,000 lbs. | Max Length 53 ft. | Max Width 8.5 ft. | Max Height 11 ft.




Max Weight: 45,000 lbs. | Max Length 29 ft. | Max Width 8.5 ft. | Max Height 11.5 ft.
Max Weight: 150,000+ lbs. | Main Deck Length 29 ft. | Well Width 8.5 ft. | Legal Height Limit 11.6 ft.




Max Weight: 48,000 lbs. | Max Length 53 ft. | Max Width 8.5 ft. | Max Height 8.5 ft.
HEAVYHAULERS.COM
START YOUR SHIPMENT TODAY!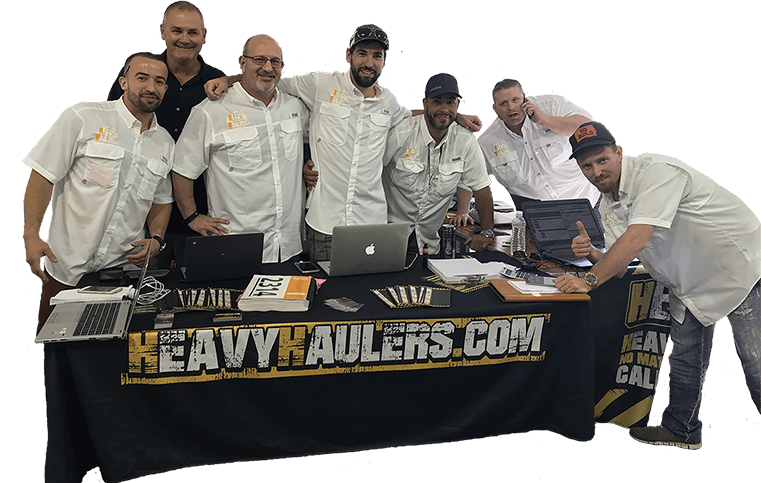 We Are Ready To Help You Haul Your Equipment!