Shipping a Fiberglass Pool With Detailed Precision
Heavy Haulers has over a decade of experience shipping fiberglass pools. Standard fiberglass pools are transported on flatbed trailers, though if another type is needed, such as an RGN we will make the arrangements. Our experienced logistics agents will provide you with all the details for transport, so that you have a confident and transparent fiberglass pool shipping experience. We're dedicated to both picking up and delivering your fiberglass pool on time.
Shipping a fiberglass pool is done with detailed precision. We double check that your pool is properly secured on the trailer for transport, that all the permits and paperwork is taken care of, and that the route is ready to be traveled. Fiberglass pool transport with Heavy Haulers means you can rest easy knowing your freight is in good hands. We're here twenty-four seven to haul your fiberglass pool. Call for a free shipping estimate now! (800) 908-6206
Contact Our Expert Shipping Specialist's
(800) 908-6206
Fiberglass Pool Transport in all 50 States
Whether you're looking to haul a fiberglass pool from a distribution center to a customer in a nearby city or you're looking to move your fiberglass pool to another state, Heavy Haulers can assist you with efficient fiberglass pool haulage. We protect your fiberglass pool's gel coat surface layer and securely load your fiberglass pool onto suitable flatbed trucks through the use of cranes operated by experienced haulage professionals. If transporting more than one fiberglass pool, we can arrange for stacked shipments or multi-trailer transport. It doesn't matter to us if you're shipping to California, Texas, Ohio, or Florida, we've got the transportation network to handle your pool shipment.
Fiberglass pools are prebuilt from a mold in a factory and shipped to a location in one piece. Fiberglass pools are comprised of multiple layers that add strength and support to the fiberglass construction. Pool designs can be rectangular, circular, and customized shapes that include built-in steps and seating areas. To safely ship a fiberglass pool, you will need a fiberglass pool shipping company with experience hauling to your destination. At Heavy Haulers, we have a nationwide network of shipping professionals that can handle pool shipments to each of the 50 states.
Common Types of Fiberglass Pool:
• In-Ground Pool
• Above-Ground Pool
• Fiberglass Pool with Bench Seats

• One-Piece Pool
• Amoebal Pool
• Rectangular Pool
• Circular Pool
Recent Fiberglass Pool Transports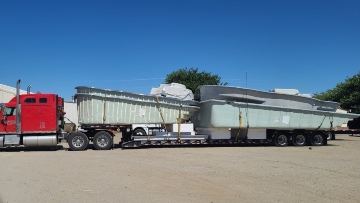 Transporting 4 fiberglass pools to Fort Lauderdale, FL
Shipping From: Camdenton, MO

Transporting To: Fort Lauderdale, FL

Specs: 4 fiberglass pools; 40L x 10W x 12H; 48000lbs

Transport Specialist: Andrew R.
(954) 475-6443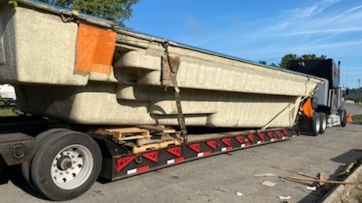 Shipping a fiberglass pool from Knoxville, TN to Newnan, GA
Shipping From: Knoxville, TN

Transporting To: Newnan, GA

Specs: 1 fiberglass pool; 32.7L x 13W x 5H; 4000lbs

Transport Specialist: Louis S.
(407) 863-3130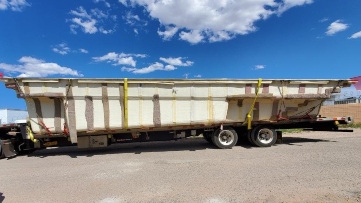 Hauling a fiberglass pool from Arizona to California
Shipping From: Tucson, AZ

Transporting To: Friant, CA

Specs: Fiberglass pool; 40L 15.5W 4 Shallow 6.7 Deep; 4400lbs

Transport Specialist: Corey A.
(727) 263-1060
How to Ship a Fiberglass Pool
Fiberglass pools are most commonly shipped as a full truckload on a flatbed trailer. Fiberglass pool shipping transport is a wide load that requires escorts, which will be arranged by a Heavy Haulers fiberglass pool shipping expert. The shipping origin and destination site will need access to a crane for loading and offloading. If one isn't available, the Heavy Haulers team can arrange for your fiberglass pool shipping request to include this as part of our fiberglass pool shipping service. Contact us for a quote, and we'll provide an accurate review of your transport request to get you started on your pool shipping journey. Let's get started! (800) 908-6206
Common Trailer Types Available from Heavy Haulers
Heavy Haulers specializes in hauling heavy loads such as construction equipment, oil field rigging and Super Loads. We are wideload experts! We offer an extensive range of trailer choices, including:
Max Weight: 48,000 lbs. | Max Length 53 ft. | Max Width 8.5 ft. | Max Height 11 ft.




Max Weight: 45,000 lbs. | Max Length 29 ft. | Max Width 8.5 ft. | Max Height 11.5 ft.
Max Weight: 150,000+ lbs. | Main Deck Length 29 ft. | Well Width 8.5 ft. | Legal Height Limit 11.6 ft.




Max Weight: 48,000 lbs. | Max Length 53 ft. | Max Width 8.5 ft. | Max Height 8.5 ft.
HEAVYHAULERS.COM
START YOUR SHIPMENT TODAY!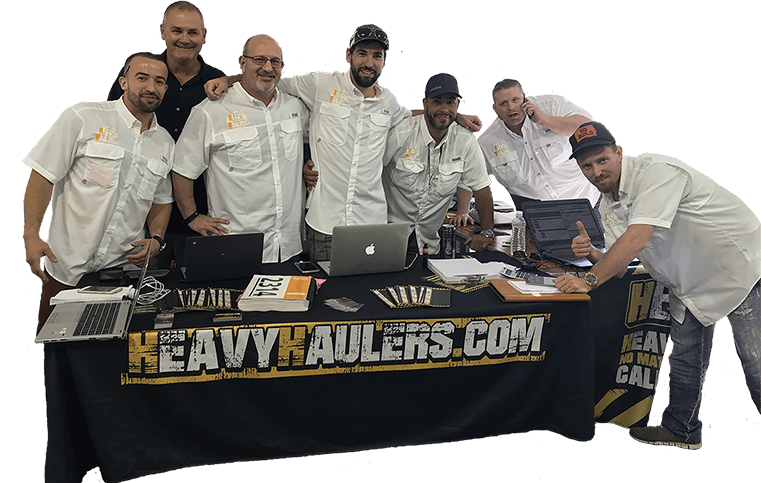 We Are Ready To Help You Haul Your Equipment!
See what you need?
Call us for a FREE Shipping Estimate at (800) 908-6206