Efficient Aerial Crane Transport
Aerial crane transport is among the many fields we excel in. The task is daunting and herculean, but we are fully equipped with more than 1000 fleet of trailers to deliver your aerial crane across a wide geographical area. A construction crane hauling process that involves aerial cranes is challenging because of their bulkiness and uneven shapes, that's why you need us to handle your logistics problem. At Heavy Haulers we provide reliable and safe long-distance services for local and regional hauling of construction equipment.
Our fleet also provides 24/7 services for construction equipment transport without relying on third-party carriers, thus ensuring faster turnaround times, on-time delivery, and less downtime. Additionally, we have the perfect-sized trailers to handle all your loads.
What are Aerial Cranes Used For?
Aerial cranes, also referred to as "helicopter" or "sky cranes" are construction cranes that utilize rigging devices including slings and cables to hoist heavy loads and ferry cargo effectively. For heavy lift construction, most companies prefer to use aerial cranes because they perform efficiently in all terrains and weather conditions. They can easily access remote locations and maneuver in tight spaces. And Heavy Haulers is here to get your aerial crane shipped where it needs to be. We specialize in oversize aerial crane shipping and get it delivered safely and on time.
Contact Our Expert Shipping Specialist's
(800) 908-6206
The following are some of the areas where aerial cranes are commonly used :
● Forestry Operations
● Helicopter Logging
● Ski Lift Installation
● Utility Construction Projects
● Installing, Replacing, and Removing Rooftop Units
● Lifting and Transporting Heavy Cargo and Construction Materials
See what you need?
Call us for a FREE Shipping Estimate at (800) 908-6206
How to Ship Aerial Cranes
Aerial crane shipping is a unique challenge because of their pure mass, and it needs specialized equipment for the shipment process. Due to their specialized nature and lack of a standard dimension, they have to be handled by a team of professionals and experienced heavy-haul drivers.
At Heavy Haulers we have a variety of trailers to handle your aerial crane and also provide other services such as construction crane shipping and heavy haul trucking.
Looking For Transport
With a Specific Trailer?

Max Weight: 150,000+ lbs. | Main Deck Length 29 ft.
| Well Width 8.5 ft. | Legal Height Limit 11.6 ft.

Max Weight: 48,000 lbs. | Max Length 53 ft.
| Max Width 8.5 ft. | Max Height 8.5 ft.
Max Weight: 48,000 lbs. Max Length 53 ft. |
Max Width 8.5 ft. | Max Height 11 ft.
Max Weight: 45,000 lbs. | Max Length 29 ft.
| Max Width 8.5 ft. | Max Height 11.5 ft.
HEAVYHAULERS.COM
START YOUR SHIPMENT TODAY!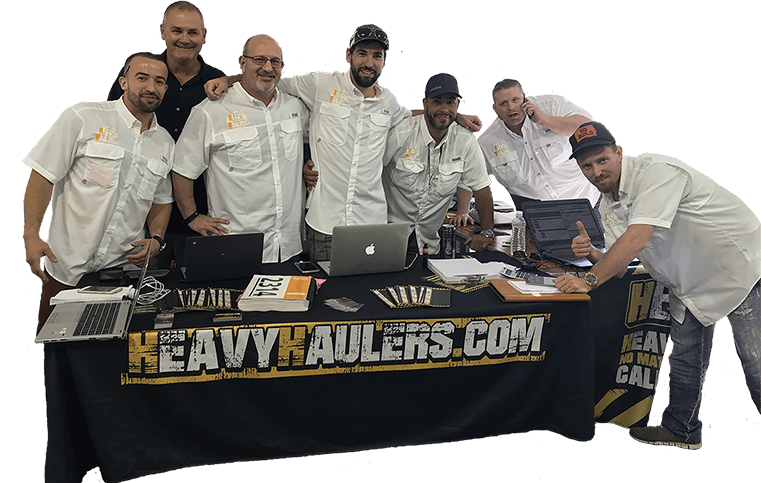 We Are Ready To Help You Haul Your Equipment!
Common Equipment Heavy Haulers Transports
Trust Heavy Haulers to transport any brand of equipment you own. Most of our drivers are experienced heavy-machinery operators who can safely maneuver your loads aboard our trailers. Some of the brands we have shipped include:
See what you need?
Call us for a FREE Shipping Estimate at (800) 908-6206