Superior Industrial Crane Transport Services
Heavy Haulers has been providing industrial crane transport for more than a decade using extended trailers, removable Gooseneck trailers (RGNs) and other oversized shipping trailers. Our experience in moving oversized vehicles and equipment gives us a unique advantage over other shipping companies that specialize in transporting industrial equipment, since most of our drivers are also skilled equipment handlers with extensive knowledge in state and national regulations for transporting oversize loads.
The range of industrial cranes in use throughout various fields is extensive and includes styles such as bulk handling cranes, gantry cranes, bridge cranes and railroad cranes. In truth, the diversity of industrial cranes is almost as diverse as the industries themselves. Just like Heavy Haulers fleet is wide and diverse enough to ship an industrial crane, no matter its size or shape.
Affordable Industrial Crane Shipping Transport
Heavy Haulers offers affordable industrial crane shipping services for non-profit and profit-based companies across the country, a service that is often vital to businesses that rely on cranes to lift and move product or material. Whether it's a gantry crane being shared between two company-owned warehouses or a bridge crane that the town's new manufacturing plant needs to start production, Heavy Haulers has the manpower and equipment to transport an industrial crane where it needs to go. Call now and let's get started! (800) 908-6206
One advantage to choosing a shipping company that specializes in transporting large equipment is that you don't have to pay extra to outsource specialists to prepare and ship your industrial crane. Our team has the skill and experience to disassemble and reassemble oversized cranes. We also have highly trained logistics professionals who can plan the quickest and easiest travel route available for your equipment as well as obtain the correct permits to meet legal requirements.
Contact Our Expert Shipping Specialists
(800) 908-6206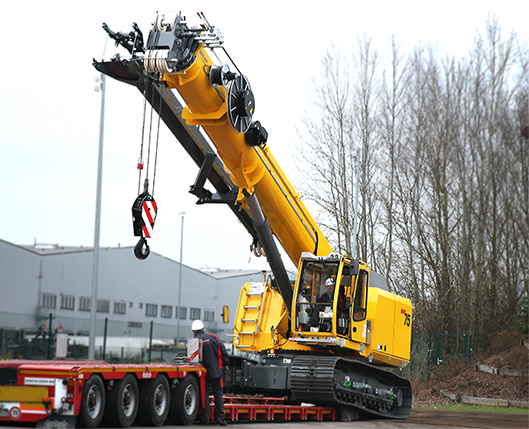 How to Ship an Industrial Crane
Industrial crane shipping to warehouses, manufacturing plants, and businesses helps maintain a strong workforce and a strong economy. To ship an industrial crane across the state or country, call on Heavy Haulers. We have the experience and the know-how to transport industrial cranes of all sizes using specialized trailers and extensive logistic planning. Give us a call today! (800) 908-6206
Common Trailer Types Available from Heavy Haulers
Heavy Haulers specializes in hauling heavy loads such as construction equipment, oil field rigging and Super Loads. We are wideload experts! We offer an extensive range of trailer choices, including:
Max Weight: 48,000 lbs. | Max Length 53 ft. | Max Width 8.5 ft. | Max Height 11 ft.




Max Weight: 45,000 lbs. | Max Length 29 ft. | Max Width 8.5 ft. | Max Height 11.5 ft.
Max Weight: 150,000+ lbs. | Main Deck Length 29 ft. | Well Width 8.5 ft. | Legal Height Limit 11.6 ft.




Max Weight: 48,000 lbs. | Max Length 53 ft. | Max Width 8.5 ft. | Max Height 8.5 ft.
Common Equipment Heavy Haulers Transports
Trust Heavy Haulers to transport any brand of equipment you own. Most of our drivers are experienced heavy-machinery operators who can safely maneuver your loads aboard our trailers. Some of the brands we have shipped include:
HEAVYHAULERS.COM
START YOUR SHIPMENT TODAY!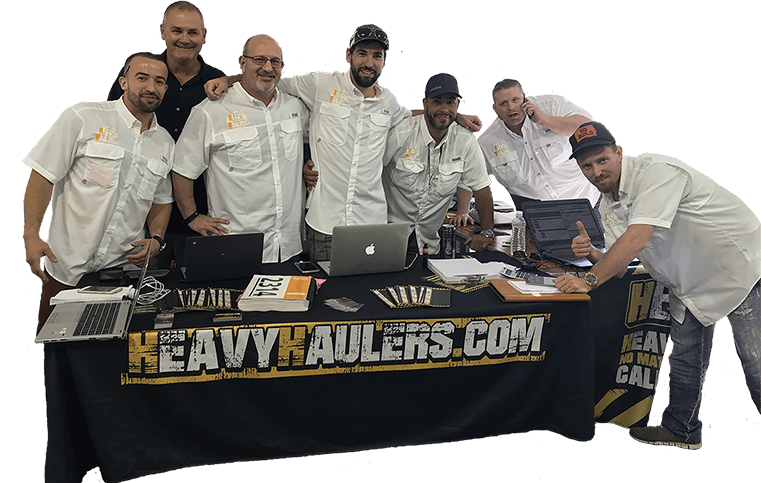 We Are Ready To Help You Haul Your Equipment!