Superior Pick-and-Carry Cranes Shipping
Heavy Haulers specializes in providing pick-and-carry cranes shipping services both nationally and internationally. We offer clients superior mobile crane transport services at competitive rates and has certified and bonded company drivers who haul the mobile cranes safely to their destination. Heavy Haulers has modern trailers that provide mobile crane hauling services and are highly maintained to ensure the safety of the pick-and-carry cranes.
As the industry's leading heavy haul trucking company we transport pick-and-carry cranes throughout the US, Canada, and Mexico. Our highly trained logistics team goes the extra mile to provide its customers with temporary equipment storage and warehousing solutions. Heavy Haulers drivers are well-trained professionals that have the required expertise and skills in pick-and-carry cranes hauling and mobile crane shipping. This enables us to haul cranes safely and deliver within the required time. Moreover, Heavy Haulers trucks are equipped with cell phones and satellites to ensure clients stay in constant communication with the company.
Using Pick-and-Carry Cranes
A pick-and-carry crane has similar properties to a mobile crane because all of them travel on public roads. However, pick-and-carry cranes lack outriggers and stabilizer legs. They are used to lift and carry loads to the required destination, within a small distance and move back to the next job.
They help improve productivity because one can move large amounts of materials in less time, especially if it's a spacious cargo. Pick-and-carry cranes features have been incorporated in carrying deck cranes because of their powerful hydraulic controls that haul items onto the deck of the crane hence moving more material quickly around the job site easily.
At Heavy Haulers our diverse fleet is ready to transport your cranes now. Pick-and-carry is widely utilized in various fields including construction, engineering, and infrastructure. These machines are effectively used for loading, shifting, unloading, moving, and erecting buildings. Let's get started! (800) 908-6206
Contact Our Expert Shipping Specialist's
(800) 908-6206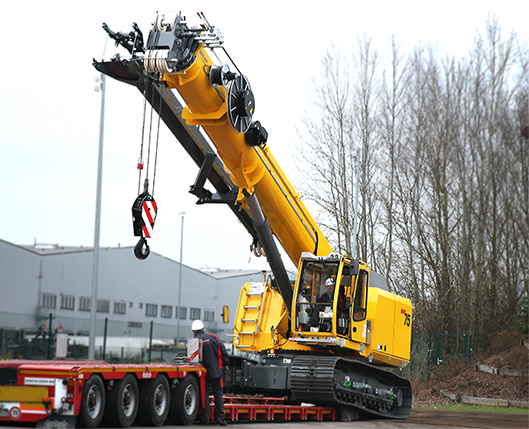 How to Transport Pick-and-Carry Cranes
Heavy Haulers has a team of specialized drivers in pick-and-carry cranes transport services who work around the clock to meet their clients' requirements.
The crane is first disassembled to save clients the shipping costs and then reassembled upon arrival at its destination. It's assembled by expert construction equipment transportation specialists. Heavy Haulers are specialized in heavy equipment transport trailers and are capable of shipping your construction crane through busy city streets and undeveloped rural areas. Call now! (800) 908-6206
Looking For Transport
With a Specific Trailer?

Max Weight: 150,000+ lbs. | Main Deck Length 29 ft.
| Well Width 8.5 ft. | Legal Height Limit 11.6 ft.

Max Weight: 48,000 lbs. | Max Length 53 ft.
| Max Width 8.5 ft. | Max Height 8.5 ft.
Max Weight: 48,000 lbs. Max Length 53 ft. |
Max Width 8.5 ft. | Max Height 11 ft.
Max Weight: 45,000 lbs. | Max Length 29 ft.
| Max Width 8.5 ft. | Max Height 11.5 ft.
HEAVYHAULERS.COM
START YOUR SHIPMENT TODAY!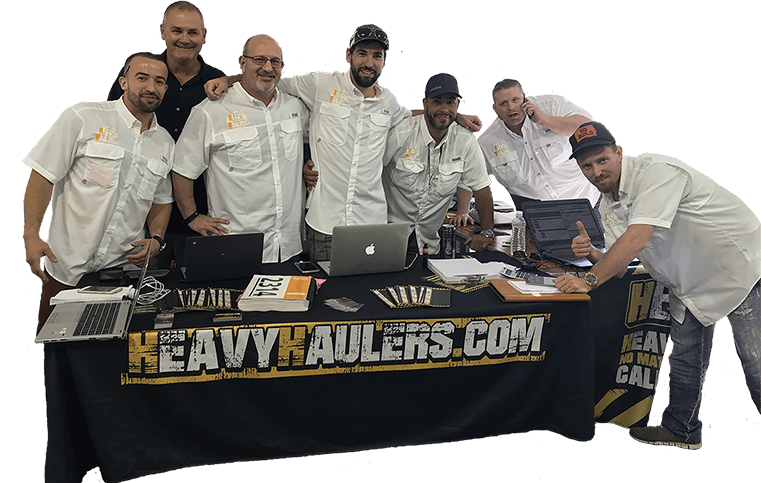 We Are Ready To Help You Haul Your Equipment!
Common Equipment Heavy Haulers Transports
Trust Heavy Haulers to transport any brand of equipment you own. Most of our drivers are experienced heavy-machinery operators who can safely maneuver your loads aboard our trailers. Some of the brands we have shipped include:
See what you need?
Call us for a FREE Shipping Estimate at (800) 908-6206