Local and Long Distance Construction Crane Shipping
Heavy Haulers provides specialized construction crane transport in your area and throughout the country. Using an extended, double deck or oversized RGN trailer, our trained transport specialists offer comprehensive shipping services for construction cranes of all sizes and applications, including high-rise construction, shipbuilding, offshore services and remote or off-road building.
Shipping construction cranes is a process with many steps, so it is very important to work with a company that knows the local, state and federal statutes regarding oversized equipment transport. The Department of Transportation has a strict weight limit of 80,000 pounds on National Interstate highways, but this is complicated by a different weight requirement on bridges that must be computed using a bridge formula. The logistics team at Heavy Haulers has the experience and know-how to ensure that your construction crane reaches its next job site in a timely manner and with the proper state permits if it is a nondivisible vehicle or load.
Affordable Construction Crane Transport with Heavy Haulers
Transporting construction cranes from one jobsite to the next is convenient for construction crews that benefit from a simplification of some building projects, particularly those that involve large-scale structures such as skyscrapers or cruise ships. Heavy Haulers provides affordable construction crane transport for companies of all sizes. Call now and let's get started! (800) 908-6206
Our team of drivers and logistics experts are licensed and insured to provide you with no-hassle, dependable construction crane transport when you need it. Before setting tires to the road, we develop a travel plan, choosing the best trailer type and route based on the size and style of your construction crane. If it needs to be disassembled before transport we compile a team of professionals who are familiar with the assembly process to guarantee that the move is done right. Our prices are budget-friendly and backed by a promise of satisfaction.
Contact Our Expert Shipping Specialist's
(800) 908-6206
See what you need?
Call us for a FREE Shipping Estimate at (800) 908-6206
Transport Construction Cranes with the Professionals - Heavy Haulers!
Tower Cranes
Tower cranes are types of fixed cranes that are usually mounted with anchor bolts onto a concrete pad to keep them static. They are one of the most commonly used on construction sites, valued for their safety, versatility and strength. Heavy Haulers can disassemble and transport your tower crane to its next job site.
Self-Erecting Tower Cranes
Self-Erecting Tower Cranes (SETC) are fixed cranes that are often used for urban construction such as hotels or senior care homes, particularly those located in congested areas since they can fit within a restricted space. They can be remote or operator controlled. Heavy Haulers offers quick, efficient transport of self-erecting tower cranes.
Telescopic Cranes
Telescopic Cranes can extend to various lengths because they are composed of a series of fitted tubes, similar in design to a nautical spyglass. This allows them to be used in a variety of settings, from construction sites to search and rescue missions where horizontal reach is important. Heavy Haulers is a premiere telescopic crane shipping provider.
Handler Cranes
Handler Cranes for construction are used most often to extend horizontal reach during the construction process. They are composed of a central boom mounted on a rotating platform so they have the ability to move within a circular area above or below the main working space. Heavy Haulers has the trailers and the tools to transport your handler crane across the city or country.
Fixed Cranes
Fixed cranes are those that are installed or fixed in one spot, also known as static cranes. They offer construction crews more strength and greater height than mobile cranes because of their inherent stability. Common fixed cranes include the tower, gantry, self-erecting and stacker. Heavy Haulers is the country's premiere hauler of fixed cranes.
Aerial Cranes
Aerial Cranes are helicopters used to transport heavy cargo. They are also called sky cranes because they have the ability to lift and transport large equipment or parts to construction sites that might be inaccessible or hard to get to on the ground. Heavy Haulers can transport aerial cranes using RGN or step deck trailers.
Looking For Transport
With a Specific Trailer?

Max Weight: 150,000+ lbs. | Main Deck Length 29 ft.
| Well Width 8.5 ft. | Legal Height Limit 11.6 ft.

Max Weight: 48,000 lbs. | Max Length 53 ft.
| Max Width 8.5 ft. | Max Height 8.5 ft.
Max Weight: 48,000 lbs. Max Length 53 ft. |
Max Width 8.5 ft. | Max Height 11 ft.
Max Weight: 45,000 lbs. | Max Length 29 ft.
| Max Width 8.5 ft. | Max Height 11.5 ft.
HEAVYHAULERS.COM
START YOUR SHIPMENT TODAY!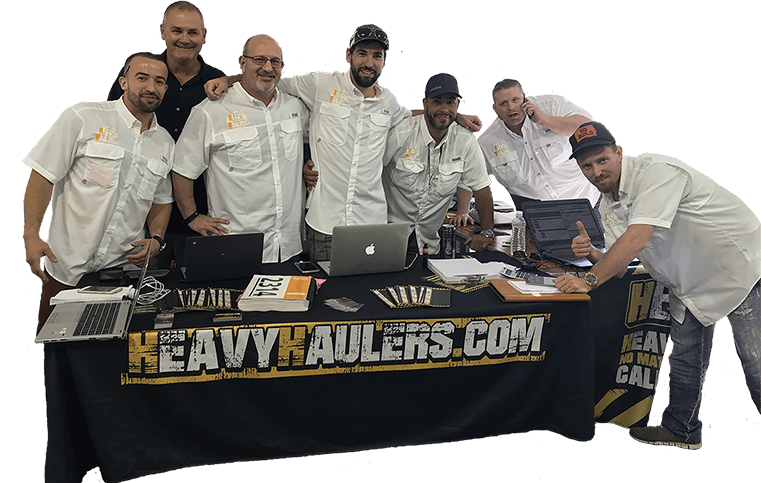 We Are Ready To Help You Haul Your Equipment!
Common Equipment Heavy Haulers Transports
Trust Heavy Haulers to transport any brand of equipment you own. Most of our drivers are experienced heavy-machinery operators who can safely maneuver your loads aboard our trailers. Some of the brands we have shipped include:
See what you need?
Call us for a FREE Shipping Estimate at (800) 908-6206