We Offer the Best Railroad Crane Transport
Heavy Haulers are the specialists to call when it comes to shipping a railroad crane. We focus on reliable transport of oversized railroad cranes of all sizes using a certified, bonded fleet of extreme dimension handling trailers and professional drivers. Our services cover all of North America, from urban areas to rougher backcountry. Call now on (800) 908-6206 to take advantage of a no-obligation estimate for your shipment.
For over ten years, Heavy Haulers has perfected its strength in logistics and operations. Our niche is a heavy haul trucking and shipment service. As such, we've developed our techniques for transporting cranes, making hauling even outsized railroad cranes simple. Our oversized load specialists take care of all the paperwork necessary for railroad crane transport, including weigh station permits and authorization for transport throughout North America, including Canada and Mexico.
Railroad Crane Uses and Shipping
Railroad cranes are used for loading and unloading cargo at railway depots. They're also used for permanent maintenance and accident repair. While the design of each crane differs slightly for the type of work it's used for, all railroad cranes are large pieces of equipment, fixed on a sturdy chassis with flanged wheels to allow it to move easily up and down the rail tracks. Some are also built with coupling gear, to ship via locomotive. However,r when it's time to move your railroad crane overland to a new site, you'll need heavy machinery equipment specialists. Call us now! (800) 908-6206
Safely transporting your railroad crane includes fastening it to a step-deck or lowboy trailer, long enough to protect the arm and with enough axles to balance the weight of the chassis. The Heavy Hauler fleet is versatile, meaning that even the largest railway crane can reliably travel with one of our trucks. All of our drivers, loaders, and logistics specialists are certified, insured, and licensed, giving you peace of mind. Our transport for railroad crane flatbed trucks are only driven by experts and tracked by our dispatch and route planning managers to ensure full compliance with shipping regulations.
Contact Our Expert Shipping Specialists
(800) 908-6206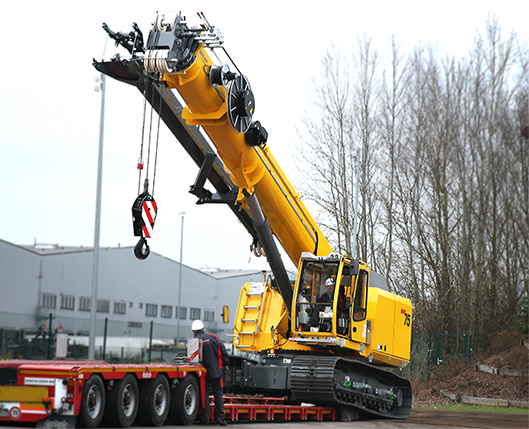 How to Ship Railroad Cranes
We begin with determining the dimensions of your railroad crane, including the height and length of each part, and the weight of the item. Our delivery service is door-to-door, meaning we pick it up from you and deliver it to your next job site. Special care is taken to protect the chassis and arms of the railroad crane, securing it and ensuring that the gears aren't damaged by weather. Each piece of the crane is secured to make sure that the boom doesn't drift during transport, and our drivers stop to ensure that all the fastenings are secure periodically during the trip.
Common Trailer Types Available from Heavy Haulers
Heavy Haulers specializes in hauling heavy loads such as construction equipment, oil field rigging and Super Loads. We are wideload experts! We offer an extensive range of trailer choices, including:
Max Weight: 48,000 lbs. | Max Length 53 ft. | Max Width 8.5 ft. | Max Height 11 ft.




Max Weight: 45,000 lbs. | Max Length 29 ft. | Max Width 8.5 ft. | Max Height 11.5 ft.
Max Weight: 150,000+ lbs. | Main Deck Length 29 ft. | Well Width 8.5 ft. | Legal Height Limit 11.6 ft.




Max Weight: 48,000 lbs. | Max Length 53 ft. | Max Width 8.5 ft. | Max Height 8.5 ft.
Common Equipment Heavy Haulers Transports
Trust Heavy Haulers to transport any brand of equipment you own. Most of our drivers are experienced heavy-machinery operators who can safely maneuver your loads aboard our trailers. Some of the brands we have shipped include:
HEAVYHAULERS.COM
START YOUR SHIPMENT TODAY!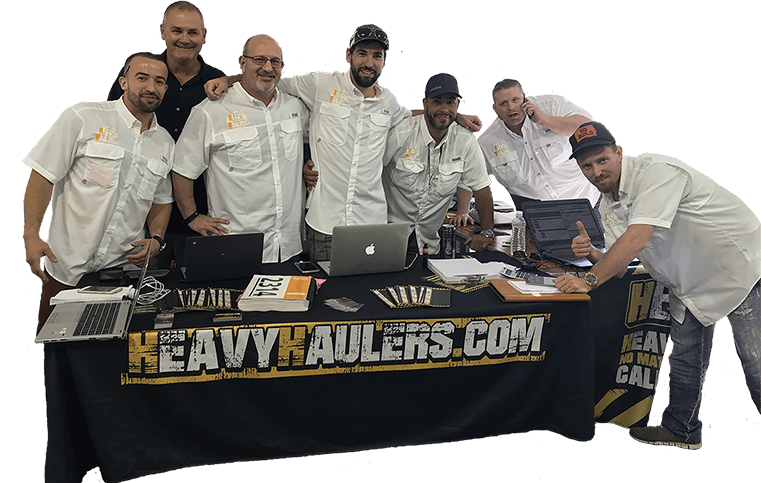 We Are Ready To Help You Haul Your Equipment!