The Best Drivers for Hammerhead Crane Shipping
Need assistance in hauling a hammerhead crane to and from your job site regionally or locally? Our drivers have decades of expertise under their belt in providing hammerhead crane transport and industrial crane transport services in the US, Canada, and Mexico. Heavy Haulers are also certified and dedicated professionals who go beyond the extra mile to provide our clients with reliable crane shipping services and make sure the load arrives safely.
Whether you are shipping a hammerhead crane locally or just transporting cranes across the country or to the job site, our skilled drivers will get it done. Mind you, our team of professional drivers is certified to travel across various regions locally. We have a fleet of special trucks and trailers built and designed especially for shipping industrial cranes and for hammerhead crane hauling.
With over a decade of experience, Heavy Haulers are the industry's leading hammerhead crane shipping company. Our highly skilled logistics team will make sure your hammerhead crane transport is quality and hassle free. Give us a call now! (800) 908-6206
Hammerhead Crane Uses and Transport
A hammerhead tower crane is among the most frequent cranes used globally and is mostly preferred because of its accuracy and precision when it comes to handling different comprehensive heavy materials. It is described as a flexible workhorse because it can be adjusted to work well for any job site and ferry different quantities of materials.
A hammerhead crane is used to hoist bulky loads swiftly during heavy load-lifting compared to other cranes. There are two types of hammerhead cranes; stationary and portable. No matter what type of hammerhead crane you're transporting, Heavy Haulers can get it done right. Let's get started! (800) 908-6206
Contact Our Expert Shipping Specialists
(800) 908-6206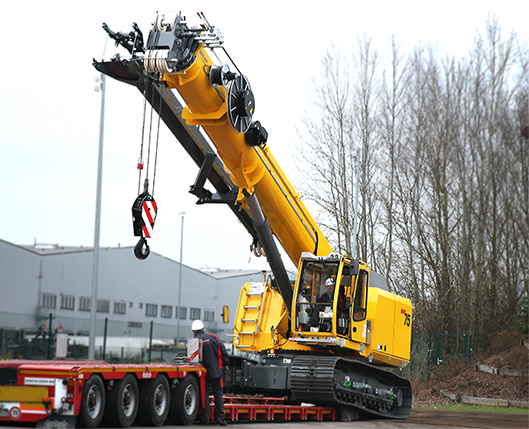 How to Ship Hammerhead Cranes
Let Heavy Haulers relieve you of the hassle of having to haul your hammerhead crane to its new destination. We have immense experience when it comes to providing hammerhead crane shipping services that can come in handy through the entire transportation especially when it comes to legal matters and route maneuvering.
Our team of construction equipment engineers will ensure your crane is properly handled during the shipping process, and when it comes to disassembling and reassembling the hammerhead crane, our certified and experienced millwrights are there to handle it effectively. We have shipped several industrial cranes across the U.S, Canada, and Mexico. Call us today to obtain affordable crane shipping quotes. (800) 908-6206
Common Trailer Types Available from Heavy Haulers
Heavy Haulers specializes in hauling heavy loads such as construction equipment, oil field rigging and Super Loads. We are wideload experts! We offer an extensive range of trailer choices, including:
Max Weight: 48,000 lbs. | Max Length 53 ft. | Max Width 8.5 ft. | Max Height 11 ft.




Max Weight: 45,000 lbs. | Max Length 29 ft. | Max Width 8.5 ft. | Max Height 11.5 ft.
Max Weight: 150,000+ lbs. | Main Deck Length 29 ft. | Well Width 8.5 ft. | Legal Height Limit 11.6 ft.




Max Weight: 48,000 lbs. | Max Length 53 ft. | Max Width 8.5 ft. | Max Height 8.5 ft.
Common Equipment Heavy Haulers Transports
Trust Heavy Haulers to transport any brand of equipment you own. Most of our drivers are experienced heavy-machinery operators who can safely maneuver your loads aboard our trailers. Some of the brands we have shipped include:
HEAVYHAULERS.COM
START YOUR SHIPMENT TODAY!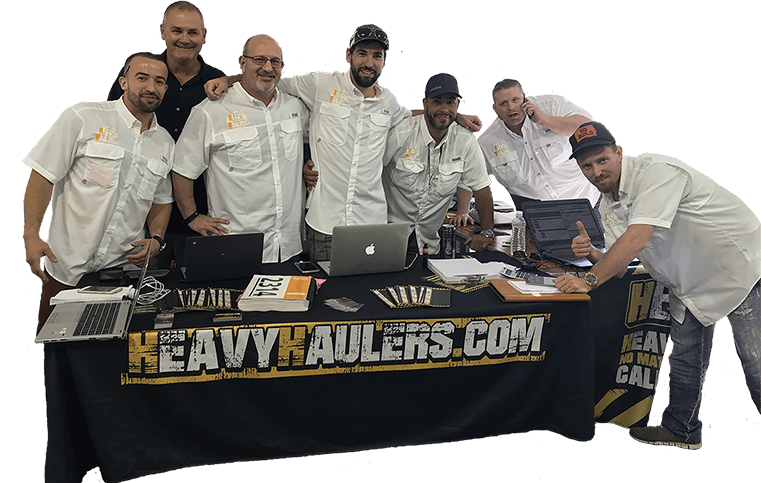 We Are Ready To Help You Haul Your Equipment!