High-Quality Jacking Tower Crane Transportation
There is a wide range of industries that utilize jacking tower crane systems for their operations. Industrialists often use these heavy, massive, and towering steel frames in off-the-beaten-path settings where conventional lifting cranes cannot be used. To transport a jacking tower crane safely to your site working site, contract Heavy Haulers today. We are specialists in moving heavy construction rigs over long distances and across state borders. We will handle the delivery from the beginning to the end while paying attention to detail and precision.
As an authority and transparent freight and heavy-cargo shipping firm, we deal with any administrative issues like commercial-freight permits. We adhere to strict safety codes. That's why we use state-of-the-art cargo-handling equipment, operated by trained and experienced technicians. Our logistics representatives collaborate with an industry-seasoned team of drivers and cargo handlers to make sure the transportation of the jacking tower crane goes smoothly. Let's get started! (800) 908-6206
The Best Cross-Country Jacking Tower Crane Shipping Company
Heavy Haulers facilitates long-distance hauls across the US and its neighbors. We've established HH branches in each state with knowledgeable professionals who will handle your concerns. If you need us to tweak our equipment hauling solutions to suit your individual needs, we will do that. Heavy Haulers strives to achieve the best shipping technique at a pocket-friendly price. We also create the travel map, schedule for the cargo shipping, and calculate the estimates. That saves you time and money, leaving you to deal with other essential business pursuits.
Jacking tower cranes are large steel structures used to lift super and mega loads vertically, either from top to bottom or vice versa, using hydraulic systems fitted at the tip and pedestal. They offer excellent alternatives to lifting cranes when the site of the operation is limited in space. Heavy Haulers has a large inventory of trailers that can capably carry the jack mast from its origin to remotely and out-of-the-way location. It's time to call one of our specialists! (800) 908-6206
Contact Our Expert Shipping Specialist's
(800) 908-6206
Common Types of Jacking Towers Heavy Haulers Ship:
See what you need?
Call us for a FREE Shipping Estimate at (800) 908-6206
How to Move a Jacking Tower with Heavy Haulers
Moving a jacking tower requires skill and creativity. Because a jacking tower has different components (pinned climbing jacks, individual steel sections, etc.), our professional logistics agents will transport them in standard shipping containers and loaded on a suitable trailer. The project warrants the use of several trailers and trucks, which we possess. Depending on the distance of travel, we will contract the right number of drivers who can take the wheel in turns to ensure the load gets to its final destination in one piece. For the best quality jacking tower transport, give us a call! (800) 908-6206
See what you need?
Call us for a FREE Shipping Estimate at (800) 908-6206
Looking For Transport
With a Specific Trailer?

Max Weight: 150,000+ lbs. | Main Deck Length 29 ft.
| Well Width 8.5 ft. | Legal Height Limit 11.6 ft.

Max Weight: 48,000 lbs. | Max Length 53 ft.
| Max Width 8.5 ft. | Max Height 8.5 ft.
Max Weight: 48,000 lbs. Max Length 53 ft. |
Max Width 8.5 ft. | Max Height 11 ft.
Max Weight: 45,000 lbs. | Max Length 29 ft.
| Max Width 8.5 ft. | Max Height 11.5 ft.
HEAVYHAULERS.COM
START YOUR SHIPMENT TODAY!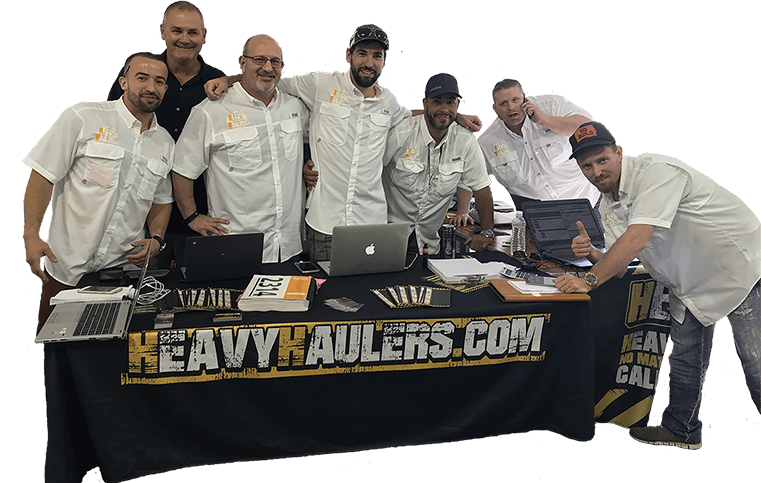 We Are Ready To Help You Haul Your Equipment!
Common Equipment Heavy Haulers Transports
Trust Heavy Haulers to transport any brand of equipment you own. Most of our drivers are experienced heavy-machinery operators who can safely maneuver your loads aboard our trailers. Some of the brands we have shipped include:
See what you need?
Call us for a FREE Shipping Estimate at (800) 908-6206