Transporting Bulk Handling Cranes at Affordable Prices
At Heavy Haulers, we boast being a reputable bulk handling crane transportation company serving both US-based and international consumers. We provide affordable hauling services without compromising on our service quality. With our competitive quotes and bonded and certified trailer drivers, you can rest assured that your bulk handling crane will reach the desired destination safely. We have an extensive fleet of modern trailers that undergo regular maintenance to ensure we are always ready to handle the transportation.
We understand the significant budgets that go into moving a bulk handling crane, and as an industry leader, we ensure that you get reasonably priced quotes to make sure your budget for transporting a bulk handling crane reasonable. We provide affordable bulk handling crane shipping services that include superior logistic services from temporary equipment-usage and warehousing services. Afterward, our certified and skilled drivers will handle the hauling phase, ensuring safe delivery.
Contact Our Expert Shipping Specialist's
(800) 908-6206
Quality Shipping and On Time Marine Crane Delivery
Quality heavy-machinery hauling starts with hassle-free marine crane hauling and exceptional consumer experience. That's the reason why we regularly review our logistics services to suit our clients' unique needs and wants. Our team in the transportation department can organize for temporary equipment storage services. From there, our certified, bonded, and licensed drivers will pick up the crane and make sure an in-transit crane reached the client on a timely basis.
When towing marine cranes, Heavy Haulers gets the client involved in the entire haulage project. Our technologically-advanced communication systems enable us to equip each trailer with remote and satellite communications. Therefore, you can keep constant contact with the driver carrying out the marine crate transport. You also have the open channels of communications with our company, and we will work together to get the shipment in your yard within the stipulated timeframe. Whatever the type of offshore crane you need hauling, you can rest assured that we will make the delivery happen without any problems.
Bulk Handling Cranes Uses and Shipping with Heavy Haulers
A bulk handling crane serves a critical function in the cargo-handling industry. They are mainly used in the handling of large cargoes. Typically, you'll find bulk handling cranes in harbors, seaports, and other offshore commercial constructions. Material handling cranes play a critical role in the chain distribution of raw material from a producer to the intended consumer. Most industries rely on cranes and their related components to offer an effective means of handling different types of cargo, whether its agricultural supplies, coal, electronics, textile, mineral ore, fertilizer, among others.
Bulk handling cranes are also known as grab cranes. Therefore, they are used to lift heavy cargo to efficiently another place around the working area. Apart from that, they are also engineered to handle dredging and stevedoring projects.
How to Ship Bulk Handling Cranes
Since hauling a bulk handling crane involves heavy equipment, the cargo undergoes disassembly for easy transportation. Our construction-equipment representatives will then perform the reassembly. This approach allows you to save money. If you require planning for transportation for bulk handling cranes, look no further than Heavy Haulers. We have the equipment, trail, and qualified drivers to make the transportation project a success. Feel free to talk to us on (800) 908-6206.
Looking For Transport
With a Specific Trailer?

Max Weight: 150,000+ lbs. | Main Deck Length 29 ft.
| Well Width 8.5 ft. | Legal Height Limit 11.6 ft.

Max Weight: 48,000 lbs. | Max Length 53 ft.
| Max Width 8.5 ft. | Max Height 8.5 ft.
Max Weight: 48,000 lbs. Max Length 53 ft. |
Max Width 8.5 ft. | Max Height 11 ft.
Max Weight: 45,000 lbs. | Max Length 29 ft.
| Max Width 8.5 ft. | Max Height 11.5 ft.
HEAVYHAULERS.COM
START YOUR SHIPMENT TODAY!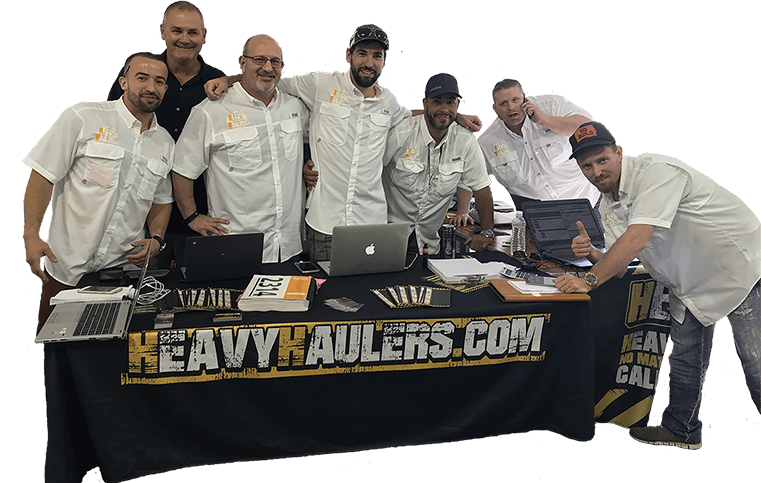 We Are Ready To Help You Haul Your Equipment!
Common Equipment Heavy Haulers Transports
Trust Heavy Haulers to transport any brand of equipment you own. Most of our drivers are experienced heavy-machinery operators who can safely maneuver your loads aboard our trailers. Some of the brands we have shipped include:
See what you need?
Call us for a FREE Shipping Estimate at (800) 908-6206