Hassle-Free Side-Lift Crane Transport
Transporting heavy equipment like a side-lift crane is a daunting challenge to any freight company. That's where we come in to ensure your mobile crane transport process is hassle-free and effective. We have been in the heavy haul freight business for over a decade and are among the leaders in the crane transport business in the US, Canada, and Mexico. When you transport with Heavy Haulers, you can rest assured that your mobile crane is under professional care.
At Heavy Haulers, we help clients determine transport costs and the type of transport to use. We provide flexible options once we have taken your mobile crane dimensions and depending on the size of your side-lift crane and distance it has to travel, it may be hauled or transported by a special trailer.
For a short distance, we may tow your mobile crane whereas special trailers may handle long-distance jobs. We have different types of heavy modern trucks tailored for side-lift crane transport services to ensure that your mobile cranes reach safely to their destination. Additionally, we understand that side-lift crane hauling requires undivided attention. Worry less because we have insured and licensed experts in the field who perform the task without endangering your side-lift crane.
Side-Lift Cranes Get the Job Done
A side-lift crane is a mobile semi-trailer that incorporates a lateral elevator and is designed to transport and lift containers. It also handles cargo in the dock, although it's mostly preferred for the rails. Side-lift cranes get the job done because their light design makes it possible to load and unload containers on the ground, thereby reducing the risk of injury. The cranes have hydraulic legs and can lift loads of up to 44 tons without tilting the vehicle. Their trailer stabilizer legs are flexible and can be adjusted to assist the crane's operations in elevated terrains. This feature makes it preferred for most jobs because it facilitates substantial safety margins and loads limits while stacking containers.
Side-lift cranes save operators time because they can be easily loaded into the trailers without the help of cranes during crane transportation, thus saving the transport operator money too. Not only do they transfer their containers, but side-lift cranes can also be used in loading and unloading complete container convoys without assigning expensive independent heavy equipment.
Side-lift cranes reduce the costs incurred due to leaving trailers at the site, and they also free up equipment and personnel for other tasks, saving operating costs.
Contact Our Expert Shipping Specialist's
(800) 908-6206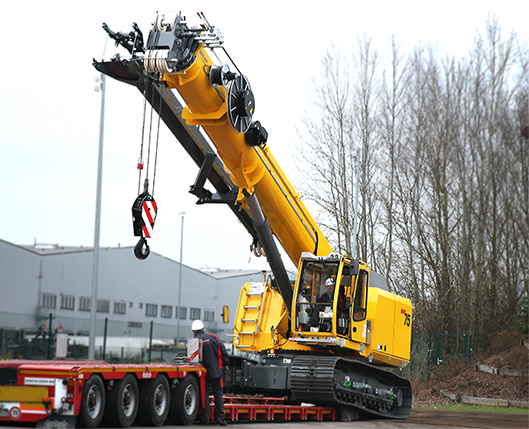 How to Ship Side-Lift Cranes
Side-lift crane shipping is a pretty tricky task that needs to be handled by experts, and you can count on us for your mobile crane shipping needs. We have adequate expertise, resources, and experience needed to ship your side-lift crane. Heavy Haulers is your leading heavy haul trucking company--and we get the job done right.
Our highly trained logistics team will pair your side-lift crane with an experienced driver who's ready to get started today. They'll also plan out the best routes and handle all the necessary oversize load paperwork for your side-lift crane transport. Call now! (800) 908-6206
See what you need?
Call us for a FREE Shipping Estimate at (800) 908-6206
Looking For Transport
With a Specific Trailer?

Max Weight: 150,000+ lbs. | Main Deck Length 29 ft.
| Well Width 8.5 ft. | Legal Height Limit 11.6 ft.

Max Weight: 48,000 lbs. | Max Length 53 ft.
| Max Width 8.5 ft. | Max Height 8.5 ft.
Max Weight: 48,000 lbs. Max Length 53 ft. |
Max Width 8.5 ft. | Max Height 11 ft.
Max Weight: 45,000 lbs. | Max Length 29 ft.
| Max Width 8.5 ft. | Max Height 11.5 ft.
HEAVYHAULERS.COM
START YOUR SHIPMENT TODAY!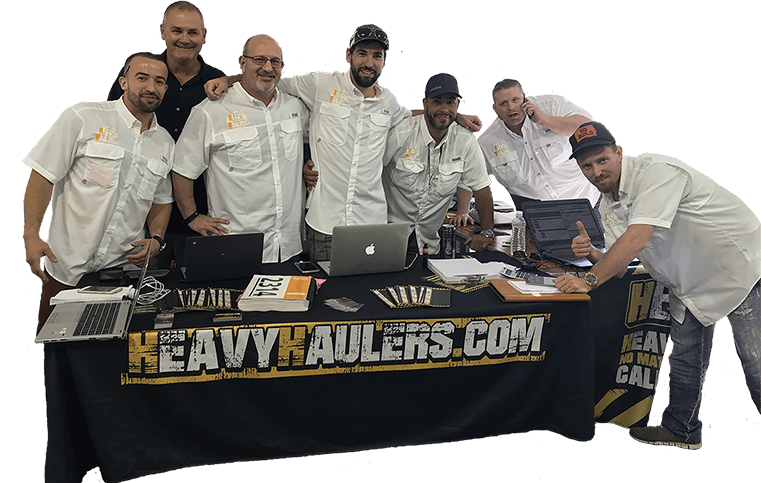 We Are Ready To Help You Haul Your Equipment!
Common Equipment Heavy Haulers Transports
Trust Heavy Haulers to transport any brand of equipment you own. Most of our drivers are experienced heavy-machinery operators who can safely maneuver your loads aboard our trailers. Some of the brands we have shipped include:
See what you need?
Call us for a FREE Shipping Estimate at (800) 908-6206