Book Crane Transport with the Experts
Transport your boom cranes with the experts at Heavy Haulers. We have a team of mobile cranes transport experts who assist clients to plan their route by ensuring that the trailer and the crane have complied with both local and state laws. We also facilitate the smooth completion of paperwork for the customs and weigh stations before beginning the boom crane hauling process to avoid unnecessary delays common during boom crane shipping due to government bureaucracies.
Heavy Haulers has a fleet of modern loaders, thus clients have assured seamless crane transport processes from the loading to the unloading zone, and the safety of the equipment is also guaranteed.We deliver boom crane hauling solutions with precision, minimizing the risks associated with the complex crane transport business.
What Boom Cranes are Used For
Boom cranes have a hydraulic extension used to perform a variety of hoists. Its capacity may depend on the specific tonnage described by the manufacturer and the extent of the boom. It is mostly used in jobs that require hoisting items deemed to be small lifts, for instance, hoisting an 800kg air conditioning unit to the second floor of a building. That's the most common application for a small boom truck. Call us now for a free shipping estimate for your boom crane transport! (800) 908-6206
Boom cranes are often used to move heavy and awkward shaped materials that you might find on a construction site or even for loading overweight cargo--such as freight containers onto ships. Heavy Haulers can transport your boom crane or boom truck with ease. With a large and versatile fleet, we have a rig that fits any boom crane hauling need.
Contact Our Expert Shipping Specialists
(800) 908-6206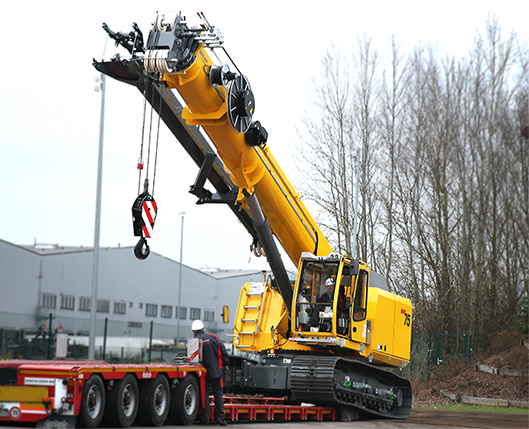 How to Ship Boom Cranes
Boom cranes, commonly used as construction cranes, are bulky and have irregular width and height, but Heavy Haulers has over a decade of industry experience, and we can tackle this task with precision and expertise.
At Heavy Haulers we have specialized heavy haul trucking trailers that help transport the boom cranes to their destinations. To ensure their safety during the whole process, there are certified drivers to help plan and implement a detailed route plan and handle any logistical issues that might come up.
Common Trailer Types Available from Heavy Haulers
Heavy Haulers specializes in hauling heavy loads such as construction equipment, oil field rigging and Super Loads. We are wideload experts! We offer an extensive range of trailer choices, including:
Max Weight: 48,000 lbs. | Max Length 53 ft. | Max Width 8.5 ft. | Max Height 11 ft.




Max Weight: 45,000 lbs. | Max Length 29 ft. | Max Width 8.5 ft. | Max Height 11.5 ft.
Max Weight: 150,000+ lbs. | Main Deck Length 29 ft. | Well Width 8.5 ft. | Legal Height Limit 11.6 ft.




Max Weight: 48,000 lbs. | Max Length 53 ft. | Max Width 8.5 ft. | Max Height 8.5 ft.
Common Equipment Heavy Haulers Transports
Trust Heavy Haulers to transport any brand of equipment you own. Most of our drivers are experienced heavy-machinery operators who can safely maneuver your loads aboard our trailers. Some of the brands we have shipped include:
HEAVYHAULERS.COM
START YOUR SHIPMENT TODAY!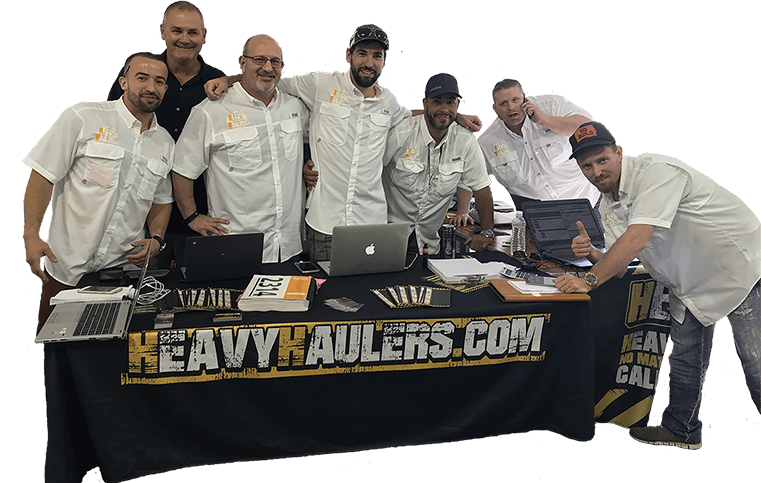 We Are Ready To Help You Haul Your Equipment!