Heavy Haulers are Experts in Jib Crane Shipping
Heavy Haulers are the specialists to call when it comes to the transportation of jib cranes. We focus on dependable shipping of jib cranes of all sizes using a professional fleet of extreme dimension handling trailers and certified drivers. We work on your timeline, with dispatch managers trained to find the fastest, safest route for your jib crane. Call now on (800) 908-6206 to take advantage of a no-obligation shipping valuation.
Ten years in the heavy shipping business has given Heavy Hauler strength in logistics and operations. By choosing to focus on the substantial cargo trucking niche, we've honed our techniques for transporting cranes, making hauling jib cranes a cinch. Our oversized load specialists take care of all the paperwork necessary for jib crane transport, including permits and authorization for seamless transport throughout North America, including Canada and Mexico.
Jib Crane Uses and Transport
Jib cranes are vital for several different industries, especially cargo loading and shipping or commercial construction. The long arm of the jib crane helps support the load it carries clear of the main support and keeps the load at an even height during transport. The pieces of the jib crane, especially the all-important arm, are sturdy, but precise enough that protecting them during transport is crucial to the safe operation of the crane.
Moving your jib crane typically involves safely binding it to a step-deck or lowboy trailer, long enough to protect the arm and other pieces. The Heavy Hauler fleet is versatile, meaning that even the largest jib crane can reliably travel with one of our rigs. All of our dispatchers, drivers, and riggers are certified, insured, and licensed, giving you peace of mind. Our rigs for jib crane flatbed trucks are only driven by experts and tracked by our dispatch and logistics managers to ensure full compliance with shipping regulations.
Contact Our Expert Shipping Specialists
(800) 908-6206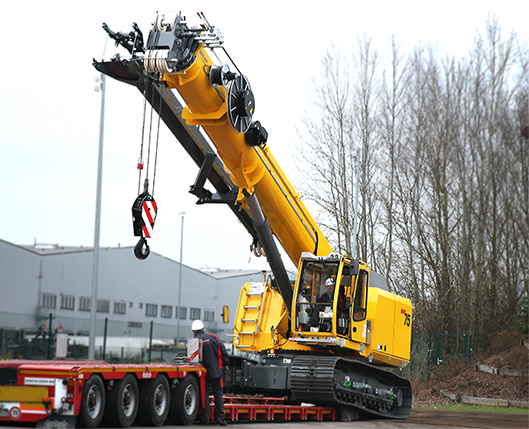 How to Ship Jib Cranes
We being with determining the dimensions of your jib crane, including the height and length of each part, and the weight of the item. We then match your crane with a trailer that has plenty of securement brackets to keep the crane in place and immobile during shipment. Our delivery service is door-to-door, meaning we pick it up from you and deliver it to your next job site. Depending on the size of your jib crane, we may disassemble it and ship parts separately, reassembling it when we arrive.
Special care is taken to protect the pneumatic arm of your jib crane, with tarps available to secure it and ensure that the gears aren't damaged by weather. Each piece of the crane is secured to make sure that the boom doesn't drift during transport, and our drivers stop to ensure that all the fastenings are secure periodically during the trip.
Common Trailer Types Available from Heavy Haulers
Heavy Haulers specializes in hauling heavy loads such as construction equipment, oil field rigging and Super Loads. We are wideload experts! We offer an extensive range of trailer choices, including:
Max Weight: 48,000 lbs. | Max Length 53 ft. | Max Width 8.5 ft. | Max Height 11 ft.




Max Weight: 45,000 lbs. | Max Length 29 ft. | Max Width 8.5 ft. | Max Height 11.5 ft.
Max Weight: 150,000+ lbs. | Main Deck Length 29 ft. | Well Width 8.5 ft. | Legal Height Limit 11.6 ft.




Max Weight: 48,000 lbs. | Max Length 53 ft. | Max Width 8.5 ft. | Max Height 8.5 ft.
Common Equipment Heavy Haulers Transports
Trust Heavy Haulers to transport any brand of equipment you own. Most of our drivers are experienced heavy-machinery operators who can safely maneuver your loads aboard our trailers. Some of the brands we have shipped include:
HEAVYHAULERS.COM
START YOUR SHIPMENT TODAY!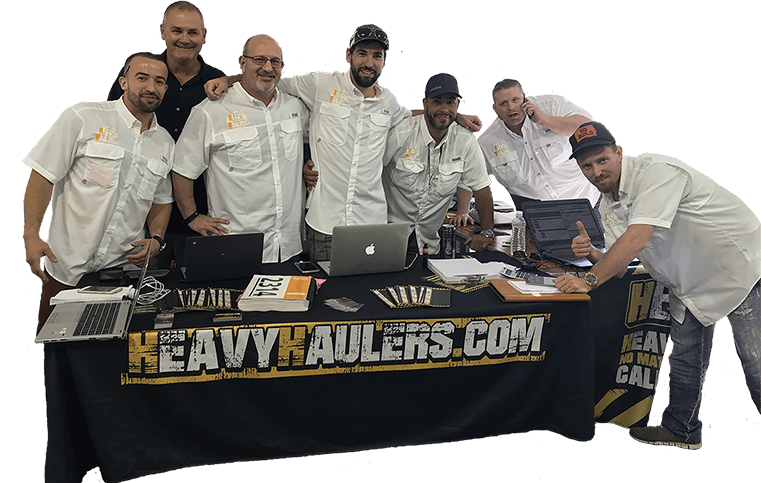 We Are Ready To Help You Haul Your Equipment!