Affordable Deck Crane Transport
Are you looking for affordable deck crane transportation services? At Heavy Haulers, we are a professional deck crane moving company serving clients both nationally and internationally. We have an excellent track-record of providing top-notch hauling services at affordable prices. Each of our drivers has adequate training, experience, and skill to handle the challenges that come with the deck crane shipping process. Besides, we have invested in a state-of-the-art fleet of trailers, and that alleviates mechanical issues, letting the driver focus on delivering your deck crane to your site.
Hauling deck cranes requires proper planning. Our company has a robust logistics model that lets us handle any deck crane moving projects across north and central America. We will ensure equipment safety from the initial stages as our logistics team will offer temporary warehousing services before the crane gets on the road. We've also invested in satellite and remote communication systems. You can keep in touch with the driver and our support team.
Contact Our Expert Shipping Specialist's
(800) 908-6206
Shipping a Deck Crane with Ease
In most marine vessels, deck cranes serve two significant purposes: hooking cargo and grabbing heavy materials. Therefore, it is critical for your company of choice to have the necessary equipment and experience to ensure you have a hassle-free deck crane shipping process. At Heavy Haulers, our logistics team will plan the move. That involves managing the pre-haul storage and transportation, the maximum load limitations in different jurisdictions, and other administrative issues
A lot of issues that make shipping a deck crane a challenging process deal with mechanical problems that occur while the machinery is in-transit. That's the reason we not only invest in technologically-updated trailers to alleviate such problems. We only handpick certified and bonded drivers who have had extensive experience in heavy-cargo hauling projects. They can successfully handle cargo pick-ups, transportation, and safe delivery.
How to Ship a Deck Crane
We utilize the necessary equipment for deck crane transport to ensure efficient and easy haulage. Our trained technicians will disassemble the machinery using the appropriate tools. Once the crane reaches the destination, we also handle the reassembly procedure. We have also installed satellite and remote communication lines with the driver transporting a deck crane. Thus, you can monitor the cargo from the time it departs to its arrival time. Take time and contact us online today.
Looking For Transport
With a Specific Trailer?

Max Weight: 150,000+ lbs. | Main Deck Length 29 ft.
| Well Width 8.5 ft. | Legal Height Limit 11.6 ft.

Max Weight: 48,000 lbs. | Max Length 53 ft.
| Max Width 8.5 ft. | Max Height 8.5 ft.
Max Weight: 48,000 lbs. Max Length 53 ft. |
Max Width 8.5 ft. | Max Height 11 ft.
Max Weight: 45,000 lbs. | Max Length 29 ft.
| Max Width 8.5 ft. | Max Height 11.5 ft.
HEAVYHAULERS.COM
START YOUR SHIPMENT TODAY!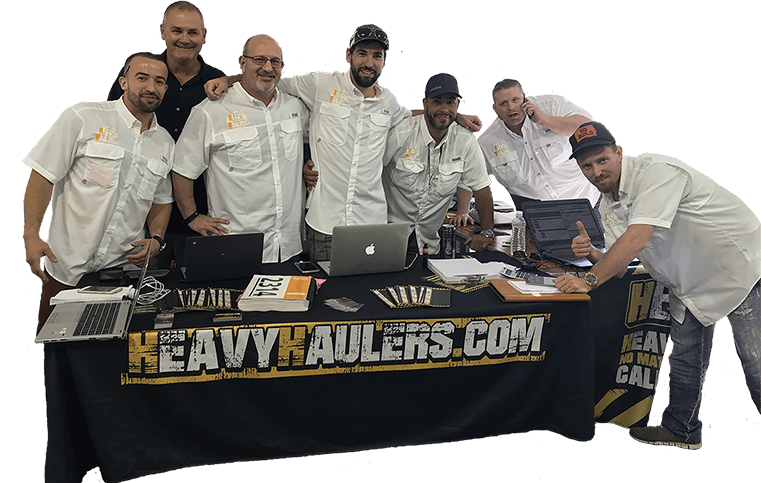 We Are Ready To Help You Haul Your Equipment!
Common Equipment Heavy Haulers Transports
Trust Heavy Haulers to transport any brand of equipment you own. Most of our drivers are experienced heavy-machinery operators who can safely maneuver your loads aboard our trailers. Some of the brands we have shipped include:
See what you need?
Call us for a FREE Shipping Estimate at (800) 908-6206