9 Axle Trailer Transport Services in All 50 States, Canada, and Mexico | Heavy Haulers
The most versatile and dependable heavy equipment transporter in mainland US, our Heavy Haulers fleet of 9 axle trailers will save you money. Heavy machinery doesn't have to be disassembled and reassembled at another destination. At Heavy Haulers, we only use one of our 9 axle trailer transport to move the machine or equipment as a whole in one fluid transaction.
Our logistics department is available on (800) 908-6206 for a quotation to determine the services of mobilization that your cargo needs. Nine axle lowboys that are an essential part of our nationwide transport fleet due to the recent load size increases. Heavy Haulers will inspect your load of mining equipment or bulkier road construction dozers and wheel loaders.

Think You Need a 9-Axle RGN Trailer? Let Heavy Haulers Help You
These can weigh up to 150,000, and a trailer with a capacity of fewer than 55 tons can only handle bits and pieces of such machinery. Instead of tearing down and loading onto several trailers, our nine axle transport will make a single resourceful and realistic haulage. A two or three crew member can take between one and three days to put apart a piece of equipment, and then load the pieces onto multiple truck trailers. The same amount of time will be used on reassembly at the destination with additional labor and fuel costs. Circumnavigate these inconveniences with a call to Heavy Haulers on (800) 908-6206, and get 9 axle transport services of a professional team backed by excellent logistic management.
Recent Shipments Hauled with a 9 Axle RGN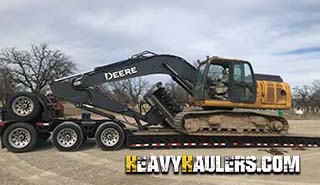 Transporting a John-Deere-210g LC on a 9 Axle Trailer
Origin: Aberdeen, SD
Destination: Salt Lake City, UT 84101
Specs: 58,000 pound excavator
Heavy Haulers is the industry leading professionals to contact if you need to transport an excavator. Our agent Brian arranged the haul of this John Deere 210G LC Excavator over 200 miles. The 58,000 pound excavator was transported without issue. Brian was able to schedule the haul with limited time and pulled off a miracle for the shipper. If you need to move an excavator contact the experts at Heavy Haulers (800) 908-6206.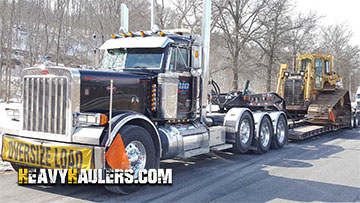 Transporting a John-Deer Excavator on a 9 Axle RGN
Origin: Aberdeen, SD
Destination: Salt Lake City, UT 84101
Specs: 44,000 pounds
Heavy Haulers agent Jay arranged this transport. The 44,000 pound Caterpillar D6H travelled almost 250 miles from Herkimer, New York to Providence, Rhode Island. This oversized shipment required great deal of coordination and included a follow-car. Even though there was poor weather during the haul the delivery was completed ahead of schedule. Let Heavy Haulers move your next oversized haul and you won't regret it. Call us today at (800) 908-6206.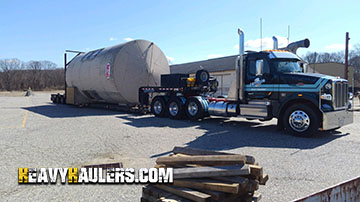 Transporting a Duster Collector with a 9 Axle Trailer
Origin: Aberdeen, SD
Destination: Salt Lake City, UT 84101
Specs: 47' long, 13'5" wide by 13'5" tall
This 2,400 pound dust collector recently had to be moved from Perkinston MS to Galveston in Texas. The 457 miles journey was planned and overlooked by our agent Adam who had to coordinate multiple permits for the oversized load, which measured 47' long, 13'5" wide by 13'5" tall. It took a good amount of coordination with our client to ensure his presence and approval of the exact drop off spot in his project site, but with good communication the shipment was a successful affair. Do you need to move heavy machinery? Give us a call at (800) 908-6206, Heavy Haulers is ready to move your dust collector.
See what you need?
Call us for a FREE Shipping Estimate at (800) 908-6206
What Does a 9-Axle RGN Trailer Actually Haul?
A 9 axle trailer can be a double drop or stretch depending on the equipment being hauled. Heavy and oversize equipment is our specialty at Heavy Haulers, and we shall choose the type of 9 axle trailer after a quick valuation. Call Heavy Haulers now on (800) 908-6206 to have your machinery transported in one consignment which is both time and cost effective.
Our Heavy Haulers 9 axles are specialized trailers that accommodate a three spread of three axles. These allow our trailers to have a comfortable 75-ton capacity due to a three-axle jeep and another three axles on the drop deck. The low boy is then coupled with a flip gooseneck and flip axles to simplify the loading of heavy and cumbersome equipment.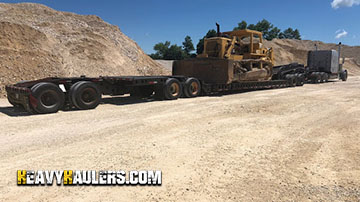 9 Axle Trailer Hauling a Caterpillar D9G
How Much Weight Can a 9-Axle RGN Hold??
Heavy Haulers 9 axle trailer transport maximizes the length of a drop deck to that of 103 feet. A lower trailer deck where commodities are hauled is 25 feet long and has a width of 8 feet and 6 inches. This well allows our 9 axle trailers to transport cargo that has a height of 11.8 to 12 feet and weighing anywhere near 105,000 pounds.
Equipped with a weight distribution system for the rear three axles, movements and controls are hydraulically dampened to transfer load evenly. In the instance that our Heavy Haulers operators are using a combination of all axles or a 3+2 configuration, they can lift the rear axles to necessitate easier backing.
At Heavy Haulers, the 9 axle trailer transport enables us to load bigger machinery and save the time it took to tear down or fix equipment back again. Scaling at a state checkpoint is small adjustment rather than complicated maneuvers that take other trailers 15 to 20 minutes. This is due to our flip axles having 15 foot and 1-inch regulation spacing between the 3rd and 4th axle.
Start Your 9 Axle Trailer Transport with Heavy Haulers
By reducing the tractor trailers that are needed for bulky cargo, our Heavy Haulers 9 axle transports save an average of $6,000 per trip. This is because less fuel, tires and maintenance is required to operate a single 9 axle than the numerous trailers it took earlier. The increased size of your load need not worry you; call Heavy Haulers who will deploy a 9 axle trailer to tackle your cargo at a go. Call now on (800) 908-6206 and we shall arrange out trailer goosenecks and flip axles to accommodate your heavy machinery or bulky equipment.
HEAVYHAULERS.COM
START YOUR SHIPMENT TODAY!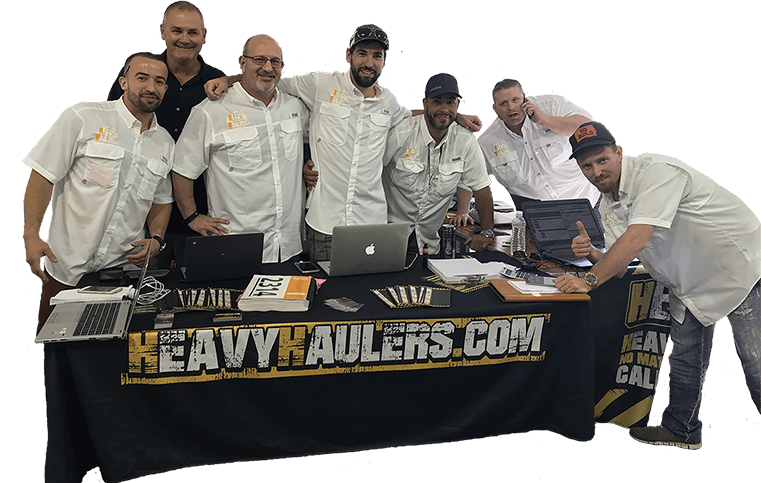 We Are Ready To Help You Haul Your Equipment!
Common Trailer Types Available from Heavy Haulers
Heavy Haulers specializes in hauling heavy loads such as construction equipment, oil field rigging and Super Loads. We are wideload experts! We offer an extensive range of trailer choices, including:
Max Weight: 48,000 lbs. | Max Length 53 ft. | Max Width 8.5 ft. | Max Height 11 ft.




Max Weight: 45,000 lbs. | Max Length 29 ft. | Max Width 8.5 ft. | Max Height 11.5 ft.
Max Weight: 150,000+ lbs. | Main Deck Length 29 ft. | Well Width 8.5 ft. | Legal Height Limit 11.6 ft.




Max Weight: 48,000 lbs. | Max Length 53 ft. | Max Width 8.5 ft. | Max Height 8.5 ft.