Transporting a Mini Float Trailer with Confidence
A mini float trailer is increasingly important for one intending to move some large-sized and medium cargo. Mini floats help in the successful movement of lumber, pallets, and medium-sized oil machinery. For all the years we have been in operation, we have maintained our focus to deliver top-notch service in the heavy transport and haulage industry. This new decade, we only intend to get better. At Heavy Haulers, we have all the trucks and trailers that are required to ensure a timely and safe delivery of your mini float trailer.
At Heavy Haulers, we know that our reputation precedes us. This is why we are keen to uphold and maintain professionally exceptional standards, we focus on building long-term and mutually beneficial relationships with our customers and we aim at improving our customers' experiences every day. With such values, you can be sure that your mini float trailer transport requirements will be fully met.
Contact Our Expert Shipping Specialist's
(800) 908-6206
The Best Mini Float Hauling Services at Heavy Haulers
With our latest equipment that is well maintained, your mini float trailer will be delivered at your doorstep as you require us to. It does not matter if you require us to transport your mini float trailers into villages with rough terrains. In fact, we thrive on a challenge. Do you live in the coldest areas, where it snows a lot or in the dustiest areas? We will deliver your mini float trailer there. One other advantage of transporting your mini float trailer with Heavy Haulers is the fact you get a unique track code where you can tell the progress of your shipment in real-time! With our heavy platform trailers, your mini float trailer will definitely be in safe and experienced hands.
A mini float trailer is a small flatbed trailer that had a tail pulled by a one-ton pickup. The mini float trailer is preferred for the ability to load cargo from both sides. This capacity accommodates the transport of oddly-shaped cargo as well as equipment that may be relatively difficult to handle. We're ready to get started! (800) 908-6206
Common Types of Mini Float Trailers Heavy Haulers Transport
• Gooseneck Mini Float Trailers

• Bumper Pull Mini Float Trailers
How to Transport Your Mini Float Trailer with Heavy Haulers
Transporting a mini float trailer is not an easy task. You can't just drive from the pickup location to your desired unloading destination with a mini float trailer just like you would a conventional vehicle. Different roads are categorized differently, and special guidelines and traffic rules are applied on these roads. If you are transporting an oversize or overweight load like a mini float trailer, you may be required to plan for alternative routes that permit such loads. Also, you may be required to have special permits. Luckily, with Heavy Haulers, you don't need to worry about any of these as all will be taken care of by our well-experienced transport experts. We are only a phone call away. Upon your contact, we are always more than delighted to answer your questions, offer guidance, suggest the most efficient transport mode for your mini float needs and even offer comparative pricing for you. Every coin counts for every business person, right? This is why we work with your budget to ensure that you are not only satisfied with our services but you also consider us any time you have a large equipment transportation need. Let's get started! (800) 908-6206
Common Equipment Heavy Haulers Transports
Trust Heavy Haulers to transport any brand of equipment you own. Most of our drivers are experienced heavy-machinery operators who can safely maneuver your loads aboard our trailers. Some of the brands we have shipped include:
Common Trailer Types Available from Heavy Haulers
Heavy Haulers specializes in hauling heavy loads such as construction equipment, oil field rigging and Super Loads. We are wideload experts! We offer an extensive range of trailer choices, including:
Max Weight: 48,000 lbs. | Max Length 53 ft. | Max Width 8.5 ft. | Max Height 11 ft.




Max Weight: 45,000 lbs. | Max Length 29 ft. | Max Width 8.5 ft. | Max Height 11.5 ft.
Max Weight: 150,000+ lbs. | Main Deck Length 29 ft. | Well Width 8.5 ft. | Legal Height Limit 11.6 ft.




Max Weight: 48,000 lbs. | Max Length 53 ft. | Max Width 8.5 ft. | Max Height 8.5 ft.
HEAVYHAULERS.COM
START YOUR SHIPMENT TODAY!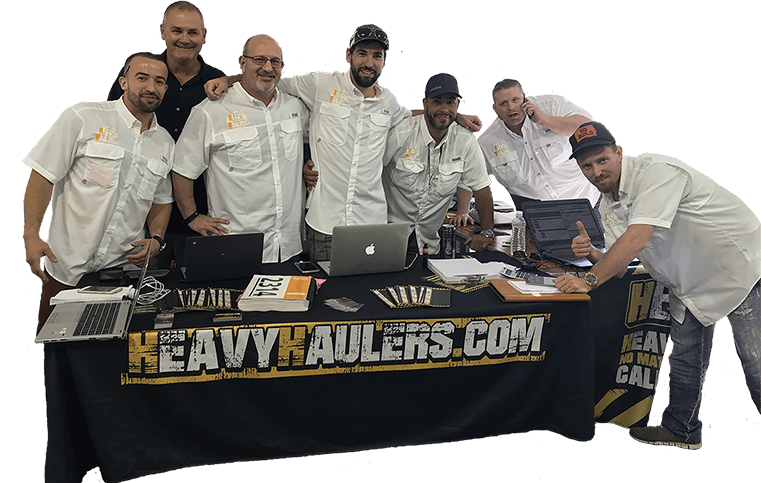 We Are Ready To Help You Haul Your Equipment!
See what you need?
Call us for a FREE Shipping Estimate at (800) 908-6206