Dependable Log Trailer Transport
Choose Heavy Haulers to help ship transport your logging trailers across North America – even into rough backcountry and undeveloped terrain. Log trailers are specialty trailers for the logging and timber industries, equipped with extra brackets to tie down unwieldy loads. Some log trailers may be integrated flatbeds while others have discrete trailer units, designed for heavy-duty off-road hauling. These trailers can be difficult to transport across regular roadways, or their rigs may not be rated for every highway from one destination to the next.
Heavy Haulers is the industry-leading trailer and heavy equipment transport company. We can transport your log trailers wherever you need them, including the double trailers that have a dolly behind them. Logging trailers designed for off-road hauling aren't generally rated for travel across regular highways. The heavy tread on the tires, ideal for gaining traction in mud or dirt, isn't conducive to long-distance travel. Heavy Haulers has extra-long RGN trailers that are ideal for carrying your log trailer – and the rest of your forestry or excavation gear – from one job site to the next. Let's get started! (800) 908-6206
Contact Our Expert Shipping Specialist's
(800) 908-6206
Heavy Haulers Ships Log Trailers Domestically and Overseas
Choosing the right hauling company to transport your log trailer is important. Many regular machinery shipping companies simply don't have the equipment or experience that Heavy Haulers does for transporting log trailers. Rods in forests are often rough, and usually temporary, intended for short use by vehicles that have off-road capabilities. Log trailers have specialized suspension, designed to keep an unsteady load in place while traveling over rough terrain, dips, and rocks. To preserve this suspension, careful loading and shipping are needed. The solid low pressure and high-pressure tires aren't made for driving at high speeds along the highway. In addition, the low axels of log trailers – the ones that keep low ground pressure and good traction – aren't really road-worthy.
Heavy Haulers can ship log trailers domestically and overseas. We can haul your log trailer across town, or provide port-to-port options. Our dedicated international team knows the ins-and-outs of customs paperwork, so we make sure your log trailer is delivered with ease. Whether you're hauling a short or long distance, we'll get your log trailer delivered on time. Call now! (800) 908-6206
Common Types of Log Trailers We Ship
To preserve the integrity of your log trailer, count on Heavy Haulers and our team of expert drivers to move your trailer and protect your expensive heavy equipment. Some of the log trailers we can ship include:
● Standard flatbed with log bunks added
● Flatbed trailer with mid mount log loaders.
● Straight truck with rear mount log loader.
● Magnum Log Trailers
● BWS Log Trailers
● Lincoln Log Trailers
● Pitts Log Trailers
How to Ship a Log Trailer with Heavy Haulers
Choosing Heavy Haulers to move your log trailers from one job site or the next means you're making the choice for safety, reliability, and punctuality. We pride ourselves on a challenge – no terrain is too rough for us to move equipment. We can move just one trailer or many, including your entire logging fleet. You'll start with a call to one of our professional route planners. We'll take into account any bad weather that could impact the roads your log trailers will travel on as well as the best route to take along highways or through cities. Heavy Haulers can ship across North America, including Canada and Mexico – we even handle customer forms and weigh station paperwork for you, taking one more thing off your checklist. Call for a free shipping estimate! (800) 908-6206
Looking For Transport
With a Specific Trailer?

Max Weight: 150,000+ lbs. | Main Deck Length 29 ft.
| Well Width 8.5 ft. | Legal Height Limit 11.6 ft.

Max Weight: 48,000 lbs. | Max Length 53 ft.
| Max Width 8.5 ft. | Max Height 8.5 ft.
Max Weight: 48,000 lbs. Max Length 53 ft. |
Max Width 8.5 ft. | Max Height 11 ft.
Max Weight: 45,000 lbs. | Max Length 29 ft.
| Max Width 8.5 ft. | Max Height 11.5 ft.
HEAVYHAULERS.COM
START YOUR SHIPMENT TODAY!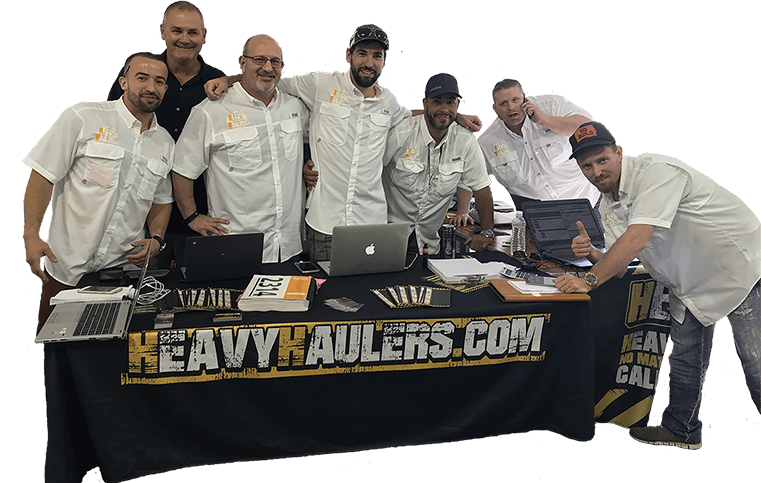 We Are Ready To Help You Haul Your Equipment!
Common Equipment Heavy Haulers Transports
Trust Heavy Haulers to transport any brand of equipment you own. Most of our drivers are experienced heavy-machinery operators who can safely maneuver your loads aboard our trailers. Some of the brands we have shipped include:
See what you need?
Call us for a FREE Shipping Estimate at (800) 908-6206