Ship Your Dolly Trailer Locally or Across the Country
Heavy Haulers helps move your dolly trailer across North America – or just across town. We use our powerful rigs and trained drivers to pull your dolly, a trailer that doesn't move under its own power. Dolly trailers can be used to carry a variety of heavy machinery and equipment, including mining equipment, forestry equipment, and vehicles that can't be transported under their own power. Depending on the eight of the equipment that your dolly needs to carry, we'll provide either a larger truck with plenty of torque or a semi that can pull a heavier dolly. Our expert route planners can handle all the necessary paperwork, from customers to weigh stations, taking that worry off your plate. We even give you a code, so that you can track your shipment in real time.
Dolly shipments from Heavy Haulers can cover everything from a vehicle that needs to be transported to a repair shop all the way to a low loader dolly that fits like a fifth wheel trailer in a gooseneck attachment for heavier items. Dolley trailers can be either full or semi-trailers, depending on the size and number of axles. Semi-trailers are usually designed to attach to a boat hitch and be towed by a larger truck or SUV.
Contact Our Expert Shipping Specialist's
(800) 908-6206
Dolly Trailer Transport with Quality Service
Choosing experts in the heavy equipment hauling business means that you can trust that your dolley trailer or cargo will arrive safely and undamaged. From a shipment of multiple dollies, loaded on a lowboy flatbed trailer to moving larger full or semi-trailer dollies, Heavy Haulers have the rigs and licensed, trained drivers to get your load shipped fast. We have plenty of experience moving heavy vehicles everywhere from temporary roads in rough terrain through construction zones and in tight urban areas.
Towing empty dollies can be tricky, as the axles don't have the weight to control the vehicle. Professional drivers can help adjust for the drift while towing along highways and through busier urban throughways. Whether you need a dolly trailer towed on its own wheels or you need heavier items shipped on one, choose Heavy Haulers to deliver.
Types of Dolly Trailers We Transport
● Tractor Trailer Dolly
● Farming Dolly Lowbed Trailer
● Trail Mobile Dolly Trailers
● Master Tow Dolly Trailers
How to Ship a Dolly Trailer with Heavy Haulers
Shipping a dolly trailer is easy with Heavy Haulers. Your dedicated logistics specialist will handle every aspect of transport, so you can focus on what really matters. Each step of the shipping process is open and transparent, so that you know what's going on with your dolly trailer at all times. At Heavy Haulers we ship your dolly trailer with the quality service we expect for ourselves, and we make sure to deliver on time. Find out more now! (800) 908-6206
Looking For Transport
With a Specific Trailer?

Max Weight: 150,000+ lbs. | Main Deck Length 29 ft.
| Well Width 8.5 ft. | Legal Height Limit 11.6 ft.

Max Weight: 48,000 lbs. | Max Length 53 ft.
| Max Width 8.5 ft. | Max Height 8.5 ft.
Max Weight: 48,000 lbs. Max Length 53 ft. |
Max Width 8.5 ft. | Max Height 11 ft.
Max Weight: 45,000 lbs. | Max Length 29 ft.
| Max Width 8.5 ft. | Max Height 11.5 ft.
HEAVYHAULERS.COM
START YOUR SHIPMENT TODAY!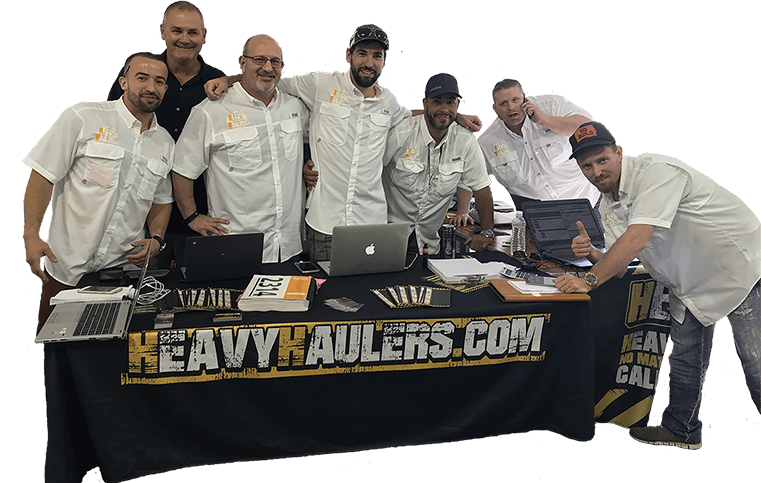 We Are Ready To Help You Haul Your Equipment!
Common Equipment Heavy Haulers Transports
Trust Heavy Haulers to transport any brand of equipment you own. Most of our drivers are experienced heavy-machinery operators who can safely maneuver your loads aboard our trailers. Some of the brands we have shipped include:
See what you need?
Call us for a FREE Shipping Estimate at (800) 908-6206