7 Axle Trailer Transport Done By Heavy Haulers | (800) 908-6206
The Heavy Haulers scope of service extends to the many aspects of large consignments that are employed in various industries such as mining and oil. The versatility of our 7 axle fleet is such that utilization of heavy equipment hauling is seamlessly optimized. The experience, ability, and knowledge displayed by our teams are the culmination of over 10 years' experience hauling oversize loads across the United States and now to Canada and Mexico.
Why Select a 7-Axle Trailer Over Alternative Trailers?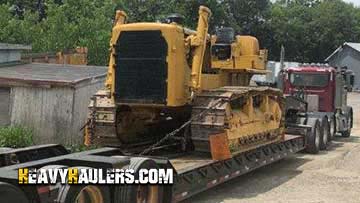 7 Axle Trailer Shipment
By reducing the tractor trailers that are needed for bulky cargo, our Heavy Haulers 7 axle transports save an average of $6,000 per trip. This is because less fuel, tires, and maintenance is required to operate a single 7 axle than the numerous trailers it took earlier. The increased size of your load need not worry you; call Heavy Haulers who will deploy a 7 axle trailer to tackle your cargo at a go. Call now on (800) 908-6206, and we shall arrange out trailer goosenecks and flip axles to accommodate your heavy machinery or bulky equipment
The operation of a flatbed or stretch drop decks trailers that utilizes 7 axles requires excellence in heavy machinery transport. Our dispatchers are readily available all over the country to offer a free no obligations valuation of your broad and high cargo. We pride ourselves with the ability to maintain your schedules and deadlines with our one load hauling solutions. This calls for sensitive phases of route planning and taking into consideration all foreseeable inevitabilities such as road construction or heavy traffic and bad weather.
See what you need?
Call us for a FREE Shipping Estimate at (800) 908-6206
Why is a 7 Axle Necessary to Handle the 100 Ton Load Capacity?
Like all productively simple transport solutions, adding an axle to the standard 6 axles, the heavy hauling trailer gives superb mechanical advantages. The tandem can then be extended to a tri-tandem with the extra 7th axle allowing for higher load capacities for legality on interstate highways. At Heavy Haulers, we service industries that specialize in large projects for transportation. Whether moving an obsolete behemoth for disposal across the county or over multiple states and outside the country, Heavy Haulers 7 axle trailer transporters have your consignment requirements fully covered.
Our logistics and transport teams have been involved in the oversize transportation:
• Giant Turbines
• Tanks and Other Vessels
• Large Transformers
• Standalone Engines
• Enclosures Equipment
• Injection Molding Machinery
• Heat Transfer Riggings
• Custom Fabrication Machines
• Presses and Many Others
Specific Dimensions of Heavy Haulers 7 Axle Low Bed Trailers
A platform length of 11.5 to 14.5 meters is intended for extensive variety usage while extending options are available for another 6 to 10 meters. Depending on the load carrying demands of your consignment, the total length of the 7 axle lowboys is 15.5 to 19 meters. Width is also expanded from 2.5 to 3.3 meter through side extensions to accommodate ample cargo.
The height of a 7 axle deck platform will vary according to its application, with pool height at between half and a full meter. Our 7 axle transports also contain pneumatic loading ramps as well as hydraulic ones to facilitate more effortless loading and unloading. The low bed transport trailers are also made from diamond embossed platforms with rubber sided over plain sheeting.
With the widest variety of tractor trucks and trailer configurations within our extensive fleet, Heavy Haulers offers a comprehensive range of services that guarantees the safe delivery of your cargo. Cost effective options are what our one haul transport of heavy machinery is about where we employ our load handling 7 axle trailers. The ability to tandem and tri-axle our trailers comes in handy after our free valuation determines the haulage requirement for your oversize consignment.
See what you need?
Call us for a FREE Shipping Estimate at (800) 908-6206
Common Trailer Types Available from Heavy Haulers
Heavy Haulers specializes in hauling heavy loads such as construction equipment, oil field rigging and Super Loads. We are wideload experts! We offer an extensive range of trailer choices, including:
Max Weight: 48,000 lbs. | Max Length 53 ft. | Max Width 8.5 ft. | Max Height 11 ft.




Max Weight: 45,000 lbs. | Max Length 29 ft. | Max Width 8.5 ft. | Max Height 11.5 ft.
Max Weight: 150,000+ lbs. | Main Deck Length 29 ft. | Well Width 8.5 ft. | Legal Height Limit 11.6 ft.




Max Weight: 48,000 lbs. | Max Length 53 ft. | Max Width 8.5 ft. | Max Height 8.5 ft.
HEAVYHAULERS.COM
START YOUR SHIPMENT TODAY!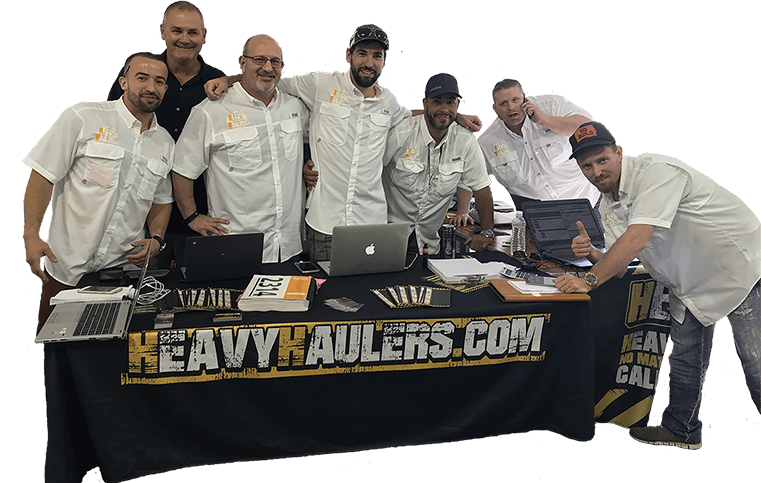 We Are Ready To Help You Haul Your Equipment!
Types of Equipment Heavy Haulers has Experience Transporting
Trust Heavy Haulers to transport any brand of equipment you own. Most of our drivers are experienced heavy-machinery operators who can safely maneuver your loads aboard our trailers. Some of the brands we have shipped include:
Start Your 7 Axle Trailer Transport with Heavy Haulers
Our sizeable fleet is also constantly upgraded and made to conform to modern standards. Curtain sides and tarpaulins are used to protect sensitive and delicate valued cargo from transport time elements. Climate controlled transportation and warehousing are available for loads whose booking is made earlier than the haulage time. We specialize in reducing transport time and costs associated with complicated cargoes and large intricate equipment. Call now on (800) 908-6206 to get your equipment underway on a 7 axle Heavy Hauler's trailer transport.