Tag Trailer Transport Services
Towing your smaller equipment or machinery may be something that your heavy-duty construction truck is able to do – but having an expert to transport your smaller trailer or equipment in a smaller trailer may be a better choice. Heavy Haulers specializes in transporting heavy machinery and equipment across town from one job site to the next, or across North America, including Canada and Mexico. Transporting a tag trailer may be easier with a professional driver using their own rig or transport trailer – have Heavy Haulers get you started.
Tag trailer refers to the way that these trailers attach to the towing vehicles, using a small ball hitch and "tagging along" behind the rig. If you've chosen a lower-quality tag along a trailer for your boat, smaller machinery like a bobcat, or other heavy loads, you may be personally responsible for its travel along regular roads and highways. Leave the hauling to the professionals. Our drivers are certified and double-insured for the safety of your equipment and our own. We can easily transport your tag trailers anywhere from Canada to Mexico. Let's get started! (800) 908-6206
Contact Our Expert Shipping Specialist's
(800) 908-6206
Shipping a Tag Trailer with Quality Services
Tag trailers may be an important part of your small lawn care, construction, or other business. However, if you use your own vehicle to tow them, you may need to install special packages, including after-market lighting and brake kits. Many people don't wish to permanently modify their truck like this – and this is where the specialists at Heavy Haulers come in. We can transport one tag trailer, or many, depending on what you need to be shipped. We can load up a larger number of tag trailers into one of our flatbeds or RGN trailers and take it from one job site to the next, from warehouse to retail store, and anywhere in between.
Larger tag trailers are most common for the construction, mining, and excavation industries, as they can couple the towing power that a larger rig like a dump truck provides with the ability to carry smaller pieces of machinery or larger items to cargo. Heavy Haulers can ship the empty tag trailer for you to use on your off-road job sites, through tight urban areas for a city construction job, or wherever you need it to go. We can also haul cargo and dump truck materials for you in our own equipment. We even take care of all permits, escort convoys, and weigh station paperwork, so you don't have to. Let's get started on your tag trailer transport now! (800) 908-6206
Tag Trailers Heavy Haulers Ships
● SPCN Tag Trailer
● Overbilt Tag Trailers
● Talbert Tag Trailers
● Pitt Tag Trailers
● Cross Country Tag Trailers
Shipping a Tag Trailer with Heavy Haulers
Heavy Haulers provides reliable service transporting your tag trailer from one phase location to the next. We can transport loads from rough terrain via certified drivers and top-rated rigs. Our expert logisticians will plan your route, taking into account location, roadworthiness of the trailers, and any tight streets or construction zones. We'll give you a custom estimate for door-to-door shipping. We plan your journey including any customs or weight station paperwork needed, removing the hassle from you. You'll receive a code to track your items in real time, too. Let's haul your tag trailer today! (800) 908-6206
Looking For Transport
With a Specific Trailer?

Max Weight: 150,000+ lbs. | Main Deck Length 29 ft.
| Well Width 8.5 ft. | Legal Height Limit 11.6 ft.

Max Weight: 48,000 lbs. | Max Length 53 ft.
| Max Width 8.5 ft. | Max Height 8.5 ft.
Max Weight: 48,000 lbs. Max Length 53 ft. |
Max Width 8.5 ft. | Max Height 11 ft.
Max Weight: 45,000 lbs. | Max Length 29 ft.
| Max Width 8.5 ft. | Max Height 11.5 ft.
HEAVYHAULERS.COM
START YOUR SHIPMENT TODAY!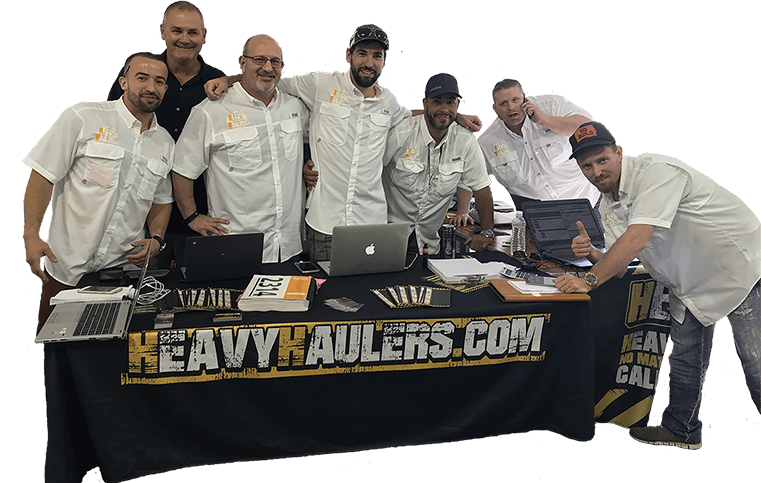 We Are Ready To Help You Haul Your Equipment!
Common Equipment Heavy Haulers Transports
Trust Heavy Haulers to transport any brand of equipment you own. Most of our drivers are experienced heavy-machinery operators who can safely maneuver your loads aboard our trailers. Some of the brands we have shipped include:
See what you need?
Call us for a FREE Shipping Estimate at (800) 908-6206