Heavy Haulers Transports Livestock Trailers
Heavy Haulers can help you ship your livestock from one place to the next, with licensed, bonded drivers experienced in moving live cargo safely. Livestock trailers are known by many names, including hog carts, portable hog traps, stock trailers, hydraulic lift livestock carts, and cattle trailers. No matter what you call it, these specialty containers are designed to ship many animals from farm to market, to a show – or across the country. They're designed to help move, corral, and in general work with livestock, including sheep, hogs, and cattle. Horses are transported in a different type of trailer, called a horse trailer.
The expert logisticians at Heavy Haulers can move your empty livestock trailer for you, using a trained driver and powerful rig – or move your livestock in our own equipment. We have trailers crafted out of both steel and aluminum, with either a metal or wood floor and slatted sides for airflow. In the back, you'll have your doors for entrance and egress of livestock. Depending on the size of the trailer, it will be either a gooseneck; RGN style, or tag-along/bumper-pull models. Let our bonded, certified drivers work for you. Get started today with a call to (800) 908-6206 for a FREE, no-obligation quote.
Contact Our Expert Shipping Specialist's
(800) 908-6206
Transport A Livestock Trailer With Heavy Haulers
A good heavy equipment shipping company can help you safely transport your livestock without spooking them. Heavy Haulers has made a solid reputation for ourselves with heavy equipment and oversized load shipments. We have expert trip planners that take into account the roadways your trailer or livestock will travel along, from potential weather and construction issues to negotiating tight city streets. We can move cargo from excavation job sites, along uneven terrain and rough roads, or through an agricultural farm.
Livestock Trailers Heavy Haulers Ships
Heavy Haulers can transport just about any size and type of livestock trailer. Graham Edwards, Joskin, Lifetime Farm Products, Masson, and MCM are among the most common names in new and used livestock trailers, although we've shipped trailers such as:
● 2018 BARRETT 2 divide gates one with a half slide and rear divide
● 1995 BARRETT Tandem Axle; Aluminum Composition; Gooseneck Type of Neck
● 1995 CHAPARRAL 16X7
● 1996 DIAMOND D 6.8X16 Diamond D Gooseneck Livestock Trailer
● 2013 GOOSENECK 8X37 Swing Door; All Steel Wheels; Fixed Tri Axle; Steel Composition; Gooseneck Type of Neck; Wood Floor
Shipping Your Livestock Trailer With Heavy Haulers
Start your shipment with a call to one of our logistics specialists. The Heavy Haulers representative will give you a custom estimate for the trailer and cargo you need to be shipped. We give you a code so you can track your trailer or livestock in real time, and have timely, safe door-to-door service. When you're ready to get started, simply give us a call at (800) 908-6206 for your FREE custom estimate!
Looking For Transport
With a Specific Trailer?

Max Weight: 150,000+ lbs. | Main Deck Length 29 ft.
| Well Width 8.5 ft. | Legal Height Limit 11.6 ft.

Max Weight: 48,000 lbs. | Max Length 53 ft.
| Max Width 8.5 ft. | Max Height 8.5 ft.
Max Weight: 48,000 lbs. Max Length 53 ft. |
Max Width 8.5 ft. | Max Height 11 ft.
Max Weight: 45,000 lbs. | Max Length 29 ft.
| Max Width 8.5 ft. | Max Height 11.5 ft.
HEAVYHAULERS.COM
START YOUR SHIPMENT TODAY!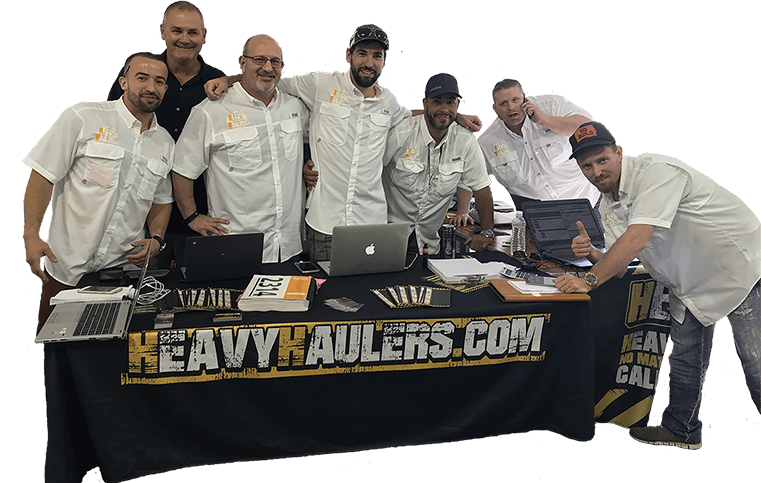 We Are Ready To Help You Haul Your Equipment!
Common Equipment Heavy Haulers Transports
Trust Heavy Haulers to transport any brand of equipment you own. Most of our drivers are experienced heavy-machinery operators who can safely maneuver your loads aboard our trailers. Some of the brands we have shipped include:
See what you need?
Call us for a FREE Shipping Estimate at (800) 908-6206