Dependable Horse Trailer Transport
We can transport everything from smaller models, used for just two or three animals, all the way up to gooseneck trailer designs capable of holding up to eight horses. Heavy Haulers can even transport livestock in semi-trailers designed for dozens or more. While smaller trailers may be able to be pulled with a truck or SUV, larger ones require a rig with more torque, and a certified, professionally trained driver to ensure the safety of your animals.
Ship your horse trailers across North America with Heavy Haulers. We provide door-to-door service for your horses and other livestock, from your farm or ranch to your desired destination. We're heavy equipment machinery transport specialists, and we pride ourselves on challenging shipments. We can even transport horses in a horse box. Our drivers are certified and double-insured for the safety of your livestock and our own. We can easily transport your animals or help ship your empty horse trailers anywhere from Canada to Mexico. Call now for a free shipping estimate! (800) 908-6206
Contact Our Expert Shipping Specialist's
(800) 908-6206
Ship Horse Trailers with Ease
Most horses are more comfortable when traveling facing backward, and the crew at Heavy Haulers can help make sure that your livestock is properly loaded and safe. We understand that moving your horse trailer and animals can be a complicated process – that's why we are careful about which drivers and rigs we book for your service. Our expert route planners will determine which roads your shipment travels on, taking into account traffic, construction, and anything else that might frighten your animals and make transport unsafe.
From smaller horse trailers to RGN rigs, Heavy Haulers can move it all. Whether you're going to a horse show or just moving your livestock from one location to another, the Heavy Haulers experts can provide the door-to-door shipping service, including weigh station permits and special paperwork for transporting animals. Let's transport your horse trailer now! (800) 908-6206
Horse Trailers Heavy Haulers Ships
Big or small, trust Heavy Haulers to ship your horse trailers. Here are some of the trailers we've shipped – and we can transport many more:
● 4 Star Horse Trailer Transport
● Cimarron Horse Trailer Shipping
● Sundowner Horse Trailer Hauling
● Featherlite Inc Horse Trailer Transport
● Adam Trailer Horse Trailer Transport
● Merhow Horse Trailer Transport
● Elite Horse Trailer Transport
● Hart Horse Trailer TransportHow to Ship a Horse Trailer with Heavy Haulers
How to Ship a Horse Trailer with Heavy Haulers
Heavy Haulers is a reliable shipping service that safely ships livestock in horse trailers – or just the trailers themselves. We pride ourselves on moving through rough terrain and navigating through tight city streets. Get started today with a call to our expert logisticians. We'll give you a custom estimate for door-to-door shipping. We plan your journey including any customs or weight station paperwork needed, removing the hassle from you. You'll receive a code to track your items in real time, too. Let's get started! (800) 908-6206
Looking For Transport
With a Specific Trailer?

Max Weight: 150,000+ lbs. | Main Deck Length 29 ft.
| Well Width 8.5 ft. | Legal Height Limit 11.6 ft.

Max Weight: 48,000 lbs. | Max Length 53 ft.
| Max Width 8.5 ft. | Max Height 8.5 ft.
Max Weight: 48,000 lbs. Max Length 53 ft. |
Max Width 8.5 ft. | Max Height 11 ft.
Max Weight: 45,000 lbs. | Max Length 29 ft.
| Max Width 8.5 ft. | Max Height 11.5 ft.
HEAVYHAULERS.COM
START YOUR SHIPMENT TODAY!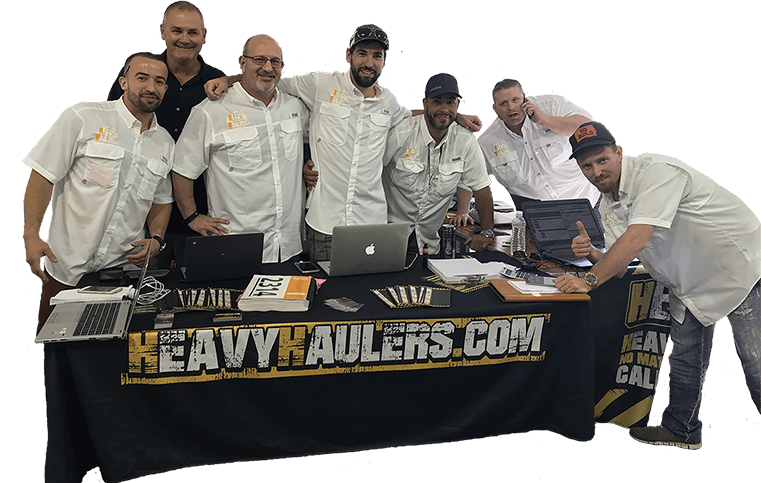 We Are Ready To Help You Haul Your Equipment!
Common Equipment Heavy Haulers Transports
Trust Heavy Haulers to transport any brand of equipment you own. Most of our drivers are experienced heavy-machinery operators who can safely maneuver your loads aboard our trailers. Some of the brands we have shipped include:
See what you need?
Call us for a FREE Shipping Estimate at (800) 908-6206