Transporting Pup Trailers with Quality Service
The crew at Heavy Haulers can transport your pup trailer for you on one of our multi-axle, weight rated trailers or transport cargo for you using a pup trailer of our own. With expert route planners and real-time updates, you can track your shipment as it reaches you. At Heavy Haulers, we understand that time is money, and we aim to save you both. Pup trailers are shorter trailers that can be pulled behind larger trailers or dump trucks. As they don't travel under their own power, they will need to be towed from one location to the next. They're especially useful in industries such as construction and excavation, where large loads of loose materials need to be moved or unloaded.
Pup trailers themselves may be rated to travel along some roadways although they'd need to be towed by a dump truck or semi that's road-rated. Otherwise, these trailers, either open or closed, would need to be hauled by one of Heavy Hauler's professional drivers, licensed to carry it on either a flatbed trailer or an RGN one. The Heavy Haulers trained drivers can navigate through construction zones, tight city streets, and safely along the country's interstates. See the difference a professional heavy shipping company makes. Let's get started! (800) 908-6206
Contact Our Expert Shipping Specialist's
(800) 908-6206
Shipping Pup Trailers Locally and Overseas
The right heavy equipment shipping company can make a difference when you're shipping your equipment from one job site to the next. They're versatile, with a variety of configurations including open and tarped tops, closed containers, or insulated dry boxes and reefer trucks. Pup trailers can be used to haul grain for agricultural operations, similar to hopper trailers or grain trailers. Depending on your cargo, Heavy Haulers can provide the semis, dump trailers, and pup trailers to help you complete each phase of your operation.
Across North America or just across town, Heavy Haulers can help you ship your equipment and goods. Depending on the pup trailer, Heavy Haulers can work within the legal weight ratings. Part of your Heavy Haulers experience will be providing information about the type and dimensions of your trailer to the route planner, so we know how to best transport your trailer. Pup trailers are useful for a variety of different industries and are important parts of the trucking industry. They can carry goods for sale, as well as payloads such as grain, compost, or biomass. Others are designed to handle heavy-duty construction and mining jobs, such as carrying excavation waste. Heavy Haulers is ready to transport your pup trailer today. Let's get started! (800) 908-6206
Common Types of Pup Trailers We Transport
● Clement Pup Trailers
● Assembled Pup Trailers
● Stoughton Pup Trailers
● Trailmobile Pup Trailers
How to Ship Pup Trailers with Heavy Haulers
Heavy Haulers specializes in heavy equipment and machinery shipments. We have a solid reputation for timely delivery, safe transport, and the ability to ship anywhere – from rough logging roads to tight urban construction areas. Begin with a phone call to one of our logistics experts. They'll gather your shipment information, including weights, dimensions, and the origin and destination. Door-to-door service means that we'll load your pup trailer, give you a code to track its travel in real time and get it exactly where you need it, when you need it, to finish your job. We specialize in challenging deliveries, with double-insured, bonded drivers certified to carry heavy loads and double-trailers where needed. Let's haul your pup trailers today! Call now! (800) 908-6206
Looking For Transport
With a Specific Trailer?

Max Weight: 150,000+ lbs. | Main Deck Length 29 ft.
| Well Width 8.5 ft. | Legal Height Limit 11.6 ft.

Max Weight: 48,000 lbs. | Max Length 53 ft.
| Max Width 8.5 ft. | Max Height 8.5 ft.
Max Weight: 48,000 lbs. Max Length 53 ft. |
Max Width 8.5 ft. | Max Height 11 ft.
Max Weight: 45,000 lbs. | Max Length 29 ft.
| Max Width 8.5 ft. | Max Height 11.5 ft.
HEAVYHAULERS.COM
START YOUR SHIPMENT TODAY!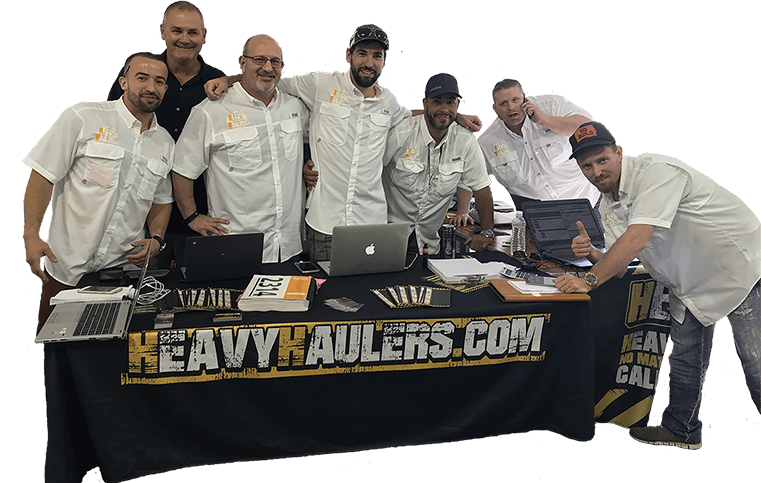 We Are Ready To Help You Haul Your Equipment!
Common Equipment Heavy Haulers Transports
Trust Heavy Haulers to transport any brand of equipment you own. Most of our drivers are experienced heavy-machinery operators who can safely maneuver your loads aboard our trailers. Some of the brands we have shipped include:
See what you need?
Call us for a FREE Shipping Estimate at (800) 908-6206