Heavy Haulers Can Deliver a Hydra Platform Trailer Anywhere!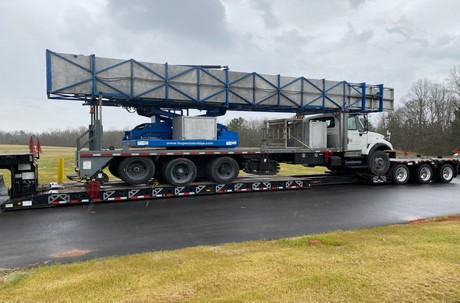 Shipping a Hydra Platform Trailer
Call Us Now! (800) 908-6206
Our comprehensive hydra platform trailer delivery service can help you with hydra platform haulage requirements anywhere in the United States. We can even haul a truck-mounted hydra platform trailer to Canada or Mexico. We know that bridges aren't always in accessible areas, but we've got a delivery fleet and experienced haulers that can handle every eventuality.
Truck-mounted hydra platform transport is a delivery process with many steps that you might not be aware of. Luckily, Heavy Haulers is a hydra platform trailer delivery company that knows all about the rules and regulations of oversized hydra platform trailer shipping. Plus, we have more than a decade of experience coordinating complex hydra platform trailer shipping projects. Let your focus be on your next bridge project – whether that's undertaking inspections, painting, sandblasting, cabling, lighting, or maintaining bridge bearings – and we'll focus on the intricacies of delivering the hydra platform for you. Call now! (800) 908-6206
Affordable Hydra Platform Trailer Hauling Services
Getting an affordable hydra platform trailer transport company to handle your every hydra platform shipping need has never been more straightforward. We expertly manage the scheduling, route planning, and permit applications for all oversized loads. Even if you need us to haul a hydra platform at short notice, we've got the support of a nationwide network to help get your hydra platform transport on the road ASAP. Our hydra platform delivery services can accommodate your budget, and we'll work with you to meet your required timescales.
Terex acquired Hydra Platforms Manufacturing, Inc. in 2008, and continued to produce truck-mounted hydra platform trailers for bridge inspections. As of 2014, hydra platforms have been manufactured by Anderson Hydra Platforms, which designs, sells, exports, and rents a variety of self-erecting bridge access platforms ranging from 35ft to 66ft in length. Whether you need our hydra platform delivery service to transport a truck-mounted hydra platform or require assistance hauling a mobile hydra platform trailer, we've got the expertise available.
Common Types of Platform Heavy Haulers Transport
• Anderson HP32
• Anderson HP35
• Anderson HPT38
• Anderson HPT13/43
• Anderson HPT16/52
• Terex Hydra Platforms HPT 11/38

• Andrson HPT17/55
• Anderson HPT18/60
• Anderson HPT20/66
• Anderson HPT43
• Anderson HPT66
How to Ship a Hydra Platform Trailer
When you need to ship a hydra platform trailer to a new bridge inspection site or return it to a storage facility once the job is done, call the Heavy Haulers hydra platform transport team, a collective division of oversized transport specialists. Due to their extended length, extended step deck, drop deck, and flatbed trailers are recommended. We have a variety of specialized hydra platform delivery trailers available, and a team of logistics experts who can coordinate every step of your hydra platform delivery project. Let's get started! (800) 908-6206
Common Equipment Heavy Haulers Transports
Trust Heavy Haulers to transport any brand of equipment you own. Most of our drivers are experienced heavy-machinery operators who can safely maneuver your loads aboard our trailers. Some of the brands we have shipped include:
Heavy Haulers Ships Across All 50 States
Alabama - Alaska - Arizona - Arkansas - California - Colorado - Connecticut - Delaware - Florida - Georgia - Hawaii - Idaho - Illinois - Indiana - Iowa - Kansas - Kentucky - Louisiana - Maine - Maryland - Massachusetts - Michigan - Minnesota - Mississippi - Missouri - Montana - Nebraska - Nevada - New Hampshire - New Jersey - New Mexico - New York - North Carolina - North Dakota - Ohio - Oklahoma - Oregon - Pennsylvania - Rhode Island - South Carolina - South Dakota - Tennessee - Texas - Utah - Vermont - Virginia - Washington - West Virginia - Wisconsin - Wyoming
Looking For Transport
With a Specific Trailer?

Max Weight: 150,000+ lbs. | Main Deck Length 29 ft.
| Well Width 8.5 ft. | Legal Height Limit 11.6 ft.

Max Weight: 48,000 lbs. | Max Length 53 ft.
| Max Width 8.5 ft. | Max Height 8.5 ft.
Max Weight: 48,000 lbs. Max Length 53 ft. |
Max Width 8.5 ft. | Max Height 11 ft.
Max Weight: 45,000 lbs. | Max Length 29 ft.
| Max Width 8.5 ft. | Max Height 11.5 ft.
Heavy Haulers Pilot Car Services
Are you looking for a reliable pilot car
for your transport?
Get Started
HEAVYHAULERS.COM
START YOUR SHIPMENT TODAY!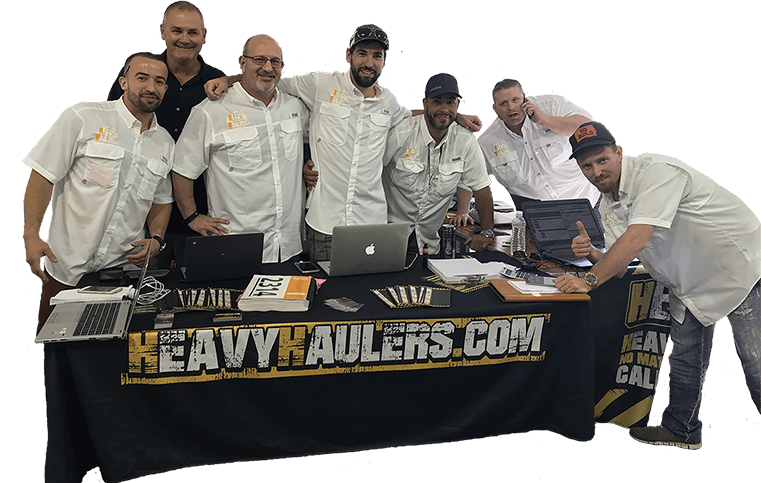 We Are Ready To Help You Haul Your Equipment!
See what you need?
Call us for a FREE Shipping Estimate at (800) 908-6206