Steerable Dolly Transport with Heavy Haulers
A steerable dolly is important whenever a heavy cargo transport requires a user to position heavy equipment. Seeing that steerable dollies are important when moving oversized loads, it is important to have it on site in a timely manner. At Heavy Haulers, we promise the best, and as our word is our bond, we work hard and diligently to keep it!
Over the years, we have hauled equipment and machinery weighing thousands of tons. Therefore, when you contact us to transport your steerable dolly, you have no reason to worry about the quality of service you will receive. At Heavy Haulers, customer satisfaction is key. We are, thus, affordable. We are expedient. We are unrivaled in the industry.
Contact Our Expert Shipping Specialist's
(800) 908-6206
When to Ship with a Steerable Dolly
When you choose Heavy Haulers, you opt for a service provider that is qualified, ISO-certified, has expert experience, and has a team of well-trained and skilled personnel. Your steerable dolly transportation will be carried out by the best there is. Transporting your steerable dolly with Heavy Haulers means a quality shipping experience. We have the right tools to handle all your oversize transport needs.
A steerable dolly is a large machinery used to provide flexibility in positioning as well as provide direction during the haulage of an array of gargantuan loads. Steerable dollies are used and preferred as they allow for easy and accurate maneuvering so that one can load, move, and subsequently unload their load without much difficulty. Call for a free shipping estimate! (800) 908-6206
Types of Steerable Dollies Heavy Haulers Ship
• Single-Axle Steerable Dolly
• 4-Axle Steerable Dolly

• 12-Ton Steerable Dolly
• 18-Ton Steerable Dolly
How to Transport Your Steerable Dolly with Heavy Haulers
Depending on the distance to be covered and your destination, there several factors to be considered to ensure a seamless and safe delivery. We have different hauling options, and our technical team will help you settle for the most suitable one. Additionally, we understand that steerable dolly requires special handling and care; for this reason, we provide exceptional care and handling equipment, among other specialized services for your steerable dolly. At Heavy Haulers, we have a team of professionals that are always happy to help. Once you contact us, our qualified representatives will work with you based on the specifications of your steerable dolly to establish the most effective means of transport. Our Heavy Haulers team will also provide the best route options to ensure a safe and timely delivery of your steerable dolly. We are always happy to hear from our clients and are keen to provide as much guidance as possible regarding their transport needs. Call us today. (800) 908-6206
Common Equipment Heavy Haulers Transports
Trust Heavy Haulers to transport any brand of equipment you own. Most of our drivers are experienced heavy-machinery operators who can safely maneuver your loads aboard our trailers. Some of the brands we have shipped include:
Common Trailer Types Available from Heavy Haulers
Heavy Haulers specializes in hauling heavy loads such as construction equipment, oil field rigging and Super Loads. We are wideload experts! We offer an extensive range of trailer choices, including:
Max Weight: 48,000 lbs. | Max Length 53 ft. | Max Width 8.5 ft. | Max Height 11 ft.




Max Weight: 45,000 lbs. | Max Length 29 ft. | Max Width 8.5 ft. | Max Height 11.5 ft.
Max Weight: 150,000+ lbs. | Main Deck Length 29 ft. | Well Width 8.5 ft. | Legal Height Limit 11.6 ft.




Max Weight: 48,000 lbs. | Max Length 53 ft. | Max Width 8.5 ft. | Max Height 8.5 ft.
HEAVYHAULERS.COM
START YOUR SHIPMENT TODAY!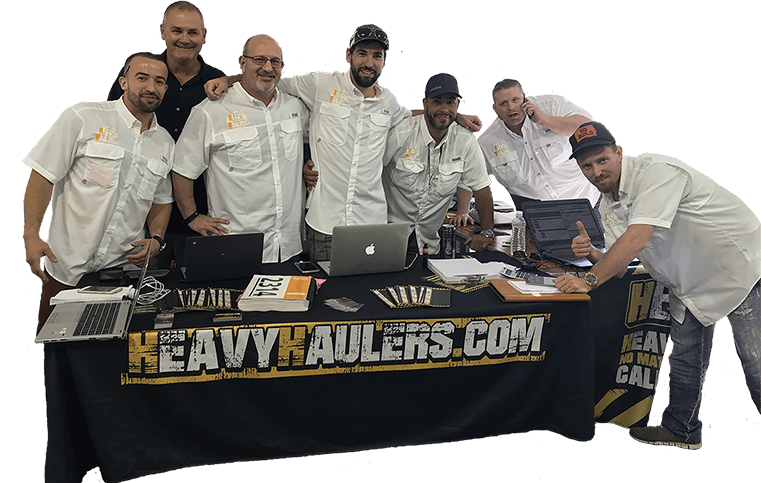 We Are Ready To Help You Haul Your Equipment!
See what you need?
Call us for a FREE Shipping Estimate at (800) 908-6206