Seamless Platform Trailer Transport at Heavy Haulers
Platform trailers are important in the transportation of loads that, based on the unusual or abnormal heights of the cargo, a trailer cannot have a roof of the sides. Commonly important in large agricultural and construction operations, a platform trailer needs to be shipped by a knowledgeable company to its final destination. At Heavy Haulers, we have experience shipping the different types of platform trailers and hence, we are well equipped to ship the same to any part of the U.S, Canada, and Mexico.
At Heavy Haulers, we work with you to plan the most convenient and affordable trip to avoid routes that may derail the timely shipping of your platform trailer. One major reason why you should trust us to ship your platform trailer is the fact that we have extensive knowledge on each state's regulations regarding overweight and oversized equipment and machinery haulage. You are guaranteed that regulations-related hitches will not occur as we are well-informed of the dimensional regulations of heavy equipment haulage.
Contact Our Expert Shipping Specialist's
(800) 908-6206
Unique Platform Trailer Shipping with Heavy Haulers
You know that the successful shipping of heavy equipment such as platform trailers requires personnel who are skilled, well-practiced, trained, and up-to-date with the latest information regarding shipping of the same. Our team of professional meet and even surpass these requirements. We work with you in calculating the shipping costs, understanding the shipping requirements, and even provide you with any advice you need to ease your worries about your platform trailer.
A platform trailer is usually designed to accommodate an oversized cargo that will not fit into a normal-sized freight trailers. Large-scale farmers and constructors find the platform trailers increasingly effective due to their lack of side covering or a roof. These trailers are built to move cargo that requires a side or top loading or offloading from the trailer. Call now and let's get started! (800) 908-6206
Common Types of Platform Heavy Haulers Transport
• Step-Deck Trailers
• Extendable Double Drop Trailers

• Extendable Flatbed Stretch Trailers
• Double Drop Stretch Trailers
How to Ship a Platform Trailer Using Heavy Haulers
Transporting a platform trailer is a complex task that requires adequate preparation. Waking up one morning and deciding to move your platform trailer the same morning may lead to certain challenges during the delivery process due to insufficient preparation. The first preparation starts at the pickup location. Ensuring that objects are not clustered around the platform trailer for easy loading. Also, when you receive a delivery call, the unloading destination should be prepared beforehand. At Heavy Haulers, customer satisfaction is our leading priority. It is only when customers are satisfied that return business and subsequent profit can be realized. We therefore have a team of experienced relatives who will answer all your questions related to platform trailer shipping. Our agents are reliable and friendly. They will provide you with professional assistance regarding your platform trailer shipping needs. Call now! (800) 908-6206
Common Equipment Heavy Haulers Transports
Trust Heavy Haulers to transport any brand of equipment you own. Most of our drivers are experienced heavy-machinery operators who can safely maneuver your loads aboard our trailers. Some of the brands we have shipped include:
Common Trailer Types Available from Heavy Haulers
Heavy Haulers specializes in hauling heavy loads such as construction equipment, oil field rigging and Super Loads. We are wideload experts! We offer an extensive range of trailer choices, including:
Max Weight: 48,000 lbs. | Max Length 53 ft. | Max Width 8.5 ft. | Max Height 11 ft.




Max Weight: 45,000 lbs. | Max Length 29 ft. | Max Width 8.5 ft. | Max Height 11.5 ft.
Max Weight: 150,000+ lbs. | Main Deck Length 29 ft. | Well Width 8.5 ft. | Legal Height Limit 11.6 ft.




Max Weight: 48,000 lbs. | Max Length 53 ft. | Max Width 8.5 ft. | Max Height 8.5 ft.
HEAVYHAULERS.COM
START YOUR SHIPMENT TODAY!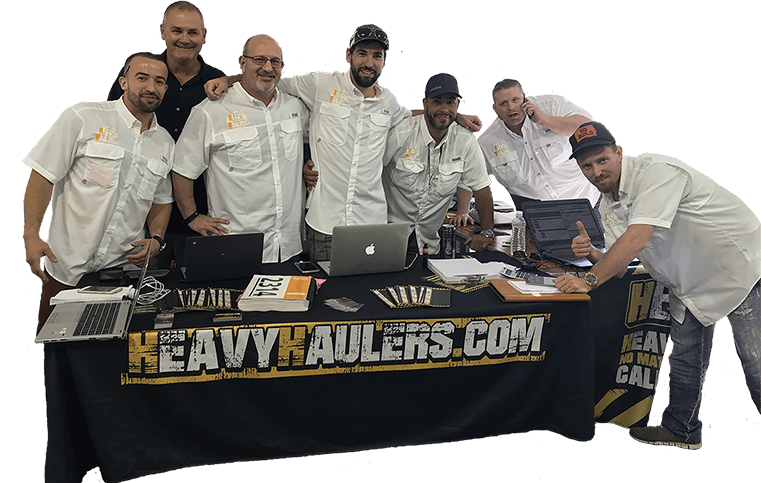 We Are Ready To Help You Haul Your Equipment!
See what you need?
Call us for a FREE Shipping Estimate at (800) 908-6206