Container Trailer Transport You Can Count On
Heavy Haulers ships your container trailers and hauls your shipping container cargo. These intermodal trailers can carry a variety of cargo, from clothing to food to children's toys. These larger, standard-sized shipping containers are designed to be stacked on large cargo ships or carried via railway across North America. They can be shipped individually by truck, too – and Heavy Haulers can transport them all. Our expert route planners can handle all the necessary paperwork, from customers to weigh stations and cargo master documentation, taking a load off your shoulders. We even give you a code, so that you can track your shipment in real time.
Door-to-door, door-to-port, or port-to-port – Heavy Haulers can ship your container trailers anywhere. Our drivers can haul your shipment overland, either in a convoy for larger loads or just a single truck's worth. We can also deliver container trailers to many ports throughout the world. Whether you need just the container trailer transported for you or you need one of our drivers and rigs to help move cargo, we can handle it. Heavy Haulers can easily ship your intermodal trailer across North America – or just across town. Let's get started! (800) 908-6206
Contact Our Expert Shipping Specialist's
(800) 908-6206
Heavy Haulers Ships Container Trailers With Confidence
Container trailer shipping comes with preplanned routes, attention to detail, and we make sure to handle all the paperwork. The right heavy equipment and machinery shipping company can make a difference when you're on a tight deadline. For a successful business, getting the product to and fro is money. We work with many different kinds of companies and vendors to help you get your goods and materials to their destination fast. Our licensed, bonded drivers have the certification needed to navigate tight city streets and safely trek across North America's highways.
Container trailers may be tricky to ship from place to place. Many are able to be towed along regular highways and even dirt roads, although larger ones may require a permit. There are over 20 million intermodal containers currently in use in the world, and Heavy Haulers has shipped many of them. These include reefers, ventilated intermodal containers, and tank containers with liquids or gasses. We also ship open-lidded containers, either closed models with roof-lids or open and covered with a tarp, to facilitate top-loading. Let's get started! (800) 908-6206
Start your transport service with a call to one of our profesbr
How to Ship a Container Trailer with Heavy Haulers
sional logisticians. We'll give you a custom estimate for door-to-door or port-to-port shipping for your container trailer. We plan your journey including any customs or weight station paperwork needed, removing the hassle from you. We make sure to provide the best possible container trailer transport. Call now for a free shipping estimate! (800) 908-6206
Looking For Transport
With a Specific Trailer?

Max Weight: 150,000+ lbs. | Main Deck Length 29 ft.
| Well Width 8.5 ft. | Legal Height Limit 11.6 ft.

Max Weight: 48,000 lbs. | Max Length 53 ft.
| Max Width 8.5 ft. | Max Height 8.5 ft.
Max Weight: 48,000 lbs. Max Length 53 ft. |
Max Width 8.5 ft. | Max Height 11 ft.
Max Weight: 45,000 lbs. | Max Length 29 ft.
| Max Width 8.5 ft. | Max Height 11.5 ft.
HEAVYHAULERS.COM
START YOUR SHIPMENT TODAY!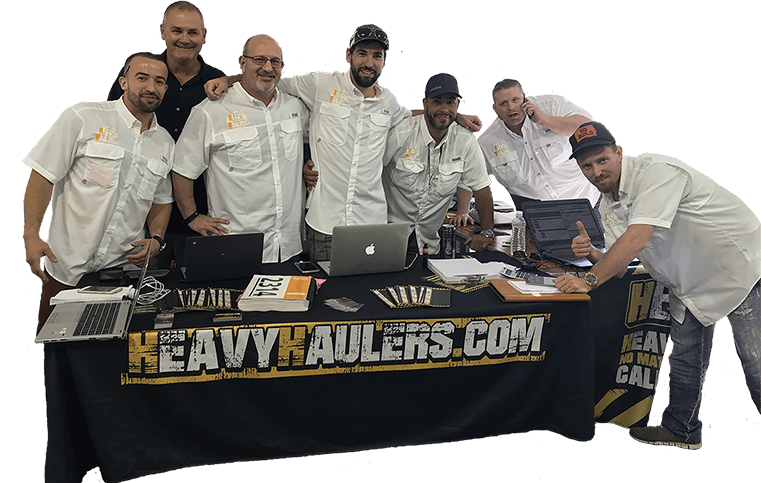 We Are Ready To Help You Haul Your Equipment!
Common Equipment Heavy Haulers Transports
Trust Heavy Haulers to transport any brand of equipment you own. Most of our drivers are experienced heavy-machinery operators who can safely maneuver your loads aboard our trailers. Some of the brands we have shipped include:
See what you need?
Call us for a FREE Shipping Estimate at (800) 908-6206