Do You Have Cargo Requiring a 17 Axle Trailer From Heavy Haulers?
At heavy haulers, the more irregular the size of your cargo the more we have a perfectly fitting solution for you. In the last decade, our 17 axle fleet of flatbeds or tandem lowboy trailers has handled mobile home moving, military contracts, oil mining equipment, towers, and wind farm turbines. We transport oversize loads to any destination within the US, Canada, and Mexico.

Our transportation equipment is available immediately on (800) 908-6206 where we offer a free no obligations quotation to initiate your 17 axle trailer transport for the cumbersome load. With multi-axle platforms linkage, we can handle supercargoes of equipment that are difficult to disassemble. Making piecemeal haulage is cost effective for your convenience, and our inclusive prices are competitive. No matter how out of this world your cargo might look, we have over a decade of experience to tap from for a safe delivery guarantee.
Heavy Haulers shipping strategies for oversize items that don't fit on conventional conveyance is a 17 axle trailer transport. Large vehicles, agricultural farm machinery, military payloads, and other government contracts make up the intact packages we have delivered over the last ten years. The best logistical accuracy is what it takes to facilitate super load requirements within calculable expenses. State and federal regulations are keen on the substantial trucking niche, and contradicting them is an expensive loss we can't afford.
See what you need?
Call us for a FREE Shipping Estimate at (800) 908-6206
17 Axle Trailers Available in All 50 States, Canada, and Mexico | (800) 908-6206
Route surveys are inclusive in your free quote which looks at the most viable and safe path to travel with an oversized payload. The US and Canadian states that a heavy duty17 axle trailer load passes through have varying restrictions and permits for which we are well versed. Height, weight and lane restrictions are strictly observed by our heavy haulers 17 axle trailer crews to facilitate an incident-free transition. A visual inspection of your planned route is also undertaken to determine troublesome spots and road construction that may require a pilot or escort outriders.
Our 17 axle trailer transport route investigation team takes into considerations such aspects of the road like narrow bridges, heavy traffic and restrictions for overhead obstacles. Any railroad or animal crossing spots are also carefully noted since the 17 axles heavy-duty transporter needs distance to maneuver and brake. Emergency vehicles are accorded the road respect they deserve by our super load drivers while civilian, and police coordination takes a front seat in most heavy haulers oversize cargo hauling route plans.
Exceptional Aspects of Heavy Haulers 17 Axle RGN Trailers
Bucket trucks are also available for use when you transport your tall machinery and equipment on our 17 axle trailers. In some instances, overhead cables and other obstructions are lifted to allow clear passage for your high cargo. Some states will require siren blaring and strobe lighting police vehicles to accompany a rather engaging super load.
Your superior weight, width or weight consignment is in safe hands with a heavy haulers 17 axle trailer transport. Expertise in super loads is rife amongst our heavy-duty trucking and logistics team members; who strive to excel in delivering our safe cargo transport satisfaction guarantee. Any quantity, length or manner of machinery or equipment is within our scope of accommodation since the fleet we employ is ultra-modern and well geared out.
See what you need?
Call us for a FREE Shipping Estimate at (800) 908-6206
Common Trailer Types Available from Heavy Haulers
Heavy Haulers specializes in hauling heavy loads such as construction equipment, oil field rigging and Super Loads. We are wideload experts! We offer an extensive range of trailer choices, including:
Max Weight: 48,000 lbs. | Max Length 53 ft. | Max Width 8.5 ft. | Max Height 11 ft.




Max Weight: 45,000 lbs. | Max Length 29 ft. | Max Width 8.5 ft. | Max Height 11.5 ft.
Max Weight: 150,000+ lbs. | Main Deck Length 29 ft. | Well Width 8.5 ft. | Legal Height Limit 11.6 ft.




Max Weight: 48,000 lbs. | Max Length 53 ft. | Max Width 8.5 ft. | Max Height 8.5 ft.
HEAVYHAULERS.COM
START YOUR SHIPMENT TODAY!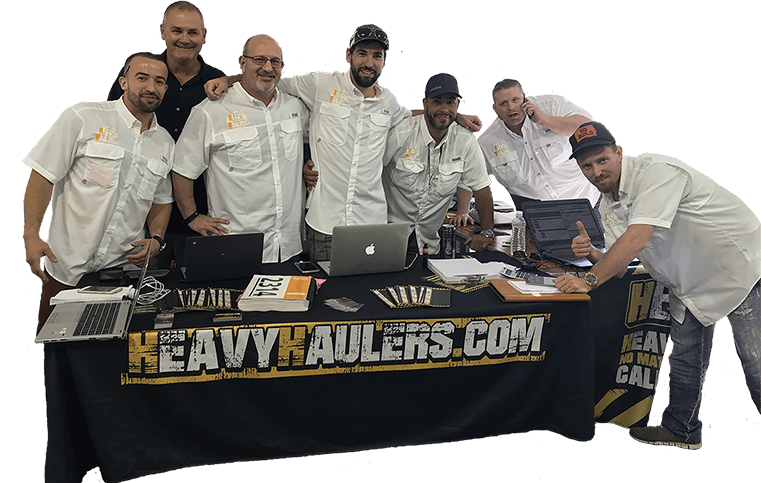 We Are Ready To Help You Haul Your Equipment!
Types of Equipment Heavy Haulers has Experience Transporting
Trust Heavy Haulers to transport any brand of equipment you own. Most of our drivers are experienced heavy-machinery operators who can safely maneuver your loads aboard our trailers. Some of the brands we have shipped include:
Start Your 17 Axle Trailer Transport with Heavy Haulers
Myriad heavy construction equipment, mass transport vehicles and all manner of industrial or mining rigs are too large for some carriers. Heavy Haulers 17 axle transporters, however, know how to tandem or fit equipment on a single platform to satisfy highway regulations. Cranes that are heavy as they are high need not be taken apart to be reassembled again which is a cost and time-consuming exercise. Call a Heavy Haulers 17 axle trailer transport team on (800) 908-6206, and have your consignment loaded and underway today.