10 Axle Trailer Shipping Services in All 50 States, Canada, and Mexico | (800) 908-6206
At Heavy Haulers, we have an expert staff that offers transportation on our 10 axle trailers and load specialists with vast logistics experience. These transport managers will handle all the legal aspects of your load permits and routing details that will necessitate a smooth freight. There are route phases that may require escort and pilot car outriders for your 10 axle trailer transportation. Continuous communication and rapport with the crew that is handling your 10 axle cargo are possible on (800) 908-6206.

Transporting Your Oversize Equipment With a 10-Axle RGN
The 10 axle trailers that Heavy Haulers employs utilize the even distribution of weight through to the last axle group. Rear axles built over the high yield grade continuous mainframe rely on hydraulic movement dampeners to keep machinery and equipment secure. Pneumatic lifts can be used to make backing easy while cargo loading and unloading the 10 axle trailers is a breeze. These can include optional axles like the hydraulic steering or self-rotary groupings for 10 axle trailers available at (800) 908-6206.
Our Heavy Haulers chassis for the 10 axle low bed trailers are made from high tensile steel with considerations on load capacities. The 10 axle combination relies on reverse gooseneck couplings amongst others to deploy all units and build capacity for loads of up to 120,000 pounds. Trailer dimensions of a 10 axle transport will vary on the intended use, with platform length ranging from 16.5 feet to an extension of 15 feet. Total length can be anywhere from 17.5 to 25 feet depending on which cargo is being hauled.
Recent 10 Axle Trailer Transports by Heavy Haulers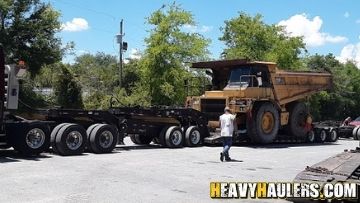 Caterpillar 773D Rock Truck Transported on an RGN Trailer
Origin: Davenport, FL 33897
Destination: Clinton, SC 29325
Specs: Caterpillar 773D Rock Truck; 28.6L X 14W X 14H; 83,400lbs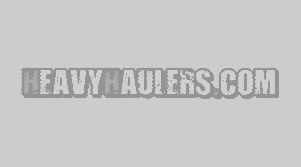 WHAT ARE YOU WAITING FOR?
Have a load to be moved? Move with Heavy Haulers and get you and your company featured right here! We love sharing our moves and don't mind putting your name on it!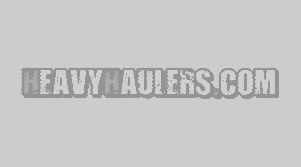 WHAT ARE YOU WAITING FOR?
Have a load to be moved? Move with Heavy Haulers and get you and your company featured right here! We love sharing our moves and don't mind putting your name on it!
See what you need?
Call us for a FREE Shipping Estimate at (800) 908-6206
Our Specialty at Heavy Haulers Is Shipping Oversize Loads
Whether the axles are using hydraulic or air suspension will raise the width from 2.5 to 3.3 meters. The standard 10 axle specialized trailer at Heavy Haulers has configurations that enable it to handle up to 120,000 pounds of cargo. Extending 110 feet in bumper to bumper length, our 10 axle trailers don't transport regular freight but are selected for oversize cargoes. Our specialty at Heavy Haulers is shipping oversize loads with our excellent fleet of 10 axle trailers. Teams of haulers with years of experience will effortlessly transport your cargo expediently and safely on (800) 908-6206.
Myriad issues will need to be worked out which shall ensure that the 10 axle trailer cargo isn't encumbered by traffic, weather or construction delays. Weighbridge permits and regulatory state or federal paperwork is arranged for beforehand by our logistic managers. A no obligation quote will set things rolling where our manager logisticians calculate the lowest rate to ship your heavy equipment. A link to track the cargo in real time is provided where a cutting edge customer care call center is at your assistance to answer queries on (800) 908-6206.
How Does Heavy Haulers Transport 10 Axle Trailer Cargos?
With each consignment of freight that Heavy Haulers will transport for you, we offer a free quote to determine the best trailer for your cargo. If the total shipment weight and dimensions of oversize cargo are beyond normal 8 or 9 axles, we select our 10 axle lowboys for the safe and successful transportation of your load. Additional highway permits may be required for longer hauls where our 10 axle trailer transports have to go through multiple states. Our Heavy Haulers dispatchers arrange all your cargo scheduling and route preparation and are available now on (800) 908-6206.
Common Trailer Types Available from Heavy Haulers
Heavy Haulers specializes in hauling heavy loads such as construction equipment, oil field rigging and Super Loads. We are wideload experts! We offer an extensive range of trailer choices, including:
Max Weight: 48,000 lbs. | Max Length 53 ft. | Max Width 8.5 ft. | Max Height 11 ft.




Max Weight: 45,000 lbs. | Max Length 29 ft. | Max Width 8.5 ft. | Max Height 11.5 ft.
Max Weight: 150,000+ lbs. | Main Deck Length 29 ft. | Well Width 8.5 ft. | Legal Height Limit 11.6 ft.




Max Weight: 48,000 lbs. | Max Length 53 ft. | Max Width 8.5 ft. | Max Height 8.5 ft.
HEAVYHAULERS.COM
START YOUR SHIPMENT TODAY!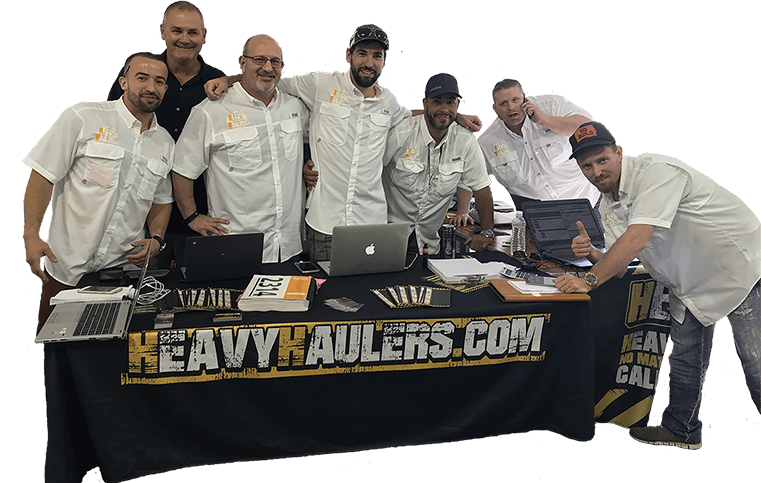 We Are Ready To Help You Haul Your Equipment!
Types of Equipment Heavy Haulers has Experience Transporting
Trust Heavy Haulers to transport any brand of equipment you own. Most of our drivers are experienced heavy-machinery operators who can safely maneuver your loads aboard our trailers. Some of the brands we have shipped include:
Start Your 10 Axle Trailer Transport Search at Heavy Haulers
From initial contact until the last solution, Heavy Haulers will see to it that comprehensive transportation for your machinery is carried out. We shall involve you in the process from beginning to the end while giving guidance in matters weight regulation. Our professional and their 10 axle trailer transports will meet your hauling needs no matter the location. A cargo matching exercise will also give you a better idea of why the 10 axle option is the cheapest and most sensible. Call now on (800) 908-6206 to get your equipment underway on a 10 axle Heavy Hauler's trailer transport.