Need an 11-Axle Trailer? Heavy Haulers Has Them in All 50 States, Canada, and Mexico!
Heavy Haulers 11 axle transport trailers are crewed by a driver, manager and a rigger who are all on fluid communication. Escort outriders are required for certain parts of the journey with pilot cars necessary where the road network is intricate. Our logistical dispatchers handle the paperwork that entails an 11 axle load, to smooth out any hindrances. Prior route planning and scheduling create the best transportation atmosphere where obstacles are circumnavigated for safe and speedy hauling.
11 axle trailer transport crews handle all manner of intricate cargoes such as mining equipment, oil and gas riggings, and wind turbines. We have experts in bracing and custom packing while our drop bed extension trailers facilitate easy loading or unloading. Loose material and site equipment will be hauled in bulk when you call Heavy Haulers on (800) 908-6206 for a free quotation or email dispatch@heavyhaulers.com.

Choose Our 11-Axle Trailers and Receive a Professional Trucking Crew!
Our 11 axle trailers can handle cargo of up to 70 tones and consist of a two-axle jeep with two 3 axle boosters. Where flatbeds will have a level deck of 50 to 80 feet, drop decks employ the 3 and five-axle option to maximize load length at 45 feet. The height of a flat 11 axle bed rises with the use of a power tower and lowers in a jeep to a standard 42 inches for functionality.
Depending on how long the trailers are, Heavy Haulers 11 axle extended RGN trailers takes on maximum freight. This enables high and long freight to be hauled with simplicity while enabling heavy or bulky machinery loading. A low bed 11 axle has increased grading capabilities with the height and weight allowances it provides. Don't let your cargo become delayed to accrue storage or warehousing costs, call Heavy Haulers now on (800) 908-6206 to receive a price friendly quotation.
See what you need?
Call us for a FREE Shipping Estimate at (800) 908-6206
Let us Help Transport Your Load on an 11-Axle RGN Trailer
There is no location within the mainland USA that our Heavy Haulers 11 axle trailers will not pick or drop off cargo. Our logistical versatility allows for expediency where the 11 axle trailer crew should be with you within the hour. The cost of loading your cargo singly without employing extra equipment or breaking up machinery is highlighted with our fleet. Our full certifications include the correct licenses and industry regulatory permits which mean that we do not compromise on the quality of service.
Loads that are heavy, hard to fit and requiring better securing have the Heavy Haulers 11 axle trailers for transport. Heavy Haulers offer the answer to construction material and equipment or power transformers that appear too ungainly for standard transport extended RGN's and stretch 11 axle trailers. Your containers or mobile home is an addition to the services we have offered industrial, construction or agricultural clients.
We have also undertaken military and federal government contracts that have relied on our 11 axle transport trailers. The safety and security of your cargo are paid special consideration at Heavy Haulers, with attention to efficiency being our service model. Call now for our complete solution to your heavy equipment transports on (800) 908-6206 or email dispatch@heavyhaulers.com.
Common Trailer Types Available from Heavy Haulers
Heavy Haulers specializes in hauling heavy loads such as construction equipment, oil field rigging and Super Loads. We are wideload experts! We offer an extensive range of trailer choices, including:
Max Weight: 48,000 lbs. | Max Length 53 ft. | Max Width 8.5 ft. | Max Height 11 ft.




Max Weight: 45,000 lbs. | Max Length 29 ft. | Max Width 8.5 ft. | Max Height 11.5 ft.
Max Weight: 150,000+ lbs. | Main Deck Length 29 ft. | Well Width 8.5 ft. | Legal Height Limit 11.6 ft.




Max Weight: 48,000 lbs. | Max Length 53 ft. | Max Width 8.5 ft. | Max Height 8.5 ft.
HEAVYHAULERS.COM
START YOUR SHIPMENT TODAY!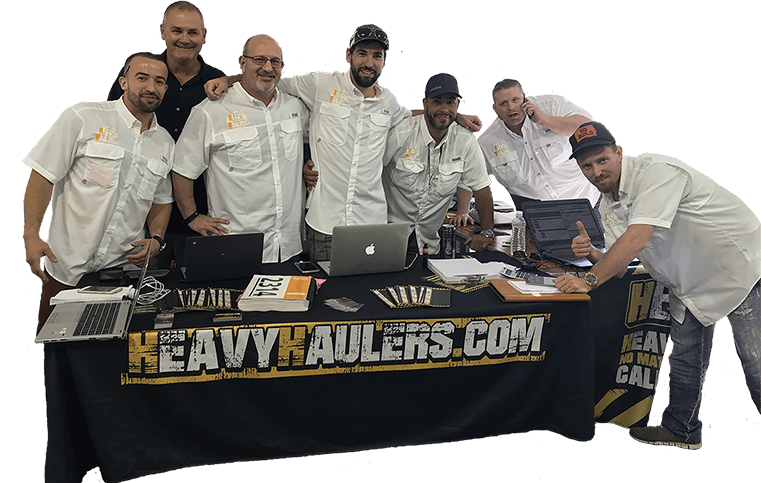 We Are Ready To Help You Haul Your Equipment!
Types of Equipment Heavy Haulers has Experience Transporting
Trust Heavy Haulers to transport any brand of equipment you own. Most of our drivers are experienced heavy-machinery operators who can safely maneuver your loads aboard our trailers. Some of the brands we have shipped include:
Start Your 11 Axle Trailer Transport Search at Heavy Haulers
Free cargo and journey length valuation are our first in the excellence of service, and our logistic dispatchers are now available on (800) 908-6206. Further RGN or low bed 11 axle trailer related information is updated on our website Heavy Haulers and orders can be placed via email at dispatch@heavyhaulers.com. Our Heavy Haulers logistic managers will match your load to the most economical 11 axle combination to help achieve affordability.