Choose Heavy haulers 13-Axle Trailers Available in All 50 States, Canada, and Mexico!
To transport cargo that is over 100,000 pounds heavy requires more than a little ingenuity and extra creativity. Heavy Haulers are the oversize cargo experts that will move your immense loads using our 13 axle trailer transports. With years of industry experience, Heavy Haulers teams are well trained and fully accredited to give you a free no obligations quote on (800) 908-6206, or email us at dispatch@heavyhaulers.com.
Never a cut and dry business, moving overweight loads takes the careful involvement of a whole logistics team that includes drivers, riggers, dispatchers and route managers. Our competitive rates will make it so that it's cheaper to use the 12 axle trailer transport for a single trip rather than making multiple smaller batches of haulages. Our 13 axle trailers will require route pilots and escort flaggers for those difficult stretches of motorway. All the permits that are needed for your oversize shipment will be organized by our logistic managers who are clued in the ins and outs of heavy hauling.

More Exceptional Aspects of Heavy Haulers 13 Axle Trailer Transport
The well drop length of an 11 axle RGN trailer deck is 29 feet and width of 8.5 feet, and the maximum legal freight height for our RGN is 11.6 feet within the drop well. Our stretch RGN's and extended low beds that make up the 11 axle fleet come in handy when you need the transporting of extra-long freight. The weight of the load will determine the axle combinations that your cargo will require, which is evaluated by our experienced trucking teams; available daily on (800) 908-6206.
To offer specialist haulage and logistical solutions, we deploy loads countrywide with cargoes that have included military and other government payloads. These trailers employ step deck or extended removable goosenecks to safely haul tall or long freight. The axles can be in a continuous line for flatbed stretches or in groupings for lowboy extensions. A double drop with jeep axle drop also utilizes all wheels when taking on cargo that's over 120, 000 pounds and above.
A cutting edge weight distribution system across all axles allow for the natural control of the pneumatically dampeners. Load transfer is even within the entire group with options available for rear combination lifts that can be used for lighter loads or when unloaded. Call now and get your ungainly cargo loaded and on the road with our Heavy Haulers 13 axle trailer transport, or email dispatch@heavyhaulers.com.
See what you need?
Call us for a FREE Shipping Estimate at (800) 908-6206
What Sort of Cargo Requires a 13 Axle Trailer from Heavy Haulers?
Heavy Haulers shall haul cargo that is between 10 and 15.5 feet tall with a 13 axle step deck trailer. A no obligation quick valuation is a phone call away on (800) 908-6206 for extreme height cargoes that exceed the weight required by standard trailers need a single or double step deck 13 axle transport for safe haulage. At Heavy Haulers, our 13 axle trailers carry any long or tall freight with a flair of excellence for your comfort and peace of mind.
The gooseneck detachments allow for the creation of a vertical ramp that simplifies heavy equipment loading and unloading. The maximum weight that our 13 axle RGN fleet is graded to carry should not exceed 250,000 pounds with axle capabilities that can go up or down to support massive shipment. The Heavy Haulers transport division is one of our more flexible due to the variety of trailer designs available. Loading and unloading of equipment, which we seamlessly and safely undertake; requires no extra maneuvers, equipment or costs.
Common Trailer Types Available from Heavy Haulers
Heavy Haulers specializes in hauling heavy loads such as construction equipment, oil field rigging and Super Loads. We are wideload experts! We offer an extensive range of trailer choices, including:
Max Weight: 48,000 lbs. | Max Length 53 ft. | Max Width 8.5 ft. | Max Height 11 ft.




Max Weight: 45,000 lbs. | Max Length 29 ft. | Max Width 8.5 ft. | Max Height 11.5 ft.
Max Weight: 150,000+ lbs. | Main Deck Length 29 ft. | Well Width 8.5 ft. | Legal Height Limit 11.6 ft.




Max Weight: 48,000 lbs. | Max Length 53 ft. | Max Width 8.5 ft. | Max Height 8.5 ft.
HEAVYHAULERS.COM
START YOUR SHIPMENT TODAY!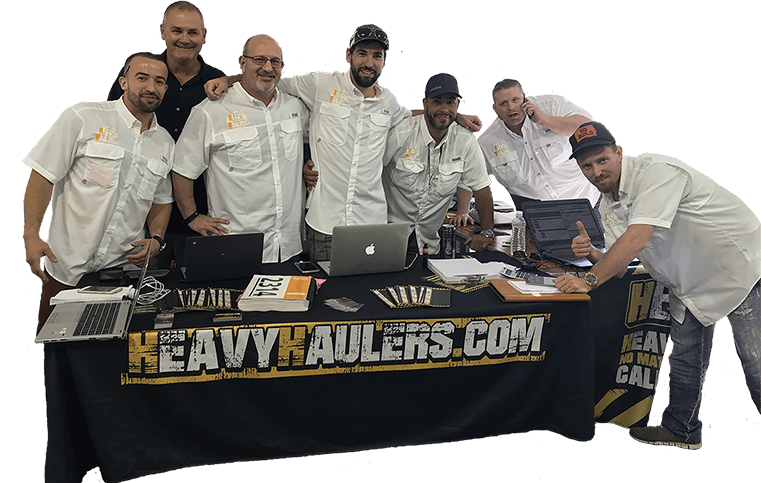 We Are Ready To Help You Haul Your Equipment!
Types of Equipment Heavy Haulers has Experience Transporting
Trust Heavy Haulers to transport any brand of equipment you own. Most of our drivers are experienced heavy-machinery operators who can safely maneuver your loads aboard our trailers. Some of the brands we have shipped include:
Start Your 13 Axle Trailer Transport Search at Heavy Haulers
With our Heavy Haulers 13 axle trailers, loading and unloading bulky machinery and ungainly equipment is cost-effective. State checkpoint scaling is not as complicated as other combinations since flip axles have the required regulatory spacing. Efficiency is our core objective while shipping your cargo, and we are fully certified, and our 13 axle trailer fleet is licensed, graded and ready to go. A free shipping valuation is available toll-free within the United States on (800) 908-6206. For further information on 13 axle trailers by cargo load specification, email us; the Heavy Haulers team on dispatch@heavyhaulers.com or visit our website at Heavy Haulers