Shipping Oil Trailers Across North America
Heavy Haulers can ship your oil trailers across North America with door-to-door service through rough terrain and heavy urban traffic. These long, flat deck trailers are used to carry the different components out into the oil fields and are rated to carry heavy loads over uneven terrain, across loose soil, and to have solid traction. Many oil fields are off the beaten path and a trailer that's designed to carry heavy loads in the highway isn't necessarily the one that will do best over rough terrain.
This is where Heavy Haulers can solve your oil trailer transport problems. We're specialists in the heavy equipment and machinery transport field, and we've made a solid reputation for ourselves and our ability to ship anything, anywhere. We use extra-long RGN trailers to move your oil trailers – and the rest of your oil rig equipment too, if needed. Our drivers are certified, bonded, and double-insured for your safety and ours. We can easily ship oil trailers with three, four, or five axles into the oil fields for you so that you can move your long, heavy generators, compressors, crew trailers, and more. Call now for a free shipping estimate! (800) 908-6206
Contact Our Expert Shipping Specialist's
(800) 908-6206
Reliable Oil Trailer Transport Services
Booking the right heavy equipment shipping company can make a difference when you're moving from one job site to the next.When it comes to business, time is money – and we get that! Many shipment companies don't have the equipment to safely deliver oil trailers out into the field – but Heavy Haulers has made this or niche, and we do it well. We can transport your oil trailer and the rest of your rig equipment and pipe sections. From drills to pumps, Heavy Haulers can move it all.
Oil trailers may be especially tricky to ship. Many are extra long, making loading them on a standard flatbed trailer – or even a regular Removable Gooseneck trailer – challenging. Oil trailers are created with extra-strong decking materials, folding necks, onboard wenches, fold-up dolly legs, and sturdy tail rollers are popular additions that help meet specifications and get the job done right. To facilitate this, Heavy Haulers use extra long flatbed trailers to accommodate the extra load and will flag it and provide an escort convoy if needed. Let's get started! (800) 908-6206
How to Ship Oil Field Trailers with Heavy Haulers
Heavy Haulers are dependable and reliable, safely moving your oil trailer and the rest of your rig and excavation gear, including pipes and pumps, form one site to the next. We pride ourselves on moving through rough terrain. Get started with a call to one of our professional route planners. We'll give you a custom estimate for door-to-door shipping. We plan your journey including any customs or weight station paperwork needed, removing the hassle from you. You'll receive a code to track your items in real time, too. Call for a free shipping estimate! (800) 908-6206
Looking For Transport
With a Specific Trailer?

Max Weight: 150,000+ lbs. | Main Deck Length 29 ft.
| Well Width 8.5 ft. | Legal Height Limit 11.6 ft.

Max Weight: 48,000 lbs. | Max Length 53 ft.
| Max Width 8.5 ft. | Max Height 8.5 ft.
Max Weight: 48,000 lbs. Max Length 53 ft. |
Max Width 8.5 ft. | Max Height 11 ft.
Max Weight: 45,000 lbs. | Max Length 29 ft.
| Max Width 8.5 ft. | Max Height 11.5 ft.
HEAVYHAULERS.COM
START YOUR SHIPMENT TODAY!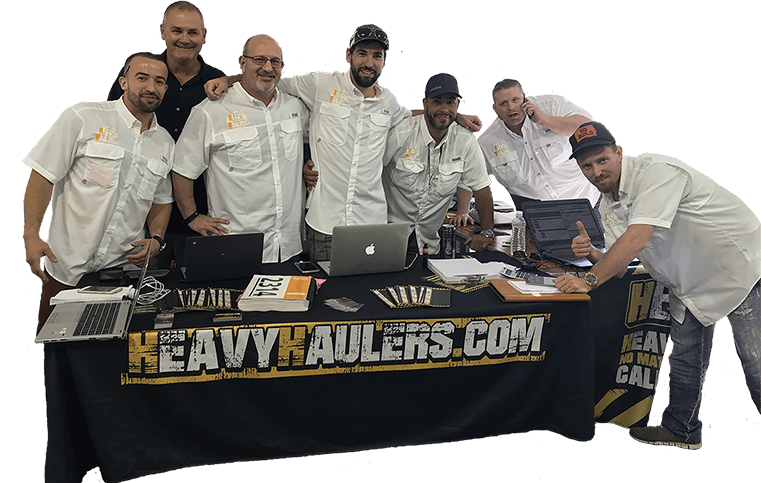 We Are Ready To Help You Haul Your Equipment!
Common Equipment Heavy Haulers Transports
Trust Heavy Haulers to transport any brand of equipment you own. Most of our drivers are experienced heavy-machinery operators who can safely maneuver your loads aboard our trailers. Some of the brands we have shipped include:
See what you need?
Call us for a FREE Shipping Estimate at (800) 908-6206