Industry-Leading Traveling Axle Trailer Transport Services
Trust the highest regarded name in heavy equipment shipping, Heavy Haulers, to move your equipment, mechanical gear, cargo, and other heavy and unwieldy loads. Heavy Haulers can ship your empty traveling axle trailer across town – or across the country. We specialize in heavy equipment shipments. If you have heavy equipment that weighs thousands of tonnes, you can't use a regular shipment company. Only experts in outsized loads and certified, trained drivers with proper rigs, will do. We generally use traveling axle trailers to move the heaviest loads, those that need the ground-loading concept these trailers provide.
Traveling axle trailers can be used for a variety of different industries. The design of these trailers, also known as Landolls (named after Don Landoll, the inventor) facilitates moving heavy equipment and storage containers, for example, and is commonly used to move machinery for towing and recovery, rental, and construction. With design features that have capacities ranging from 5 to 55 ton, these trailers suit many different industries, located everywhere in North America. The Heavy Haulers trained drivers can navigate through construction zones, tight city streets, and safely along the country's interstates. See the difference a professional heavy shipping company makes. Let's get started! (800) 908-6206
Contact Our Expert Shipping Specialist's
(800) 908-6206
Shipping a Traveling Axle Trailer and On Time Delivery
Transporting a travel axle trailer can be a complicated process. The trailer itself is very long, and for some roadways will require flags or an escort, depending on the load. The route planning specialists at Heavy Haulers can determine what your trailer or load will need, and can plan your trip, including whatever oversized load requirements our trailer and equipment will need.
Whether you need to ship your trailer across town or across North America, Heavy Haulers can help move the equipment from one job site to the next. Whether you need just one large earthmover shipped or your entire construction or excavation outfit in a convoy, Heavy Haulers can help. We haul traveling axle trailers with superior service and make sure to deliver on time. Call now (800) 908-6206
Common Types of Traveling Axle Trailers We Transport
Heavy Haulers has shipped equipment and cargo for just about every heavy industry, using a variety of different trailers and sizes. Here are examples of some of the trailers we've shipped:
● Trail-Eze Traveling Axle Trailers
● Landoll Traveling Axle Trailers
● Talbert Traveling Axle Trailers
● Cozad Traveling Axle Trailers
● Felling Traveling Axle Trailers
How to Ship a Traveling Axle Trailer with Heavy Haulers
The crew at Heavy Haulers specializes in transporting traveling axle trailers. We can provide power only shipping for your traveling axle trailer, or transport it on a separate trailer for a long haul. Heavy Haulers provides the superior service we'd expect for ourselves. Whether you're hauling a traveling axle trailer locally or long distance, we'll get it there safely. Call now! (800) 908-6206
Looking For Transport
With a Specific Trailer?

Max Weight: 150,000+ lbs. | Main Deck Length 29 ft.
| Well Width 8.5 ft. | Legal Height Limit 11.6 ft.

Max Weight: 48,000 lbs. | Max Length 53 ft.
| Max Width 8.5 ft. | Max Height 8.5 ft.
Max Weight: 48,000 lbs. Max Length 53 ft. |
Max Width 8.5 ft. | Max Height 11 ft.
Max Weight: 45,000 lbs. | Max Length 29 ft.
| Max Width 8.5 ft. | Max Height 11.5 ft.
HEAVYHAULERS.COM
START YOUR SHIPMENT TODAY!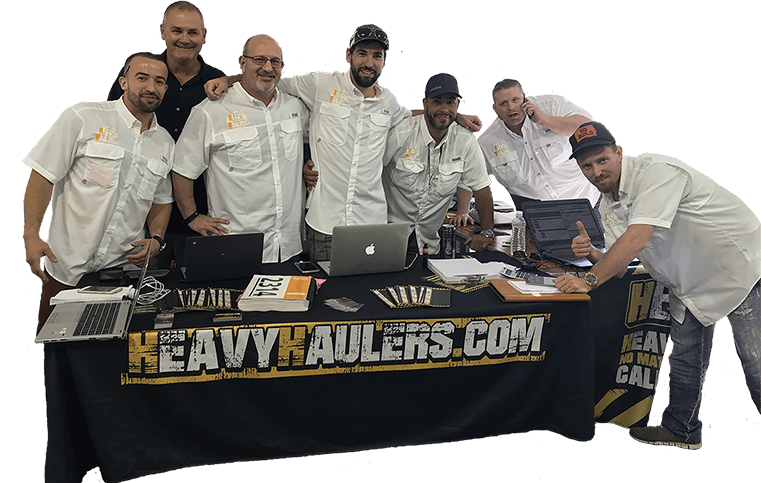 We Are Ready To Help You Haul Your Equipment!
Common Equipment Heavy Haulers Transports
Trust Heavy Haulers to transport any brand of equipment you own. Most of our drivers are experienced heavy-machinery operators who can safely maneuver your loads aboard our trailers. Some of the brands we have shipped include:
See what you need?
Call us for a FREE Shipping Estimate at (800) 908-6206