Shipping Freight on a Self-Propelled Modular Transporter
Ever wondered how oil or offshore drilling plants manage to move those large super loads within their working site? They use a self-propelled modular transporter (SPMTs). Not every shipping company can vaunt having such valuable cargo transportation equipment, but Heavy Haulers does. We can transport your heavy equipment on a self-propelled trailer with attention to details and precision. Our company representatives and technicians are trained to operate the trailer platform of wheels. They can ensure that your cargo is moved safely without suffering any damages.
Heavy Haulers has been in the freight-moving sector for almost 1 ½ decades, and we have invested in a wide range of modular transportations units. We can combine several units to fit even some loads with staggering weight. Some moving projects involve loads that reach up to 5000 tons. Regardless of the weight, HH has professional and genius ground technicians who can organize for the best transportation technique. Call for a free shipping estimate! (800) 908-6206
Contact Our Expert Shipping Specialist's
(800) 908-6206
Quality Self-Propelled Modular Transporter Services
Different customers in different industrial sectors have different shipping needs when it comes to moving super-heavy cargo. Heavy Haulers' agents will take care of your shipping concerns. They will assess the load to be transported and listen to any special needs you have. It is that flexibility and versatility that enables us to cater to every individual client. If you require loading and unloading services, we can arrange for that. Besides, our customized transportation packages come at pocket-friendly prices.
A self-propelled modular transporter is a special kind of trailer with a large number of wheels. It may contain as much as 26-wheel axles but can be combined with other modular units to move heavy equipment. That makes it ideal for moving freight in oil refinery sites, massive bridges, and other products that cannot be handled by trucks. Call now! (800) 908-6206
Common Types of Self-Propelled Modular Transporters
How to Transport Cargo on an SPMT with Heavy Haulers
We utilize self-propelled modular transport trailers as necessary. We will provide you with a free, non-obligatory quote. Our professional logistics personnel will organize everything, starting by assessing the load. Most of the SPMT-worthy loads come in all sorts of shapes and dimensions, but none has been too challenging for us. That's where our creativity and genius come into play. We can find the best means of positioning and securing the load for efficient and safe transportation. Speak to us today, and we will provide quality SPMT shipping solutions.
Common Equipment Heavy Haulers Transports
Trust Heavy Haulers to transport any brand of equipment you own. Most of our drivers are experienced heavy-machinery operators who can safely maneuver your loads aboard our trailers. Some of the brands we have shipped include:
Common Trailer Types Available from Heavy Haulers
Heavy Haulers specializes in hauling heavy loads such as construction equipment, oil field rigging and Super Loads. We are wideload experts! We offer an extensive range of trailer choices, including:
Max Weight: 48,000 lbs. | Max Length 53 ft. | Max Width 8.5 ft. | Max Height 11 ft.




Max Weight: 45,000 lbs. | Max Length 29 ft. | Max Width 8.5 ft. | Max Height 11.5 ft.
Max Weight: 150,000+ lbs. | Main Deck Length 29 ft. | Well Width 8.5 ft. | Legal Height Limit 11.6 ft.




Max Weight: 48,000 lbs. | Max Length 53 ft. | Max Width 8.5 ft. | Max Height 8.5 ft.
HEAVYHAULERS.COM
START YOUR SHIPMENT TODAY!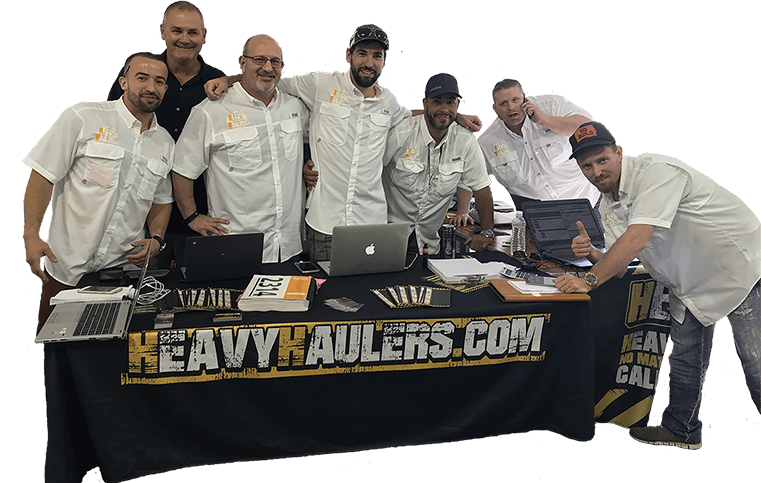 We Are Ready To Help You Haul Your Equipment!
See what you need?
Call us for a FREE Shipping Estimate at (800) 908-6206