Reliable Storage Trailer Transport
Choose the heavy shipping specialists, Heavy Haulers, for your storage trailer transport services. We move your storage trailers across North America or just across town. Using our expert drivers operating weight-rated powerful rigs, we can safely deliver your storage containers – full or empty – wherever you need it, into rough terrain or just through your busy city across town. We provide reliable storage trailer transport and on time delivery.
Storage trailers are dock-level, heavy duty units that can safely protect your cargo from the elements. They're crafted from sturdy steel and intended for long haul delivery of larger goods, consumer products, food and beverages, and much more. They're versatile and customizable. Modifications can include either swing or overhead doors, translucent or aluminum roofs, and a variety of lengths and widths. This is where the logistics specialists at Heavy Haulers are an asset. They determine the best route for your storage trailer, taking into account weigh stations, height clearances, and other variables that can make a difference in the timelines of your shipment. With a code for you to keep track in real time and bonded, certified rivers, Heavy Haulers is the most reliable and secure shipping company around. Let's transport your storage trailer transport! (800) 908-6206!
Contact Our Expert Shipping Specialist's
(800) 908-6206
Shipping Storage Trailers with Quality Service
Choosing experts in the heavy equipment hauling business means that you can trust that your storage trailer will arrive safely and undamaged. Heavy Haulers provides top quality shipping services for your storage trailer. We find the best truck, trailer, and driver to get it where it needs to be. Whether you're shipping across town, or overseas, we'll get your storage trailer delivered safely.
There's a difference between storage containers and storage trailers. The storage trailers that Heavy Haulers specializes in shipping are not offloaded like storage containers but instead remain on the frame of the trailer so that the floor sits comfortably at loading dock height. These storage trailers are ideal for goods that need to be transferred to and from a warehouse. Let's ship your storage trailer now! (800) 908-6206
Common Types of Storage Trailers We Transport
● Strick Storage Trailers
● Trailmobile Storage Trailers
● Wabash Storage Trailers
● Great Dane Storage Trailers
● Custom Built Storage trailers
How to Ship a Storage Trailer with Heavy Haulers
Start your transport service with a call to one of our professional logisticians. Our quotes include door-to-door service for your storage trailer or your cargo on one of our own container trailers, and a driver licensed and certified to tow your rig. We preplan the route to ship a storage trailer, to make sure it has a smooth transport. We also handle all the paperwork for hauling a storage trailer, so you can focus on what matters. Call now! (800) 908-6206
Looking For Transport
With a Specific Trailer?

Max Weight: 150,000+ lbs. | Main Deck Length 29 ft.
| Well Width 8.5 ft. | Legal Height Limit 11.6 ft.

Max Weight: 48,000 lbs. | Max Length 53 ft.
| Max Width 8.5 ft. | Max Height 8.5 ft.
Max Weight: 48,000 lbs. Max Length 53 ft. |
Max Width 8.5 ft. | Max Height 11 ft.
Max Weight: 45,000 lbs. | Max Length 29 ft.
| Max Width 8.5 ft. | Max Height 11.5 ft.
HEAVYHAULERS.COM
START YOUR SHIPMENT TODAY!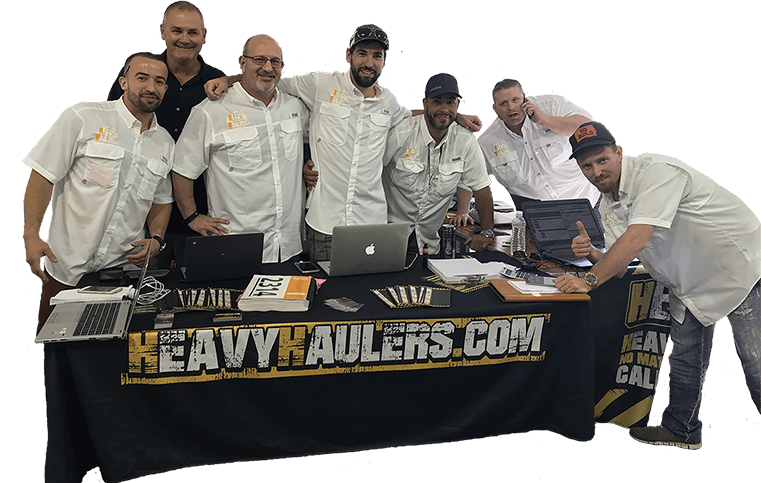 We Are Ready To Help You Haul Your Equipment!
Common Equipment Heavy Haulers Transports
Trust Heavy Haulers to transport any brand of equipment you own. Most of our drivers are experienced heavy-machinery operators who can safely maneuver your loads aboard our trailers. Some of the brands we have shipped include:
See what you need?
Call us for a FREE Shipping Estimate at (800) 908-6206