14 Axle Trailer Transport in All 50 States, Canada, and Mexico | (800) 908-6206
Our logistics managers and dispatchers are excellent in hauling with all the necessary equipment that must accompany 14 axle trailer transports. The safety requirements that are needed for oversize cargo are fully met at heavy haulers while keeping reliable and time efficient deadlines. Dispatchers are available on (800) 908-6206 for a no obligation transport estimate that will lead to successful haulage.

Shipping Strategies for Competent Oversize Haulage by Heavy Haulers:
Depending on how long your super-load is, Heavy Haulers 14 axle extended RGN trailers will maximize cost efficiency for oversize freight transport. This enables high and long freight to be hauled with simplicity while enabling heavy or bulky machinery loading or unloading. A low bed 14 axle trailer transport has increased grading capabilities with the height and weight allowances it provides. Don't let your cargo become delayed to accrue storage or warehousing costs, call Heavy Haulers now on (800) 908-6206 to initiate a super load friendly haulage.
With our one consignment solution cargo is transported in one piece versus the chopping up of complicated or sensitive equipment which is both costly and time-consuming. Many aspects of concentrated weight loads such as employed in oilfield transportation are a vestige of Heavy Haulers using our versatile 14 axle trailers. We have utilized oversize cargo transportation to suit the needs of the heavy equipment hauler by applying Knowledge, ability, and experience which are required to operate an optimized stretch RGN and flatbed 14 axle trailers transport.
See what you need?
Call us for a FREE Shipping Estimate at (800) 908-6206
Specific Dimensions of Heavy Haulers 14 Axle Low Bed Trailers:
Our heavy haulers 14 axle trailers include those that have expandable double drops or RGN spread axles. Lowboy multi axles also carry 14 groups for heavy ton trailers that are perimeter steerable. With a free quotation, we shall be able to size up your cargo and match it against similar loads we have hauled. This gives a clear picture of the setup and combination that should be used to hook up your cargo to our 14 axle trailer transports.
Heavy duty cargo tandem 14 axle trailers work thanks to a mechanical detachment within the groupings simultaneously. They range in length size from the central modular 35 foot flat to the insert deck that adds a 10 feet attachment. The deck height of 24 to 26 inches will depend on whether the Heavy Hauler crew employs the hydraulic bumper steer or the pneumatic, mechanical suspension. Comfortably haul your oversize load that's more than 140,000 pounds using a Heavy Haulers 14 axle trailer transports by calling (800) 908-6206.
How Heavy haulers Transport Loads on 14 Axle Trailers
At heavy haulers, we mobilize everything from large electrical transformers, oil drilling machinery, large factory presses, and road construction excavators. Project managers will ensure that the process is completed with the highest efficiency and cost-effectiveness as possible. Many other details to a Heavy Haulers oversize cargo transportation are more than merely transporting cargo. Heavy Haulers have the proper licensing to secure permitted state and federal or intercontinental routes which remove obstacles along the journey of your intensely sensitive load.
Our Heavy Haulers chassis for the 14 axle low bed trailers are made from high tensile steel with utmost considerations for oversize load capacities. The extended axle combinations rely on reverse gooseneck couplings amongst units and build to accommodate capacity for loads of up to 150,000 pounds. Trailer dimensions of a 14 axle transport will vary on the intended use, with platform length ranging from 18.5 feet to an extension of 17 feet. Total length can be anywhere from 19.5 to 35 feet depending on which cargo is being hauled.
See what you need?
Call us for a FREE Shipping Estimate at (800) 908-6206
Common Trailer Types Available from Heavy Haulers
Heavy Haulers specializes in hauling heavy loads such as construction equipment, oil field rigging and Super Loads. We are wideload experts! We offer an extensive range of trailer choices, including:
Max Weight: 48,000 lbs. | Max Length 53 ft. | Max Width 8.5 ft. | Max Height 11 ft.




Max Weight: 45,000 lbs. | Max Length 29 ft. | Max Width 8.5 ft. | Max Height 11.5 ft.
Max Weight: 150,000+ lbs. | Main Deck Length 29 ft. | Well Width 8.5 ft. | Legal Height Limit 11.6 ft.




Max Weight: 48,000 lbs. | Max Length 53 ft. | Max Width 8.5 ft. | Max Height 8.5 ft.
HEAVYHAULERS.COM
START YOUR SHIPMENT TODAY!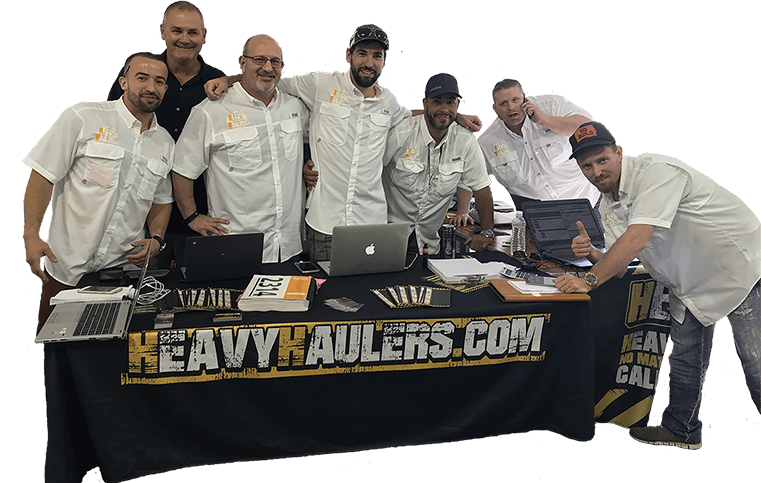 We Are Ready To Help You Haul Your Equipment!
Types of Equipment Heavy Haulers has Experience Transporting
Trust Heavy Haulers to transport any brand of equipment you own. Most of our drivers are experienced heavy-machinery operators who can safely maneuver your loads aboard our trailers. Some of the brands we have shipped include:
Start Your 14 Axle Trailer Transport with Heavy Haulers
At Heavy Haulers, expert logistics and dispatch staff offer transportation on 14 axle trailers with the assistance of load specialists who have vast tremendous haulage experience. These transport managers will handle all the legal aspects of your load permits and routing details that will necessitate smooth freight experience. There are route phases that may require escort and pilot car outriders for your 14 axle trailer's super colossal load. Continuous communication and rapport with the crew that is handling your valuable cargo are facilitated with an online link available at (800) 908-6206.