Heavy Haulers Offers 18 Axle Trailers in All 50 States, Canada, and Mexico!
Constructions that are underway in various locations be it roads, dams or buildings require the constant flow of material and equipment. Turbine wings and other such long cargo have specifications that demand the Heavy Haulers expertise and state of the art oversize trucking equipment. Call our logistic managers right now to book your free no obligation load transportation quotation.
An on-site team will evaluate your cargo to determine the best configuration of our 18 axle fleet best suits its safe conveyance. We load and offload cargo using hydraulic and mechanical ramps attached to the trailer. Reverse gooseneck couplings simplify backing up on and off-site showing versatility in transport vessels flexibility. Thousand-ton crane mechanisms have been hauled cross state by experienced massive haulers teams on 18 axle trailer transports.

What Type Of Cargo Needs 18-Axle RGN Trailers? Wide, Heavy, and Oversized Loads
Transformers and long cranes are gently loaded onto an 18 axle trailer for a smoother wheeled transport. Shipping costs are slashed when heavy loads are hauled comprehensively as opposed to being mutilated and put back together again on site. Cumbersome cargoes make for headaches and the possibility of disasters that could lead to the total loss of your load. Trust the big consignment to over 10 years of heavy haulers nationwide success, with oversize transport extending to Mexico and Canada.
Large boats and small ships needn't be an issue when moving them from coast to coast. Our tandem and tri tandem combinations of low decks or the heavy duty 18 axle flatbed trailers can accommodate up to large trawlers. Warehousing, millwrights, and engineers or the safe securing of cargo with tarpaulins is part of the excellence of service that makes heavy haulers the leader in oversize cargo moving. More information can be enquired via email on dispatch@heavyhaulers.com or with a toll-free phone call at (800) 908-6206 to have your wide load carried today on a Heavy Haulers 18 axle transport.
See what you need?
Call us for a FREE Shipping Estimate at (800) 908-6206
Heavy Haulers Large Equipment Shipping with Heavy Duty 18 Axle Trailer Transports
Call now to have a heavy haulers logistics team dispatch the correct 18 axle transport equipment within no time. We work closely with your schedules and deadlines to come up with viable route plans which are designed to meet expectations. Our equipment and heavy cargo handling gear are thoroughly graded with the pertinent permits and licenses that oversize load requires especially for interstate or country haulage. Heavy Haulers teams of drivers and riggers are insured and fully regulated in every county, state and all over continental North America.
Escort services are accorded for that sensitive load while pilot cars make hauling safer for the 18 axle team to guarantee safe transport. We organize all the necessary legal permits that your shipment may require to cover the distance of an 18 axle cargo delivery. Super-loads shipped by a heavy haulers tri tandem lowboy or heavy-duty flatbed are more likely to arrive just as they left, and within the agreed time without any hassle. The lack of hidden costs, coupled with our affordable fees give heavy hauler's repeat clients the reason to keep contacting us toll-free on (800) 908-6206.
See what you need?
Call us for a FREE Shipping Estimate at (800) 908-6206
Common Trailer Types Available from Heavy Haulers
Heavy Haulers specializes in hauling heavy loads such as construction equipment, oil field rigging and Super Loads. We are wideload experts! We offer an extensive range of trailer choices, including:
Max Weight: 48,000 lbs. | Max Length 53 ft. | Max Width 8.5 ft. | Max Height 11 ft.




Max Weight: 45,000 lbs. | Max Length 29 ft. | Max Width 8.5 ft. | Max Height 11.5 ft.
Max Weight: 150,000+ lbs. | Main Deck Length 29 ft. | Well Width 8.5 ft. | Legal Height Limit 11.6 ft.




Max Weight: 48,000 lbs. | Max Length 53 ft. | Max Width 8.5 ft. | Max Height 8.5 ft.
HEAVYHAULERS.COM
START YOUR SHIPMENT TODAY!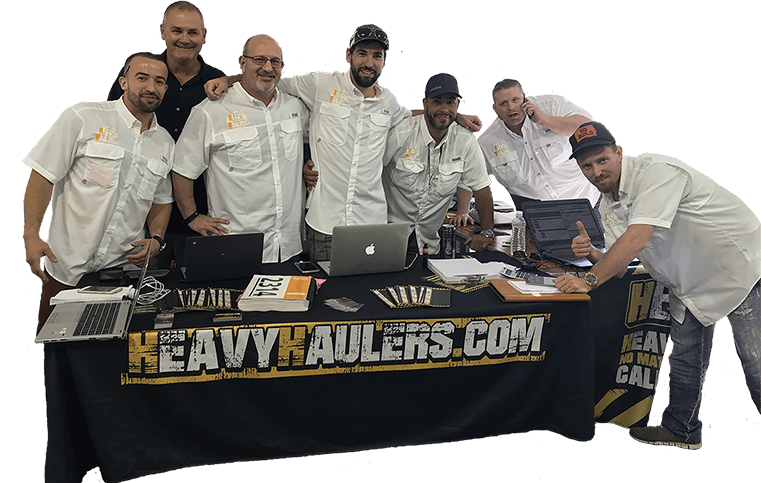 We Are Ready To Help You Haul Your Equipment!
Types of Equipment Heavy Haulers has Experience Transporting
Trust Heavy Haulers to transport any brand of equipment you own. Most of our drivers are experienced heavy-machinery operators who can safely maneuver your loads aboard our trailers. Some of the brands we have shipped include:
Start Your 18 Axle Trailer Transport with Heavy Haulers
For that gigantic behemoth that is difficult to transport without disassembling, leave it to heavy haulers. Our 18 axle trailer transports attract spectators who wait at a difficult intersection and narrow bridges to see how the expert Heavy Haulers teams navigate the bends with full oversize payloads. Prefabricated machinery, giant transformers, large turbines, and space-age generators have set our logistics above the rest. Call now and enjoy a free quotation at (800) 908-6206;