What Type of 6 Axle Trailer Does Heavy Haulers Use to Transport Heavy Consignments?
Our extra layer of guaranteed delivery in oversize shipping is why we employ six-axle trailer transports. With an extensive fleet that covers the US, Canada and Mexico transport; our specialty at Heavy Haulers is the safe delivery guarantee we offer alongside many other haulage services. All requirements and needs for your heavy, wide and high cargo transporting will be met with a toll-free call on (800) 908-6206 to reserve your free no obligations quotation.
Our six-axle low loading platform trailers consist of drop deck and flatbed combinations that can haul up to 100 tons. We employ these highly efficient oversize load conveyances to heavy-duty haulages such as construction machinery and manufacturing equipment. Our logistics teams are well versed in cargo valuation to decide the manner of configuring the flexible six-axle transport trailers to match your load requirements better.

Main Features of a 40-Ton 6 Axle Low-Bed Trailer
With customizable and specialized oversize load carrying capacities, the heavy haulers six-axle fleet features a platform length that adjusts to fit wide and high consignments. The trailers are made of high tensile heavy duty steel with the lowboy bed adopting components for augmentation such as automatically welded longitudinal support beams. A mechanical suspension for heavy-duty haulage enables our six-axle fleet to handle any road conditions with a full payload.
Our six-axle trailers can adopt self-steering and adjustable steerage which allows drivers to control and gauge tight side windings effectively. An adjustable platform height also adds to the convenience that is required to increase the safety and legality of large cargo transportation.
Previous Moves Done on a 6-Axle Trailer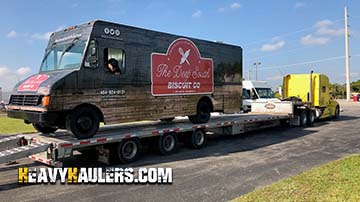 Transporting a Food Truck with a 6 Axle Trailer
We transported this 2001 Chevrolet Food Truck for one of our repeat clients. It was 29 feet in length, 8 feet in width, 10 feet in height and 10,000 pounds. We transported this Food Truck from Hollywood, FL to Atlanta, GA on a Step Deck approximately 650 miles! If you need a Step Deck to transport your equipment call Sam Duncan at Heavy Haulers!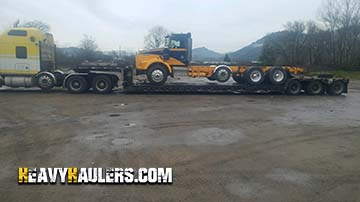 Kenworth t800 Loaded on a 6 Axle Low Boy
Heavy Haulers recently transported this Kenworth T800 from Myrtle Creek, OR to Prescott, WA. The Kenworth was 19,000 pounds, 34 feet long, 8 feet 6 inches wide and 10 feet 4 inches high. Our agent Stephen Ladd was able to arrange this transport on a lowboy! If you need your Kenworth transport call Stephen Ladd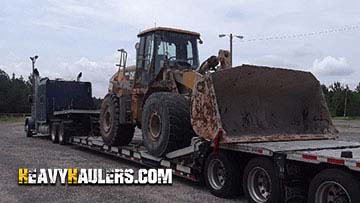 A Caterpillar 966H Wheel Loader on a 6 Axle Low Boy
This Caterpillar 966H wheel loader was recently transported by Heavy Haulers' agent Brian G. This big boy was picked up in Adaton, MS and delivered over 600 miles away in Houston, TX. This wheel loader measures 29 feet in length, is 10 feet 6 inches wide, is 11 feet 8 inches tall and weighs over 53,000 pounds. Brian G. at Heavy Haulers secured all of the proper paperwork and permits for this shipment. Call Brian G. with your questions and to schedule your next freight haul.
See what you need?
Call us for a FREE Shipping Estimate at (800) 908-6206
The Logistical Excellence which Keeps Heavy Haulers 6 Axle Transports in The Lead
In house logistics, experts handle all the aspects of your consignments including local and international permits. There is a route planning session that takes place after you receive a free quotation while keeping in line with your schedules and deadlines. We have no services to outsource as the composition if our service offerings make certain that all aspects of your substantial cargo move are taken into account by the requisite authoritative experts.
Our services are the most cost-effective due to the fact that instead of breaking down equipment and using smaller trailers, we carry out single comprehensive haulage. With a guaranteed delivery by our fully regulated six-axle trailer and tractor truck teams, we ensure that no hidden costs or surprises are encountered. Site surveys and route plans are part of our preparation process as we ready to take on your large consignment with the pertinent 6 axle flatbed or a reverse gooseneck tandem lowboy configuration.
Full collaborating estimations are available that hold you to no obligations, which determine the perfectly matched 6 axle platform to employ for your cargo. Turnkey services from unloading, loading, transport setting and equipment installation are also offered at heavy haulers. These services also involve insurance for your load, packing, and tarps with warehousing for late scheduled cargo. Rigging and crane services are also available where the client is moving inoperable or decommissioned equipment or heavy machinery.
See what you need?
Call us for a FREE Shipping Estimate at (800) 908-6206
Common Trailer Types Available from Heavy Haulers
Heavy Haulers specializes in hauling heavy loads such as construction equipment, oil field rigging and Super Loads. We are wideload experts! We offer an extensive range of trailer choices, including:
Max Weight: 48,000 lbs. | Max Length 53 ft. | Max Width 8.5 ft. | Max Height 11 ft.




Max Weight: 45,000 lbs. | Max Length 29 ft. | Max Width 8.5 ft. | Max Height 11.5 ft.
Max Weight: 150,000+ lbs. | Main Deck Length 29 ft. | Well Width 8.5 ft. | Legal Height Limit 11.6 ft.




Max Weight: 48,000 lbs. | Max Length 53 ft. | Max Width 8.5 ft. | Max Height 8.5 ft.
HEAVYHAULERS.COM
START YOUR SHIPMENT TODAY!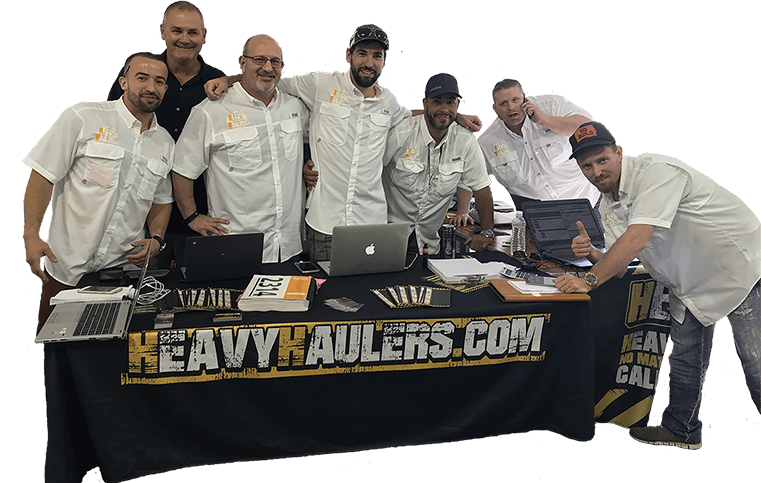 We Are Ready To Help You Haul Your Equipment!
Types of Equipment Heavy Haulers has Experience Transporting
Trust Heavy Haulers to transport any brand of equipment you own. Most of our drivers are experienced heavy-machinery operators who can safely maneuver your loads aboard our trailers. Some of the brands we have shipped include:
Start Your 6 Axle Trailer Transport at Heavy Haulers
Our solution provision to your weighty load that requires the capability to haul 100 tons is vested in the modern fleet of 6 axle drop decks and flatbeds. Comprehensively exhaustive guidance is also our modus operandi since we've been in the heavy haulage business for more than a decade. Professional transport teams that man our 6 axle trailer transports will come to any pickup location and make a safely guaranteed delivery within the agreed timelines. Call toll free on (800) 908-6206 to initiate the hauling requirements that will be met with our 6 axles 100-ton capacity trailers.