Transporting a Utility Trailer with Quality Services
Utility trailers can be essential to many different industries. No matter the size of your utility trailer, Heavy Haulers can help you move it across town or across the country. Licensed, bonded drivers with a history of careful shipments of the oversized loads from one job site to the next. Transporting a tag trailer may be easier with a professional driver using their own rig or transport trailer – have Heavy Haulers to get you started.
A utility trailer is a catch-all for many different types of trailers that are hauled by a rig or attached to another trailer. These trailers aren't capable of traveling under their own power, but rather must be attached to a truck or semi with enough torque to move the weight of the item and safely guide the trailers. Leave the hauling to the professionals. Our drivers are certified and double-insured for the safety of your equipment and our own. We can easily transport your tag trailers anywhere from Canada to Mexico. Let's get started! (800) 908-6206
Contact Our Expert Shipping Specialist's
(800) 908-6206
Delivery Utility Trailers on Time So You Can Get Back to Work
Utility trailers are part of many different industries, and Heavy Haulers have experience with them all. From moving construction equipment and debris from busy city construction sites to temporary roads for new construction or logging companies, as well as mining and excavation industries. We can even deliver to oil fields.
Choosing Heavy Haulers means a choice for dependable shipping, whether you need just one trailer or several utility trailers shipped. Heavy Haulers can ship the empty utility trailer for you to use on your off-road job sites, through tight urban areas for a city construction job, or wherever you need it to go. We can also haul cargo and extra materials for you in our own equipment. We even take care of all permits, escort convoys, and weigh station paperwork, so you don't have to. Call for a free shipping estimate! (800) 908-6206
How to Ship a Utility Trailer with Heavy Haulers
We offer reliable, timely shipping services for your empty utility trailer or your cargo and materials in one of ours. Begin with a phone call to one of Heavy Hauler's experienced route planners who takes into account location, roadworthiness of the trailers, and any tight streets or construction zones. We'll give you a custom estimate for door-to-door shipping. We plan your journey including any customs or weight station paperwork needed, removing the hassle from you. You'll receive a code to track your items in real time, too. Call now for a free shipping estimate! (800) 908-6206
Looking For Transport
With a Specific Trailer?

Max Weight: 150,000+ lbs. | Main Deck Length 29 ft.
| Well Width 8.5 ft. | Legal Height Limit 11.6 ft.

Max Weight: 48,000 lbs. | Max Length 53 ft.
| Max Width 8.5 ft. | Max Height 8.5 ft.
Max Weight: 48,000 lbs. Max Length 53 ft. |
Max Width 8.5 ft. | Max Height 11 ft.
Max Weight: 45,000 lbs. | Max Length 29 ft.
| Max Width 8.5 ft. | Max Height 11.5 ft.
HEAVYHAULERS.COM
START YOUR SHIPMENT TODAY!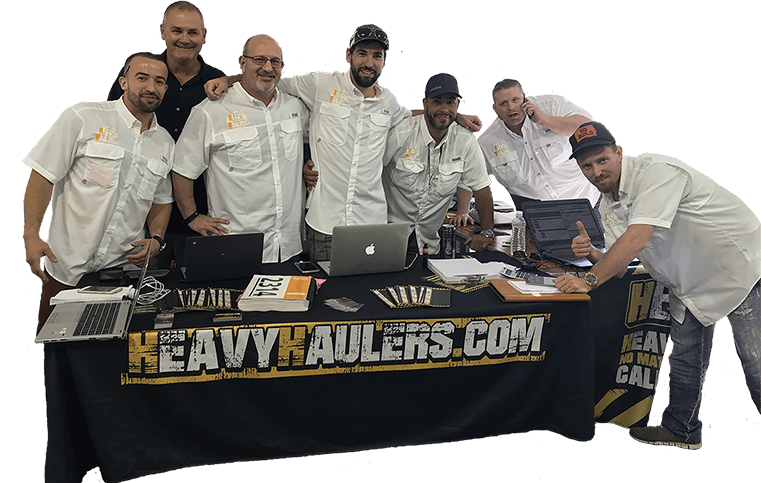 We Are Ready To Help You Haul Your Equipment!
Common Equipment Heavy Haulers Transports
Trust Heavy Haulers to transport any brand of equipment you own. Most of our drivers are experienced heavy-machinery operators who can safely maneuver your loads aboard our trailers. Some of the brands we have shipped include:
See what you need?
Call us for a FREE Shipping Estimate at (800) 908-6206