Industry - Leading Live Floor Trailer Transport Company
Heavy Haulers can ship your live floor trailer either empty or with the cargo you need to be hauled. Live floor trailers can be used to haul all types of loose cargo, from gravel to potatoes, Live bottom trailers work in a similar manner to dump trucks, allowing you to release your cargo all at once. Unlike a traditional dump truck, live floor trailers don't need to lift to deposit cargo A conveyor belt along the bottom allows smooth egress of your items. These trailers are often safer, as the conveyor belt eliminates the need for a raised truck bed and thus trailer roll over.
Heavy Haulers specializes in the door-to-door shipment of your trailer or the items inside. We can either transport your empty trailer to your job site or agricultural field, or we can also haul your shipments using our own rigs and drivers. Depending on your cargo, you may need special permits, which our logistics specialists can easily handle. Heavy Haulers transport oversized machinery, excavation gear, and heavy machinery across the country or cut across town. Let our bonded, certified drivers work for you. Let's get started! (800) 908-6206
Contact Our Expert Shipping Specialist's
(800) 908-6206
Shipping a Live Floor Trailer with Confidence
The right heavy equipment shipping company can make a difference when you're a tight timeline or budget. Heavy Haulers has the experienced route planners that can ensure that your shipment or just the live bottom trailer arrives at the destination on time. We take into account weather, roadway weight limits, and any paperwork you'll need to pass through certain municipalities. We can move cargo from excavation job sites, along uneven terrain and rough roads or through an agricultural farm. Our drivers are trained to negotiate just about any type of roadway.
Live floor trailers can be used for many different types of industries – and if you need your entire fleet shipped, Heavy Haulers can take care of that, too. From clearing land to transferring fill dirt, we can help you complete each phase of your job. Custom quotes include whether your trailer will be transported empty or full, and include destinations across North America. Call for a free transport estimate! (800) 908-6206
Types of Live Floor Trailers We Transport
Heavy Haulers can transport your live floor trailer for you, to move your own cargo on your own semi truck, or we can use our own contracted drivers and rigs to haul for you. We can ship these live floor trailers, and much more:
● Red River Live Floor Trailers
● Trout River Industries Live Floor Trailers
● Mac Live Floor Trailers
● Peerless Live Floor Trailers
How to Ship a Live Floor Trailer with Heavy Haulers
Get Heavy Haulers to work for you today with a call to one of our logistics specialists. We'll put together a custom estimate that accounts for whether you need cargo hauled, as well, and what type of cargo you have. We plan your journey, giving you a code so that you can keep up with your live floor trailer in real time. Door-to-door service from certified, double-insured drivers gives you peace of mind when shipping your heavy machinery. Call now! (800) 908-6206
Looking For Transport
With a Specific Trailer?

Max Weight: 150,000+ lbs. | Main Deck Length 29 ft.
| Well Width 8.5 ft. | Legal Height Limit 11.6 ft.

Max Weight: 48,000 lbs. | Max Length 53 ft.
| Max Width 8.5 ft. | Max Height 8.5 ft.
Max Weight: 48,000 lbs. Max Length 53 ft. |
Max Width 8.5 ft. | Max Height 11 ft.
Max Weight: 45,000 lbs. | Max Length 29 ft.
| Max Width 8.5 ft. | Max Height 11.5 ft.
HEAVYHAULERS.COM
START YOUR SHIPMENT TODAY!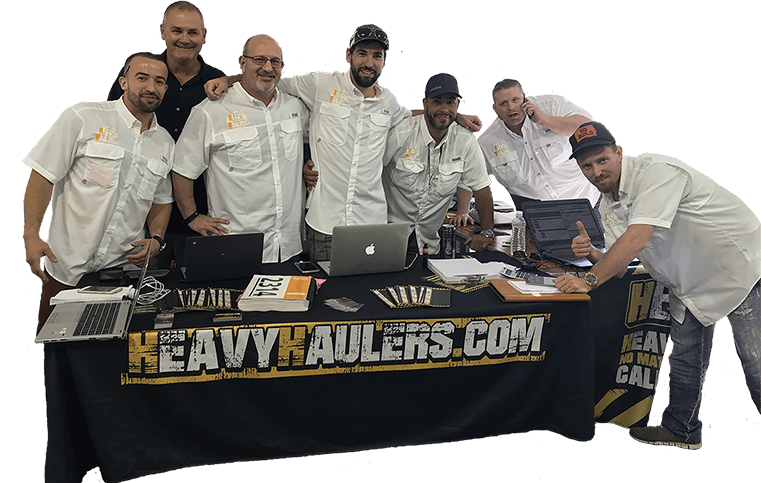 We Are Ready To Help You Haul Your Equipment!
Common Equipment Heavy Haulers Transports
Trust Heavy Haulers to transport any brand of equipment you own. Most of our drivers are experienced heavy-machinery operators who can safely maneuver your loads aboard our trailers. Some of the brands we have shipped include:
See what you need?
Call us for a FREE Shipping Estimate at (800) 908-6206