8 Axle RGN Trailer Transport from Heavy Haulers | (800) 908-6206
What will pick up a 20-foot crane or dozer onto a flatbed or convention drop bed trailer for transportation? There is much variety to select from when it comes to hauling standard loads, but long or tall cargoes require something more specialized. This is where our RGN trucks come in, with eight axle trailers whose front is detachable. Since 1958, Reverse Goosenecks have been providing the perfect alternative where tall loads can be driven onto the trailer.

What are 8 Axles RGN Trailers? Do You Need One?
Though conventional double step trailers share the flexibility of handling heavy and oversize loads, RGN's take the biscuit for load-ability of cargo trucks, cranes, dozers and such which can easily be driven onto the dropped trailer. The more the axle that a Reverse Gooseneck trailer has, the more massive the load it can transport. Our fleet of RGN's can haul cargoes of up to 150,000 pounds.

An eight axle trailer with RGN capabilities has the versatility to detach from the truck allowing for more natural positioning of the deck. The axles on the trailer are 6, alongside those on the truck's head; signifying heavyweight handling capacities. An extended RGN drop deck can be elongated to a length of 61 feet where the length of the maximum trailer becomes 74 feet. An additional foot of height for tall loads is accorded by the drop deck facility of a Heavy Haulers 8 axle RGN trailer.
Why Choose Eight Axle RGN Trailers from Heavy Haulers?
Your cargo which we transport on our RGN trailers with eight axles is in the best capable hands. Our RGN crews maintain a high standard of service provision and are fully proficient with oversize shipping. The safety and security of your RGN haulage will be more accentuated since escort and pilot outriders accompany our trucks. Logistic managers will handle the required permits and route schedules that are necessary for oversize weights in all the 50 overland states.
Recent Transports Hauled on Eight Axle Trailers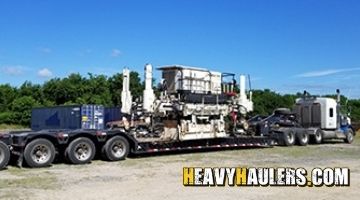 2005 Terex-CMI Asphalt Paver Hauled on an 8 Axle RGN Trailer
Origin: Midlothian, TX 76065

Destination: Freeport, TX 77541

Specs: 2005 Terex-CMI 2204

Transport Specialist: Mike Phillips
(754) 203-8914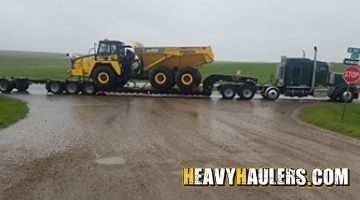 Komatsu HM 400-5 Articulated Dump Truck shipped on an 8 Axle RGN Trailer
Origin: Aberdeen, SD

Destination: Salt Lake City, UT 84101

Specs: Komatsu HM 400-5 Empty Weight: 77,283 lbs GVW: 165,644 lb

Transport Specialist: Mike Phillips
(754) 203-8914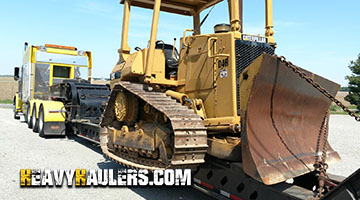 Shipping A Caterpillar D4H Bulldozer on an 8-Axle Trailer
Heavy Haulers recently transported this Caterpillar D4H Dozer for its new owner, which needed it at the jobsite as quickly as possible. This route was nearly 450 miles long from Shiloh, OH 44878 to Lewisburg, KY 42256. This Cat Dozer measured 14 ft. in length, was 8 ft. 5 in. wide and 9 ft. 8 in. tall plus it weighed 24,000 pounds. This load was within legal requirements and did not need any permits to transport. If you need your Dozer transported, or any other heavy machinery, call your personal representative, Brian G., to receive your quick quote. - (754) 203-9267.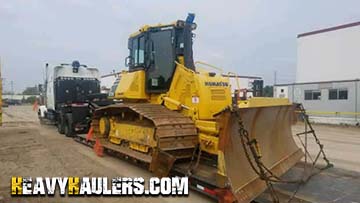 Transporting a Komatsu D61-PX23 Crawler Tractor 8 Axle Trailer
A Komatsu D61-px23 Crawler Tractor was also recently hauled from Savage in Minnesota to Philippi in West Virginia. The 24-foot long tractor weighed 42,000 pounds and was 11 feet high. Shipment permits were organized for the client for the six states the 24 feet long cargo had to pass through. This Komatsu 12 foot wide tractor got hauled a total of 960 miles.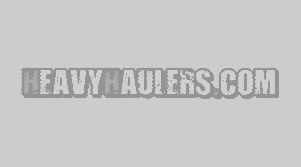 WHAT ARE YOU WAITING FOR?
Have a load to be moved? Move with Heavy Haulers and get you and your company featured right here! We love sharing our moves and don't mind putting your name on it!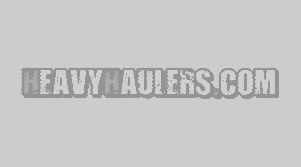 WHAT ARE YOU WAITING FOR?
Have a load to be moved? Move with Heavy Haulers and get you and your company featured right here! We love sharing our moves and don't mind putting your name on it!
How Do 8 Axles RGN Trailers Simplify the Move of Cargo?
Our reverse gooseneck trailers have a well-width of 8.5 feet which drops from a 29-foot extended main deck. The legal height limit that Heavy Haulers 8 axle RGN trailers can haul is 11.6 feet. This versatile trailer design allows for easier and expedient loading or unloading of oversize freight. Thanks to a competent team of superb logistic managers, our reverse gooseneck trailer combinations are efficiently routed and scheduled.
No other equipment is needed to load or unload freestanding cargoes on our eight axle RGN trailers. A removable neck protrudes from the dropped down trailer for oversize loads to be driven atop it. Efficiency is top of our core objectives during your employment of our RGNs for overweight cargo requirements.
Extended hitching couplings are possible with our reverse gooseneck trailers increasing its weight capability by 30,000 pounds for each hitch. A gooseneck hitch is designed to make full utilization of the bed even without hauling a load. A heavy duty hitch for our RGN fleet, there is a kingpin from the trailer which is secured on to by a jaw mechanism and have pivot and bump absorption capabilities.
See what you need?
Call us for a FREE Shipping Estimate at (800) 908-6206
Common Trailer Types Available from Heavy Haulers
Heavy Haulers specializes in hauling heavy loads such as construction equipment, oil field rigging and Super Loads. We are wideload experts! We offer an extensive range of trailer choices, including:
Max Weight: 48,000 lbs. | Max Length 53 ft. | Max Width 8.5 ft. | Max Height 11 ft.




Max Weight: 45,000 lbs. | Max Length 29 ft. | Max Width 8.5 ft. | Max Height 11.5 ft.
Max Weight: 150,000+ lbs. | Main Deck Length 29 ft. | Well Width 8.5 ft. | Legal Height Limit 11.6 ft.




Max Weight: 48,000 lbs. | Max Length 53 ft. | Max Width 8.5 ft. | Max Height 8.5 ft.
HEAVYHAULERS.COM
START YOUR SHIPMENT TODAY!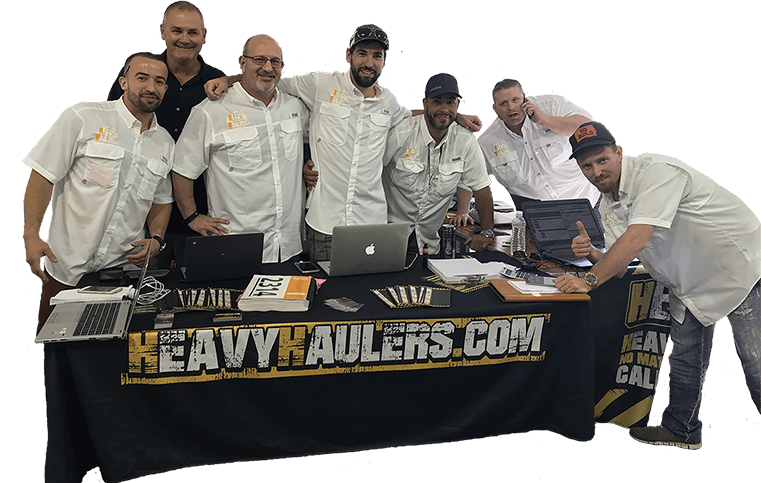 We Are Ready To Help You Haul Your Equipment!
Types of Equipment Heavy Haulers has Experience Transporting
Trust Heavy Haulers to transport any brand of equipment you own. Most of our drivers are experienced heavy-machinery operators who can safely maneuver your loads aboard our trailers. Some of the brands we have shipped include:
Contact Heavy Haulers for an Inclusive Free Evaluation:
Any height, weight, and quantity of your load are well within the capacities of our eight axle trailers that employ the RGN. The expert heavy haulers team minimize time and maximize efficiency during the transportation of your oversize loads with our eight axle RGN trailers. A free cargo valuation together with a route and schedule planning are available when you call us at heavy haulers on (800) 908-6206.
We are also available for more queries at dispatch@heavyhaulers.com