Transporting Marine Cranes Anywhere in The US, Canada, and Mexico
Offshore cranes and other marine-cargo handling machinery offer operation and lifting solutions for different maritime construction work such as the installation of drilling rigs, wind turbines, and other production facilities. However, transporting marine cranes to their intended offshore destination is one of the initial steps in getting the crane to the intended receiving area.
If you're planning a marine crane hauling project, you can let Heavy Haulers handle the job. We are a reputable marine crane shipping company that specializes in heavy equipment transportation services. We serve different types of offshore businesses across the US, Canada, and Mexico. Among the things that make us a leading company are our competitive quotes, backed up by stand-alone, top-tier marine crane transportation services. We have a variety of technologically updated trailers and certified transporters who are capable of handling the cargo safely from the moment it is received all through to the delivery area
Contact Our Expert Shipping Specialist's
(800) 908-6206
Quality Shipping and On Time Marine Crane Delivery
Quality heavy-machinery hauling starts with hassle-free marine crane hauling and exceptional consumer experience. That's the reason why we regularly review our logistics services to suit our clients' unique needs and wants. Our team in the transportation department can organize for temporary equipment storage services. From there, our certified, bonded, and licensed drivers will pick up the crane and make sure an in-transit crane reached the client on a timely basis.
When towing marine cranes, Heavy Haulers gets the client involved in the entire haulage project. Our technologically-advanced communication systems enable us to equip each trailer with remote and satellite communications. Therefore, you can keep constant contact with the driver carrying out the marine crate transport. You also have the open channels of communications with our company, and we will work together to get the shipment in your yard within the stipulated timeframe. Whatever the type of offshore crane you need hauling, you can rest assured that we will make the delivery happen without any problems.
Common Marine Cranes Heavy Haulers Transports
Harbor Cranes
We understand the need for maximum efficiency in every inch of the harbor/port cargo handling. These cranes are used for several purposes, including loading and unloading cargo, in offshore construction and ship-making industries. We have handled harbor crane transportations to different parts of the globe, and most of our clients have come back to us when in need f efficient, quick, and consumer-oriented services.
Bulk Handling Cranes
Hauling bulk handling cranes presents its unique challenges. Unlike the typical single hook system, bulk cranes feature a grab, enabling it to handle heavy cargo. That said, Heavy Haulers has an experienced team of haulers who've dealt with bulk handling cranes transportations. We have an exceptional fleet of trailers with the towing capabilities to relocate bulk handling cranes to a consumer's desired site.
Stacking Cranes
These types of cranes usually feature an overhead rail-track on which the crane slides to stack up containers in a marine vessel. At Heavy Haulers, we have specific logistics to handle the transportation of automated stacking cranes. Besides, we also have international contacts to make sure that you receive the equipment in one piece, regardless of where you are on the planet.
Deck Cranes
If you are searching for professional deck crane transporters, partner with us for competitive prices. Apart from our stand-alone fleet of trailers, we also employ the use of state-of-the-art tools to prepare the crane for transportation and assemble the components upon delivery. That benefits your offshore operations because the asset becomes ready for use shortly after reaching the destination.
Level Luffing Cranes
Level luffing crane allows for controlled horizontal movement of cargo without any vertical movement because the hook is usually in a fixed position. These come with a double-jib system with a boom to maintain balance. We understand the twist and turns in offshore platforms. Our trailers have superior skidding capabilities to get the crane to whatever corner of the port site you need it.
Floating Cranes
Floating/ship cranes offer the convenience of lifting and loading cargo in an offshore location in the sea. Getting the crane in the final area of deployment requires the experience and skill of a trusted company. Heavy Haulers can successfully oversee the hauling process and neatly assemble the machinery to let you seamlessly carry on with your operations.
How to Ship Your Marine Crane
Moving marine cranes is a complicated procedure that calls for a robust logistics model. Offshore cranes are intricate pieces of equipment, and it is easy to fall into the how-to questions when it comes to transportation. Heavy Haulers is here to alleviate the confusion of hauling the crane. We will handle every phase of the project, even if it's a new marine crane transport project. Don't pay more! Contact us today to get reasonable prices for quality hauling services.
Looking For Transport
With a Specific Trailer?

Max Weight: 150,000+ lbs. | Main Deck Length 29 ft.
| Well Width 8.5 ft. | Legal Height Limit 11.6 ft.

Max Weight: 48,000 lbs. | Max Length 53 ft.
| Max Width 8.5 ft. | Max Height 8.5 ft.
Max Weight: 48,000 lbs. Max Length 53 ft. |
Max Width 8.5 ft. | Max Height 11 ft.
Max Weight: 45,000 lbs. | Max Length 29 ft.
| Max Width 8.5 ft. | Max Height 11.5 ft.
HEAVYHAULERS.COM
START YOUR SHIPMENT TODAY!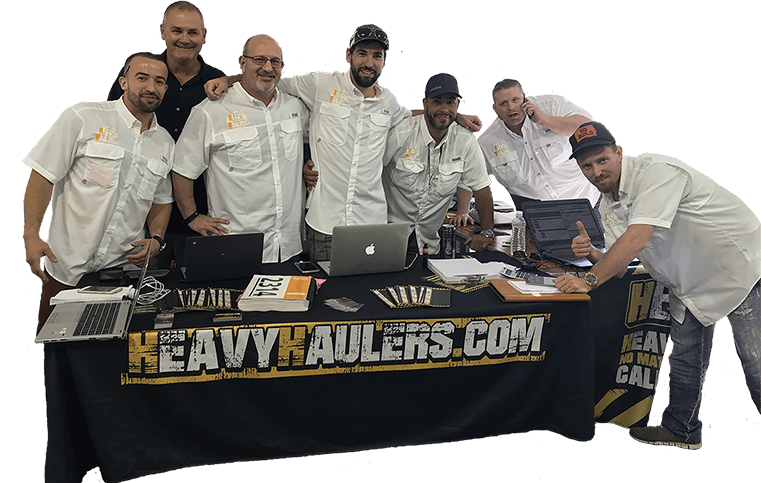 We Are Ready To Help You Haul Your Equipment!
Common Equipment Heavy Haulers Transports
Trust Heavy Haulers to transport any brand of equipment you own. Most of our drivers are experienced heavy-machinery operators who can safely maneuver your loads aboard our trailers. Some of the brands we have shipped include:
See what you need?
Call us for a FREE Shipping Estimate at (800) 908-6206