Airport Crash Truck Shipping in the U.S., Canada, and Mexico
If your stock needs to be updated or you need to haul airport crash trucks in from other locations in the U.S., when using our airport crash truck shipping services at Heavy Haulers, you can ship your airport crash truck to any of the 50 US states, Canada, and Mexico. Our years of experience in logistics and heavy haulage, including the shipping of specialist airport equipment such as airport crash trucks, rapid intervention vehicles, and escape stairs, has perfectly positioned us to handle your airport crash truck shipping needs.
Depending on the airport, a minimum number of airport crash trucks should be available on site. We help you to maintain the required stock by safely and securely shipping an airport crash truck to wherever you need it most. If you need us to transport an airport crash truck to Tucson, Arizona, or ship a fleet of airport crash trucks to Denver International Airport, we make sure you have the permits and pilot cars required. Our comprehensive airport crash truck shipping services take care of all of the logistics.
Contact Our Expert Shipping Specialist's
(800) 908-6206
Expediting an Airport Crash Truck Shipment
At Heavy Haulers, we know the importance of having suitable rescue and firefighting vehicles onsite in case of an emergency. It's possible to expedite shipments and schedule Heavy Haulers airport crash truck shipping on a timetable that suits you. Our large fleet of transport vehicles and experienced logistics professionals make it simple for our drivers to secure your airport crash truck shipments and arrange for them to be onsite where and when you need them most.
Common Airport Crash Trucks Heavy Haulers Transports:
● Scania P500 XT
● Kronenburg CT009, CT010, and CT012
● Oshkosh TI-1500 and TI-3000
● Oshkosh Strikers
● Rosenbauer Panthers
● E-One Titans
How to Transport an Airport Crash Truck
Due to the importance of a fully-functioning airport crash truck, the best option for getting a truck across the state is utilizing an airport crash truck transport company. Transporting an airport crash truck on a trailer saves on associated vehicle wear and tear, plus it means you don't have to dedicate your resources to driving the truck to its intended location. You can rely on an airport crash truck shipping company like Heavy Haulers to do this for you. Getting a shipping quote is the first step towards arranging the necessary transport. Free quotes are available from Heavy Haulers.
We transport many brands of Trucks across the country and North America
Trust Heavy Haulers to transport any brand of truck you own. We are experienced in handling all types of brands and manufacturers, we have hands-on experience shipping all truck manufacturers there is on the road! Some of the truck brands we commonly ship include:
Heavy Haulers Ships Across All 50 States
Alabama - Alaska - Arizona - Arkansas - California - Colorado - Connecticut - Delaware - Florida - Georgia - Hawaii - Idaho - Illinois - Indiana - Iowa - Kansas - Kentucky - Louisiana - Maine - Maryland - Massachusetts - Michigan - Minnesota - Mississippi - Missouri - Montana - Nebraska - Nevada - New Hampshire - New Jersey - New Mexico - New York - North Carolina - North Dakota - Ohio - Oklahoma - Oregon - Pennsylvania - Rhode Island - South Carolina - South Dakota - Tennessee - Texas - Utah - Vermont - Virginia - Washington - West Virginia - Wisconsin - Wyoming
Looking For Transport
With a Specific Trailer?

Max Weight: 150,000+ lbs. | Main Deck Length 29 ft.
| Well Width 8.5 ft. | Legal Height Limit 11.6 ft.

Max Weight: 48,000 lbs. | Max Length 53 ft.
| Max Width 8.5 ft. | Max Height 8.5 ft.
Max Weight: 48,000 lbs. Max Length 53 ft. |
Max Width 8.5 ft. | Max Height 11 ft.
Max Weight: 45,000 lbs. | Max Length 29 ft.
| Max Width 8.5 ft. | Max Height 11.5 ft.
Heavy Haulers Pilot Car Services
Are you looking for a reliable pilot car
for your transport?
Get Started
HEAVYHAULERS.COM
START YOUR SHIPMENT TODAY!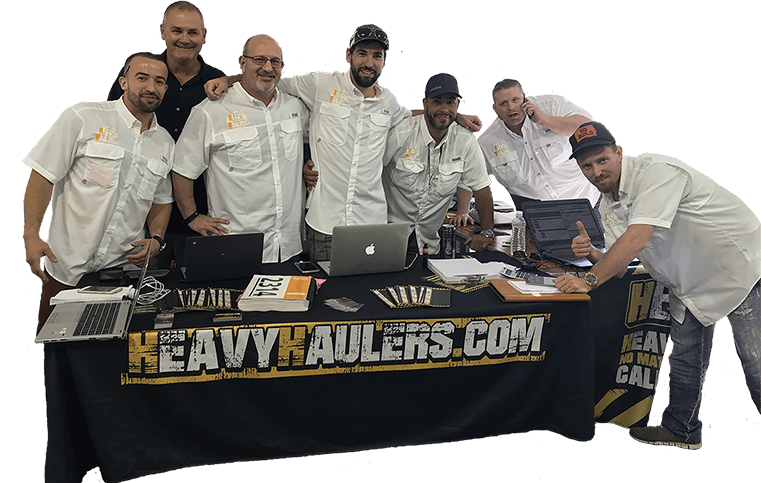 We Are Ready To Help You Haul Your Equipment!
See what you need?
Call us for a FREE Shipping Estimate at (800) 908-6206