Logging Truck Shipping Solutions from Heavy Haulers
We are continually reaching out to logging companies and owner-operators, giving them expert shipping options for logging trucks. Heavy Haulers implement drop deck, flatbed, and hotshot or lowboy trailers to facilitate smooth logging truck conveyance. We can ship logging trucks from any location within the US, Canada, and Mexico. Call now for a free shipping estimate. (800) 908-6206.
Specifications of Logging Trucks for a Quality Transport
Our fleets of heavy capacity steel structure trailers are perfect for your logging truck transport solutions. With robust suspension and platform augmentation systems, Heavy Haulers graded trailers handle any weight specifications of logging trucks. Our dispatchers will plan a feasible route for logging truckloads that seeks to maximize secure delivery within schedule.
Contact Our Expert Shipping Specialist's
(800) 908-6206
Heavy Haulers calculates aspects such as total load weight, distance to travel, and the road or weather conditions to account for smooth logging truck conveyance. Cargo insurance, interstate weight permits, and cross border paperwork is done by Heavy Haulers managers for your stress-free logging truck shipping.
Logging trucks come in two major categories, the forest trailblazers, and the regular road log transporters. The off-road variety of logging truck has robust tires and suspension to enable them to handle the rough terrain, with solid tires and multi axles being used to give better off-road traction.
Logging Trucks Safely and Exhaustively Moving with Heavy Haulers
To ensure that your logging trucks reach their delivery location safely and within the time stipulations, Heavy Haulers logisticians perform a route plan. We strive to avoid areas with expected bad weather, traffic, and other constraints such as road construction. Call a Heavy Haulers logging truck shipping specialist for a timely cargo consignment today. (800) 908-6206.
See what you need?
Call us for a FREE Shipping Estimate at (800) 908-6206
HEAVYHAULERS.COM
START YOUR SHIPMENT TODAY!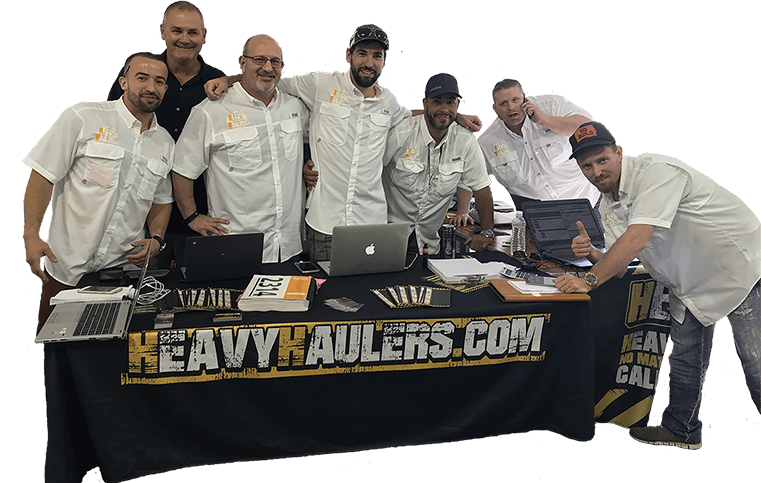 We Are Ready To Help You Haul Your Equipment!
We transport many brands of Trucks across the country and North America
Trust Heavy Haulers to transport any brand of truck you own. We are experienced in handling all types of brands and manufacturers, we have hands-on experience shipping all truck manufacturers there is on the road! Some of the truck brands we commonly ship include:
Heavy Haulers Ships Across All 50 States
Alabama - Alaska - Arizona - Arkansas - California - Colorado - Connecticut - Delaware - Florida - Georgia - Hawaii - Idaho - Illinois - Indiana - Iowa - Kansas - Kentucky - Louisiana - Maine - Maryland - Massachusetts - Michigan - Minnesota - Mississippi - Missouri - Montana - Nebraska - Nevada - New Hampshire - New Jersey - New Mexico - New York - North Carolina - North Dakota - Ohio - Oklahoma - Oregon - Pennsylvania - Rhode Island - South Carolina - South Dakota - Tennessee - Texas - Utah - Vermont - Virginia - Washington - West Virginia - Wisconsin - Wyoming
Looking For Transport
With a Specific Trailer?

Max Weight: 150,000+ lbs. | Main Deck Length 29 ft.
| Well Width 8.5 ft. | Legal Height Limit 11.6 ft.

Max Weight: 48,000 lbs. | Max Length 53 ft.
| Max Width 8.5 ft. | Max Height 8.5 ft.
Max Weight: 48,000 lbs. Max Length 53 ft. |
Max Width 8.5 ft. | Max Height 11 ft.
Max Weight: 45,000 lbs. | Max Length 29 ft.
| Max Width 8.5 ft. | Max Height 11.5 ft.
Heavy Haulers Pilot Car Services
Are you looking for a reliable pilot car
for your transport?
Get Started
See what you need?
Call us for a FREE Shipping Estimate at (800) 908-6206