Transporting Car Carrier Trucks with Ease
Heavy Haulers has experience transporting all heavy equipment and heavy duty trucks. Our logistics team understands that transporting car carrier trucks is no easy feat, and needs to be done with precision to ensure it's hauled safely. Car carrier trucks need specialized permits to move, and we can obtain everything needed so you have a hassle-free experience. Call now! (800) 908-6206
Car carrier trucks are large vehicles that can carry numerous passenger vehicles. Transporting your car carrier track can be quite hard, especially without the help of a hauling company. Unlike undersized vehicles, it takes a capable and focused workforce to accomplish such tasks. Numerous businesses can offer hauling services in and around the Americas, so finding one is less daunting. However, you need to consider your unique needs before you select a hauling company. The size of a car carrier truck means difficulty to fit in a standard shipping trailer, so at Heavy Haulers, we provide more than just hauling equipment. We also present qualified truck drivers and logistics personnel to ensure your assets reach their destination safely and on time.
Contact Our Expert Shipping Specialist's
(800) 908-6206
Selecting a Car Carrier Truck Hauler
When it comes to finding a reputable business to entrust transporting your heavy cargo, you must revise various vital features. You can examine different specs, such as:
• Capacity and Hauling Gear - Consider choosing a corporation that has appropriate hauling equipment and the capacity to transport your freight. You can also look at the company's workforce to determine its reliability.


• Portfolio - A Company's portfolio shows its level of competence throughout its history. Consider choosing a transportation company that has a comprehensive portfolio, and inquire about the company's reputation to gauge their capabilities.


• Quality Guarantees and Offers - Find reputable heavy haulers that can offer aggressive quality guarantees and liability covers. You can also contact a hauling company that is reputable, time-oriented and offers compelling transportation offer.


How to Ship Your Car Carrier Truck
Here at Heavy Haulers, we make sure the hauling process is as seamless as possible. We try to achieve this by utilizing expert truckers and logistics personnel that have the necessary know-how. When you contact us, we take into consideration the size and demands of your equipment to discern the appropriate hauling equipment to use. We also use modern hauling gears to ensure the safe transportation of your assets. Our teams will discuss all the details of the transit, keeping you in the know all the way. We have also completed heavy hauling orders throughout the U.S, Mexico and Canada.
Looking For Transport
With a Specific Trailer?

Max Weight: 150,000+ lbs. | Main Deck Length 29 ft.
| Well Width 8.5 ft. | Legal Height Limit 11.6 ft.

Max Weight: 48,000 lbs. | Max Length 53 ft.
| Max Width 8.5 ft. | Max Height 8.5 ft.
Max Weight: 48,000 lbs. Max Length 53 ft. |
Max Width 8.5 ft. | Max Height 11 ft.
Max Weight: 45,000 lbs. | Max Length 29 ft.
| Max Width 8.5 ft. | Max Height 11.5 ft.
HEAVYHAULERS.COM
START YOUR SHIPMENT TODAY!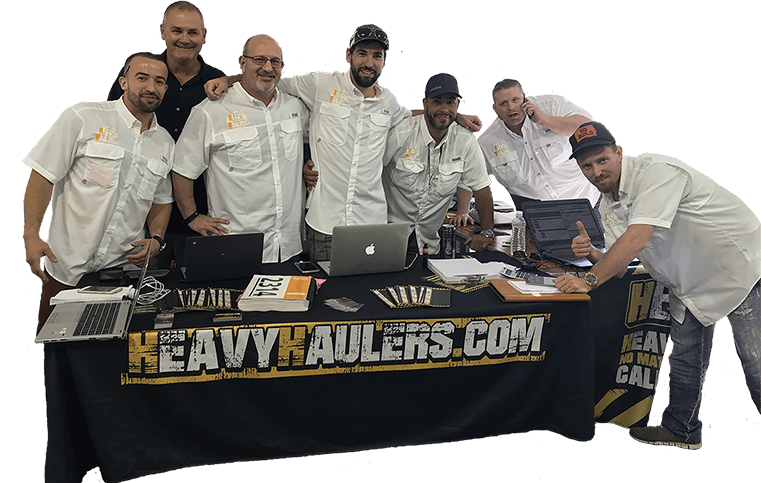 We Are Ready To Help You Haul Your Equipment!
We transport many brands of Trucks across the country and North America
Trust Heavy Haulers to transport any brand of truck you own. We are experienced in handling all types of brands and manufacturers, we have hands-on experience shipping all truck manufacturers there is on the road! Some of the truck brands we commonly ship include:
Heavy Haulers Ships Across All 50 States
Alabama - Alaska - Arizona - Arkansas - California - Colorado - Connecticut - Delaware - Florida - Georgia - Hawaii - Idaho - Illinois - Indiana - Iowa - Kansas - Kentucky - Louisiana - Maine - Maryland - Massachusetts - Michigan - Minnesota - Mississippi - Missouri - Montana - Nebraska - Nevada - New Hampshire - New Jersey - New Mexico - New York - North Carolina - North Dakota - Ohio - Oklahoma - Oregon - Pennsylvania - Rhode Island - South Carolina - South Dakota - Tennessee - Texas - Utah - Vermont - Virginia - Washington - West Virginia - Wisconsin - Wyoming
Heavy Haulers Pilot Car Services
Are you looking for a reliable pilot car
for your transport?
Get Started
See what you need?
Call us for a FREE Shipping Estimate at (800) 908-6206