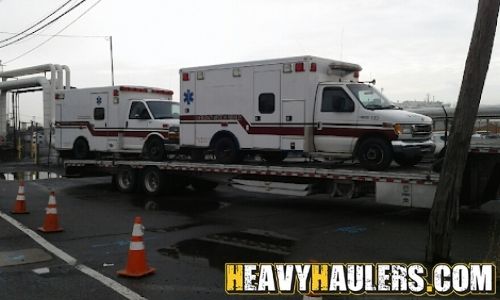 Contact Our Ambulance
Shipping Specialist Now!
(800) 908-6206
Transport Your Ambulance with Heavy Heavy Haulers: Services in the U.S, Canada, and Mexico - Call (800) 908-6206
Heavy Haulers are experts in transporting all heavy construction equipment, oversized loads and agricultural machinery to your preferred location. We have experienced specialists who help you match your load with a suitable and affordable truck. Our logistics team are skilled and competent to handle your ambulance and moves it to your desired destination in time and safely. We take pride in serving our clients professionally and ability to provide outstanding logistics services due to the integration of current innovations and technologies in our transport services. Call us today for a free quotation and arrangements on shipping your ambulance truck at (800) 908-6206.
We Are the Preferred Ambulance Transport Company Throughout the United States
Ambulance are vehicles that can transport medical equipment, Medicines or even patients to seek treatment in hospitals or health institutions. Ambulances are also used to answer medical emergencies by offering medical services or first aids as the patients where an accident or an accident has occurred. Ambulances are equipped with medical equipment and different kits of various medical procedures. To avoid traffic or avoid the traffic rules such as traffic lights, ambulances are equipped with warning lights which are mainly green and sirens, this helps the trucks transport paramedics, patients or even respondents such doctors to a scene rapidly. The carry equipment to perform emergencies care as they prepare them to get transferred to the hospital or definitive care.
The Ambulance is from different raw materials that make them unique and fit for their job. The body is made up of aluminum while the interior is covered with vinyl and the floor is mainly made of plywood in some of the ambulances while others use clear plastic laminated aluminum sheet coating. To make the ambulance safer, they have shatter-resistant plastic panels' doors.They have many components such as radios, heating and conditioning components, oxygen components, and various parts of the ambulancees are trimmed such as windows, latches hinges and handles. The ambulance cab is joined to the body through a small window, but the occupants of the cab must go outside the vehicle to enter the ambulance body. Others ambulances have raised roof where the occupants have to enter the cab from one side of the body lastly the third type of the ambulances have a modular design shape body built on a cut-away van chassis. This design combines the capacity of the larger modular body with the walk-through accessibility. Heavy Haulers uses trucks that meet the general services administration of the federal government.
Recent Ambulance Transports by Heavy Haulers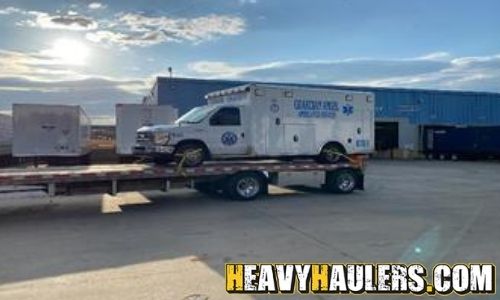 Shipping a 2010 Ford E450 Ambulance
Shipping From: West Mifflin, PA

Transporting To: Myrtle Beach, SC

Specs:2010 Ford E450 Ambulance; 23L X 8.6W X 9H; 11,000lbs

Transport Specialist: Nick H.
(772) 238-2766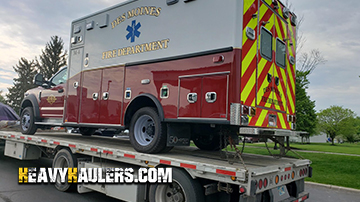 Hauling a 2019 Ambulance
It feels great that Heavy Haulers is trusted by those who are trusted by all. And when the brave men and women in Des Moines Fire Department needed their brand new ambulance delivered to them it was Heavy Haulers that was front and center for the haul. This 18,000 lb special delivery arrived ahead of schedule and ready to help the residents of their beautiful community. We thank the fire department for giving Heavy Haulers the opportunity to serve those who serve us. Contact Willam Thomas for your next heavy hauling quote and see for yourself why Heavy Haulers sets the competition on fire (not literally because that is not nice and too dangerous)
(859) 203-1385 .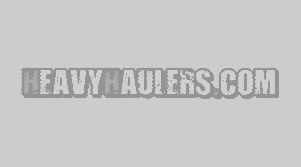 WHAT ARE YOU WAITING FOR?
Have a load to be moved? Move with Heavy Haulers and get you and your company featured right here! We love sharing our moves and don't mind putting your name on it!
You Choose Dependable Ambulance Relocation When You Choose Heavy Haulers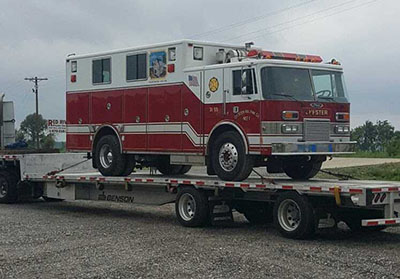 Heavy Haulers are well known for dependable transportation and freight across the North America continent. The company specializes in heavy loads such as constructions equipment, heavy machinery and other large heavy loads. Heavy Haulers is fully certified, bonded and insured by the government to haul loads in the North America territory throughout the United States, Canada and Mexico. The company hires experienced drivers who can transport loads of any size, shape or dimensions and give assurance to deliver as collected. The Heavy Haulers is the cheapest when it comes to the price; they work with professional logistics team that helps in plotting the most convenient path for clients. We provide load tracking upon request, and have customer service as from 7 am to 10 pm EST 7 days in a week. Call at us (800) 908-6206. You will never regret because at Heavy Haulers quality never goes out of style.
Call Heavy Haulers toll free at (800) 908-6206 with any questions you might have about our service; when you're ready, request a free transport quote or set up a time for us to pick up your ambulance. We look forward to working for you!
We transport many brands of Trucks across the country and North America
Trust Heavy Haulers to transport any brand of truck you own. We are experienced in handling all types of brands and manufacturers, we have hands-on experience shipping all truck manufacturers there is on the road! Some of the truck brands we commonly ship include:
Heavy Haulers Ships Across All 50 States
Alabama - Alaska - Arizona - Arkansas - California - Colorado - Connecticut - Delaware - Florida - Georgia - Hawaii - Idaho - Illinois - Indiana - Iowa - Kansas - Kentucky - Louisiana - Maine - Maryland - Massachusetts - Michigan - Minnesota - Mississippi - Missouri - Montana - Nebraska - Nevada - New Hampshire - New Jersey - New Mexico - New York - North Carolina - North Dakota - Ohio - Oklahoma - Oregon - Pennsylvania - Rhode Island - South Carolina - South Dakota - Tennessee - Texas - Utah - Vermont - Virginia - Washington - West Virginia - Wisconsin - Wyoming
Looking For Transport
With a Specific Trailer?

Max Weight: 150,000+ lbs. | Main Deck Length 29 ft.
| Well Width 8.5 ft. | Legal Height Limit 11.6 ft.

Max Weight: 48,000 lbs. | Max Length 53 ft.
| Max Width 8.5 ft. | Max Height 8.5 ft.
Max Weight: 48,000 lbs. Max Length 53 ft. |
Max Width 8.5 ft. | Max Height 11 ft.
Max Weight: 45,000 lbs. | Max Length 29 ft.
| Max Width 8.5 ft. | Max Height 11.5 ft.
Heavy Haulers Pilot Car Services
Are you looking for a reliable pilot car
for your transport?
Get Started