Crane Truck Transportation with Heavy Haulers Nationwide!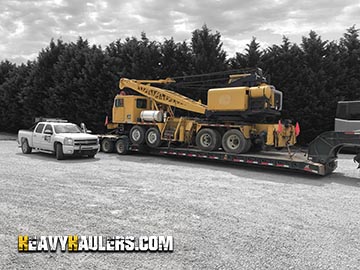 Shipping a Holmes-Century Crane
Contact Jay Hays at (561) 214-4984
The crane truck has a myriad of uses in the construction field and other industries. Heavy Haulers transports mounted boom trucks to construction sites, contractors and businesses across the continental U.S. and beyond. Our licensed and bonded drivers have years of experience moving Super Load or oversized vehicles; they are also kept up-to-date on legal changes in the transport business, keeping you safe from penalties or fines.
Using the Crane Truck Once Transported
A crane truck is used to lift heavy objects or move construction material to various locations around a build site. Its versatility makes it useful in other areas as well, from shipping to utility companies. The crane is just a steel truss or boom that is mounted on a platform. Hinged at the bottom, the equipment can be raised/lowered with cables.
There are different styles of cranes for different needs. The types of crane include:


 ● Mounted Boom Trucks
 ● Mounted Knuckle Boom Trucks
 ● Telescopic Crane
 ● Tower Crane
 ● Truck Mounted Crane (aka Boom truck/picker truck)
 ● Rough Terrain Crane
 ● Loader Crane (aka folding boom crane or knuckle boom crane)
 ● Overhead Crane
 ● Crawler crane
Whatever crane choice you work with, it can be difficult to transport it efficiently.


Recent Crane Truck Moves
Hauling a Holmes-Century Crane
Our agent Jay recently coordinated the move of a massive crane over 800 miles from Newnan, Georgia to Hastings, Minnesota. This type of Holmes-Century crane is designed for railroad construction and maintenance. The crane weights 90,000 pounds, is 35-feet long, 8.6-feet wide, and 13.4-feet high. Despite heavy rains that made traffic difficult, the load was delivered on a timely matter thanks to good logistics coordination. Do you need to transport a crane, or any piece of heavy machinery? Jay at Heavy Haulers can be reached at (800) 908-6206 ext. 797.
See what you need?
Call us for a FREE Shipping Estimate at (800) 908-6206
Common Trailer Types Available from Heavy Haulers
Heavy Haulers specializes in hauling heavy loads such as construction equipment, oil field rigging and Super Loads. We are wideload experts! We offer an extensive range of trailer choices, including:
Max Weight: 48,000 lbs. | Max Length 53 ft. | Max Width 8.5 ft. | Max Height 11 ft.




Max Weight: 45,000 lbs. | Max Length 29 ft. | Max Width 8.5 ft. | Max Height 11.5 ft.
Max Weight: 150,000+ lbs. | Main Deck Length 29 ft. | Well Width 8.5 ft. | Legal Height Limit 11.6 ft.




Max Weight: 48,000 lbs. | Max Length 53 ft. | Max Width 8.5 ft. | Max Height 8.5 ft.
Shipping the Crane Truck to your Business
Cranes are known for their bulky, irregular height and width. Many large cranes require the haulers to disassemble the truck to properly fit it on the transport trailer. Sometimes more than one flatbed, truck or trailer is needed. At Heavy Haulers, we have the specialized vehicles to safely transport your knuckle boom or mounted boom crane. We plan and implement a detailed route plan and handle any logistical issues that might come up. Best of all, you can track the movement of your truck from beginning to end.
Let us work with you to tow your telescopic or knuckle boom crane where it needs to go. Call Heavy Haulers at 1-800-908-6206 and talk with a customer service agent today!